News From : DagangHalal.com (31 Jul 2013)
DUSHANBE – Food that meets Tajikistan's halal standards became available for public sale July 20, authorities told Central Asia Online.
"[Eating halal food] is one of the main rules for observing Sharia," Council of Ulema Deputy Chairman Abdulbasir Saidov told Central Online.
Six Tajik food producers already meet the new standards, said Narzullo Sharipov, chief of Tajikstandart, the government agency for overseeing compliance with various standards, and the food is expected to gain prevalence.
The government developed the halal standard over the past two years with help from the Tajik Council of Ulema, the Health Ministry, the Committee for Religious Affairs and the Agriculture Ministry Veterinary Service, as well as by reviewing neighbouring countries' experience, Sharipov said.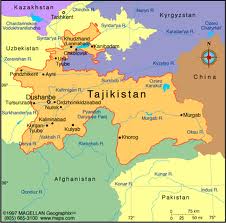 Halal food may not contain any haram (forbidden) components, such as pork or meat from animals slaughtered by suffocation, electrocution or a blow; and a Muslim must perform the slaughter, with him or someone else pronouncing Allah's name during the process, Saidov said.
The requirements apply across food categories, including meat, bread, baked goods, dairy products and non-alcoholic drinks, Tohir Mudinayev, another Tajikstandart official, added.
"Permission to use the halal label for one year is granted by a special Tajikstandart committee, including specialists from Tajikstandart and from the Tajik Council of Ulema," Sharipov said. "Today, Tajikstandart quite strictly monitors certified Tajik halal producers' compliance with the requirements. They have to sell off all their older food before using the label."
Both producers and consumers to benefit
Two factors drove Tajikstandart to develop its own halal standard, Sharipov said. First, some food carrying haram components – like genetically modified organisms and chemical dyes – appeared; second, customers demanded it.
Although Tajikistan previously produced and imported food called halal, no official Tajik body set a standard, meaning some food might have been called halal by mistake, he said.
The Council of Ulema welcomes the move, Saidov said.
"Many Tajik residents constantly run into the problem of buying halal food," he said. With limited producers and distributors of halal food and no proper certification process, consumers in the past often turned to foreign suppliers. "First, this impairs the growth of Tajik producers, and secondly, imported food costs much more," he said.
Enforcing the standards will give consumers "some sort of a guarantee against dishonest producers," Akhad Sadykov, a journalist who writes commentary on religious matters, told Central Asia Online.
"Producers of halal food are working not just to make some money but also to improve their image," he said. "This is particularly important in Tajikistan, where most of the population is Muslim."
Locals react favourably
Many Tajik producers were complying with halal requirements even before the government issued a standard, 29-year-old Dushanbe resident Sitora Nazarova told Central Asia Online.
"For a long time now, I have been buying only meat and dairy products labelled 'halal.' My husband strictly adheres to the requirements, so our family observes them all," she said. However, she said she is happy it will now be regulated.
Abdudzhalol Shodiyev, who has been producing "Pokiza" sausage for 15 years, marked his products as halal almost from the start.
"Though Tajikistan hadn't adopted the standard when I started making sausage, as a devout Muslim, I observed all the requirements," he said.
Shodiyev intends to expand production now that the standard has taken effect. "I'm thinking about re-equipping the entire plant to meet the new requirements," he said. "I think the cost will be high but recoverable, because the demand for halal food is growing in Tajikistan every day."
One place selling halal food is the modest-sized Mekhrob shop, which has enjoyed a strong reputation for many years. Last year the shop owner performed the Hajj. Now, with the introduction of the official halal standard, he has decided to sell only halal food.
"All our food, which is mainly produced in Tajikistan, meets the halal standard," shop assistant Nosir Khamdanov said.
Source : halalfocus.net