News From : DagangHalal.com (13 Jul 2012)
Taiwan Bubble Tea Shakes up 101
Taiwan Pavilion returns with exquisite specialties and food products
Taiwan Pavilion is back again to the 2012 Malaysia International Food & Beverage Trade Fair (MIFB 2012) on the 12th July. With the theme of "Brillisnt Gifts,Great Opportunitie" the Taiwanese are set to ignite the atmosphere at MIFB again.
Firing the first salvo was His Excellency, Mr. Lo Yu Chung, the Representative from Taipei Economic and Cultural Office in Malaysia, armed with a puppet in one hand and a shaking jar on the other, he kicked off the morning's opening ceremony by making a cup Taiwanese bubble tea for guest of honour Minister for Agriculture and Agro-based Industry Datuk Seri Haji Noh Bin Omar.
Taiwanese bubble tea took Malaysia by storm after it was featured in the Taiwan Pavilion during MIFB 2010 and this year's event will bring more potential products that is poised to create many opportunities.
Harvesting in the Storm  
This year's event is a collaborative effort by the TAITRA, Taichung City Government, Taichung World Trade Center, and others. The Taiwan Pavilion spans 600 square metre and will feature items including tea leaves, biscuit, mochi, candies, sauces, enzymes, and many other products that are sure to wow Malaysians.
The ever popular Taiwanese fresh fruits such as lychees and pears are in relatively lower number compared to previous years and Taichung City Shihgang Farmers' Association representative Ms Ho revealed that this is due to the tropical storm that swept across Taiwan in June. The devastating storm resulted in huge losses for the Taiwan farming communities and many farmers had no choice but to harvest their fruits during days when the rain let up to try salvage as much as the could. However, despite the bad weather, the lychees harvested were huge and juicy, and promises to be as unforgettable at it was in the past.
Taiwanese F&B products have always focused on sustainability, natural, safety, freshness, and taste. According to Lin Min-li, Deputy Representative cum Head of Economic Division of the Taipei Economic and Cultural Office in Malaysia, Taiwanese F&B industry has always focused on creating wide range of quality products with equally quality packaging design, while Taiwanese fruits have been established as premium quality products
Taiwan has for years been active in promoting their products in Malaysia for years and this has helped establish Taiwanese products' reputation as premium products in Malaysia. Year round small scale promotion campaigns include those for the Taiwanese fruits, ponkan, and other food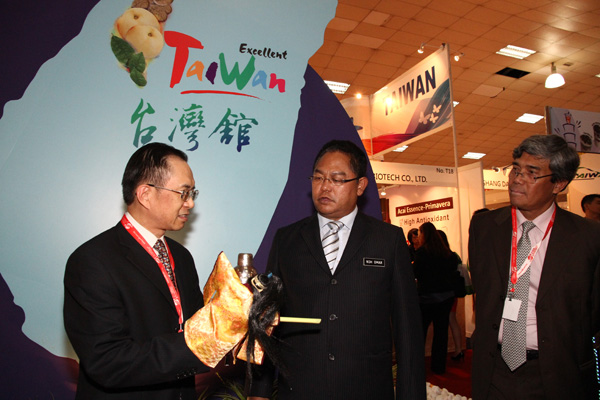 Representative from Taipei Economic and Cultural Office in Malaysia, Mr.Lo Yu Chung (left) armed with a puppet in hand serving our Agriculture Minister (middle) with Taiwanese made Bubble Tea at the opening of Taiwan Pavilion at MIFB2012 .
Opportunities in Specialties
Taiwan Pavilion will be hanging out its red lanterns and bring more of its famed Taiwan street food. Visitors can feast on many night market staples including crispy fried chicken cutlet, oyster vermicelli, taro balls, salt fried chicken, and Taiwan tempura. Trade visitors can look forward to uncovering hidden gems that might become the next big hit in Malaysia.
According to Lin Min-li, the night market stall holders traditionally hung red lanterns in front of their store to identify themselves as food sellers and with the night market in Taiwan becoming a tourist attraction in its own right, the red lanterns have come to be associated with good food in Taiwan.
Taiwanese bubble tea made was exhibited in the 2010 MIFB in a bid to look for partners. Within a short span of a year, Taiwanese bubble tea chains can be found all across Malaysia. Freshly made quality drink with flavours to suit different taste buds at an affordable price; winning combinations that saw the rapid rise of the bubble tea wave that is showing no sign of slowing down.
Taiwan has also been actively promoting its MIT (Made In Taiwan) brand and many food products such as pineapple cakes, dumplings, and rice have begun making inroads into the global market place.
Wowing with Fruit Sculptures
One of the highlights for this year's event is the exquisite fruit carving showcase titled Heroes Food Carving Showcase – Virtues across Time by renowned Taiwan food carving artist Chef Lee Rui Lin. And this will be his first time participating in the MIFB.
Lee was the runner up in the 2007 Taipei Top Chef Competition – Food Carving Category, and the winner for the 2009 event. His 2009 winning work – Transformers – became one of the biggest talking points of the competition.
MIFB 2012 Event Planning Director Tania Hsu the idea behind the showcase is to highlight culinary innovation and the idea that culinary art goes beyond making delicious tasting food and is as much about appealing to the other senses. Heroes expected to make a showing include the Transformers, Guan-Yu, the Roman Legionnaires, and our very own Datuk Lee Chong Wei.
The 8th Malaysia International Agro-Bio Business Conference 2012 will also be held concurrently. Dr. Wang Shyh- Shyan, Head of Tainan District Agricultural research and Extension Station, will be one of the speakers during the conference and he will be talking about innovation in Taiwanese agriculture industry on the 13th July.
Food Tasting, Opening Doors
The past MIFB has established the Taiwan Pavilion as one of the key attractions of MIFB and they have long cemented its reputation as the most exciting booths of MIFB. In terms of size, number of participants, or the products on display, the Taiwan Pavilion has managed to return stronger each time and broke transaction records for the past two outings.
To further promote opportunities, the Taiwan Pavilion will be holding a Sumptuously Taiwan – Buyer's Food Tasting Session for trade visitors and buyers from 11am on the 13th July. International and local F&B players and entrepreneurs are encouraged to attend the event to create more opportunities.
According to Lin, Department of International Trade Promotion, Thailand has confirmed their visit to Taiwan Pavilion and there will be 25 SMEs delegates from Thailand joining the food tasting session on 13th July. The exhibitors from Taiwan Pavilion welcome all the trade visitors to visit them, and enjoy the authentic delicacies from Taiwan throughout the 3 days exhibition.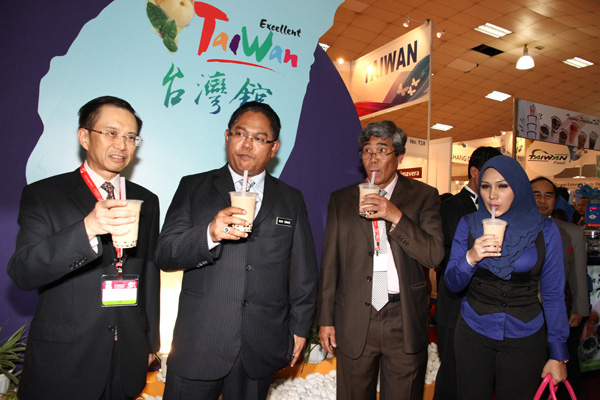 For further information, please contact Ms Venus of the Secretariat at  03-8023 8951 / 012-426 7608.