News From : DagangHalal.com (16 Jul 2012)
13th Malaysia International Food and Beverage Trade Fair (MIFB) 2012 is Now ON! Come Embark on the Most Anticipated Food Sourcing Journey in the Region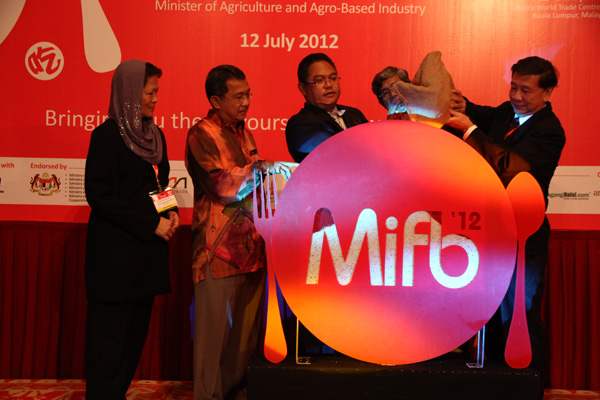 Y.B Datuk Seri Haji Noh bin Omar filling up the whole grains and wishing Food and beverage industries a bumper harvest.
Left end: Puan Latifah Hamzah, Managing Director of Mutiara Sigma (M) Sdn. Bhd
Right end: Mr. Wee Teck Kee, Co-Organizer of MIFB 2012
Middle: Y.B Datuk Seri Haji Noh bin Omar, Ministry of Agriculture and Agro-Based Industry Malaysia
Second from right: Y.Bhg.Datuk Dr.Abd.Shukor Abd.Rahman, Director General of Malaysia Agriculture Research and Development Institute
Second from the left: Y.Bhg. Tan Sri Mohamed Hashim bin Ahmad Makaruddin, Organizing Chairman of MIFB 2012, Executive Chairman of Kumpulan Utusan
Going strong for the 13th time, MIFB 2012 is returning with a big bang from July 12 -14, 2012 at the Putra World Trade Centre, Kuala Lumpur. Its official opening ceremony was held on July 12, 2012 with YB Datuk Seri Haji Noh bin Omar, Minister of Agriculture and Agro Based Industry of Malaysia being the Guest of Honour to officiate the opening and deliver his keynote address entitled "Opportunities in the Global Food Crisis" during the 8th Malaysia international Agro-Bio Business Conference.
Themed as "Bringing you the Flavours of Malaysia and Beyond", MIFB 2012, jointly organised by Kumpulan Utusan and Expomal International Sdn Bhd and Mutiara Sigma, is the most well-known and focused F & B showcase held annually in Malaysia that reflects and reinforces the size and magnitude of this important industry. Whilst featuring the full spectrum of the Malaysian indigenous food and beverage products and services; and at the same time it facilitates foreign producers to merge into the domestic, regional and world's food marketplace. Its proven track record, popularity with trade visitors and success for exhibitors have earned itself accolades of being one of the most anticipated events of its kind in the region.
According to Tan Sri Mohamed Hashim bin Ahmad Makaruddi, Organizing Chairman of MIFB 2012 cum Executive Chairman of Utusan Group, MIFB 2012 aims to promote a national branding for Malaysia as a gourmet paradise with a dazzling variety of culinary choices through the reflection of Malaysians' favourite food, while introducing different food products and services from around the world, thus fittingly themed "Bringing you the Flavours from Malaysia and Beyond".
This year, MIFB 2012 is enthralled with over nine international pavilions of various themes, presenting in authentic styles that are surely a feast for the eyes and the taste as well. These include MOA of Malaysia, Hunan, Henan, Tian JIn of China, Korea AT, Korea KITA, Thailand, India and Taiwan pavilions The event also sees overwhelming international participations from countries and places such as Australia, Bangladesh, Hong Kong, India, Iran, Japan, New Zealand, Poland, Singapore, Sri Lanka, Tunisia, Turkey, UAE, Vietnam and many more.
Aside from over 500 booths of the latest and most innovative food and beverage products and services taken up by more than 350 exhibitors from over 22 countries around the world, MIFB 2012 has also orchestrated a fantastical thematic journey for your discovery.  This section offers a sensible structure that gears towards specific needs and easy sourcing for buyers and visitors alike. Building on the strength of Malaysia's resources and increasing demand, the thematic communities at MIFB 2012 is sensibly structured into:
– Health & Nutritional Food

– Ingredients, Herbs & Spices

Juice & Drinks

Teas from the Region

– Malaysia International Halal Food Hub
Concurrently held are three focused events are:
Istimewa Malaysia to showcase the very best of Malaysia's specialty food that are most sought by local and international buyers;
Food Future 2012 to profile companies with the latest packaging technologies, innovations and services that offers valuable insights into what is available in the market for people in the industry to run and expand their businesses more effectively and efficiently;
the 8th Malaysia's International Agro-Bio Business Conference 2012 to be held from July 12 – 13 to explore new food sources and ways to capitalize opportunities arisen amidst the pressing issues of rising food prices and food security towards new growth and wealth creation. It features prominent speakers and food professionals from Korea, Japan, Taiwan, Thailand and Malaysia.
MIFB 2012 has also incorporated two thematic pavilions including:
The world's 1st Heroes Fruit Carving Showcase at the MIFB Creative Cultural Gallery. This showcase featured the mind-blowing culinary skills of two award winning chefs from Taiwan and Malaysia, who have hand-carved eight pairs of amazing all-time "Heroes vs Heroes" such as the Transformers, Guan-Yu, the Gladiator, our badminton hero "Datuk Lee Chong Wei; and more. This unique showcase is well expected to heighten the spirits of culinary enthusiasts and industry fraternities to strive for value-added creativity and to carve out their trails of success in the global food marketplace.
The Halal Park: For the first time, Halal Industry Development Corporation (HDC) is to make a strong presence with their very own pavilion at MIFB 2012 to promote greater collaboration in Halal certification to the world, while further enhancing Malaysia's premier position as a global halal hub. HDC will also be offering their advisory and consultancy services on procedures of halal certification and labelling.
Apart from this, an exciting line-up of programs and activities are to be held to further enhance the trade and investment potentials to exhibitors and visitors alike. These include:
– The One-to-one Business matching sessions to be held throughout the event days.
– Sponsored buyer program whereby serious buyer are sponsored to come to MIFB 2012 to source,interact  and transact.
– Welcoming Cocktail on July 12 and Buyers / Sellers Networking Cocktail on July 14 (both by invitation only) for networking and information exchange in a relaxing manner
– MIFB 2012 Awards to select the Best Booth from the over 500 booths at MIFB 2012.