News From : DagangHalal.com (13 Jul 2012)


HEROES FRUIT CARVING SHOWCASE
What stunning effects could be expected from the fusion of "the Art of Fruit Carving" and "the Heroes"?
How amazing would it be to witness the battleship between Transformer VS Ultraman? How fascinating would it be to meet "Guan-yu" and "The Gladiator" who travel through space and time to meet with us in the 21st century? Through the magical fruit and vegetable carving skills of the chefs, these legendary heroes are making their grand presence at MIFB 2012.
In conjunction with the 13th Malaysia International Food & Beverage Trade Fair (MIFB2012), this visual feast, namely "MIFB 2012 Creative Cultural Gallery ~ Heroes Fruit Carving Showcase" is the joint effort between MIFB 2012and Malaysia Creative Cultural Association (MCCA) and it's to be kicked start on July 12, 2012. The event is creating wonders by showcasing the superior craftsmanship of two renowned fruit and vegetable carving masters from Taiwan and Malaysia. They will present a series of "Hero VS Hero" carvings that demonstrates the one of its kind culinary creativity which is absolutely amazing and mind-blowing.
Into its 13thstaging, Malaysia International Food & Beverage Trade Fair, which is to be run from July 12 – 14, 2012, will launch this first ever Gallery with the objective to promote culinary creativity and innovation. While ensuring the visitors a fruitful visit by featuring creative and innovative culinary art of fruit and vegetable carving, this unique showcase is dedicated to heighten the spirits of culinary enthusiasts and industry fraternities to strive for excellence and to carve out their trails of success in the global food marketplace.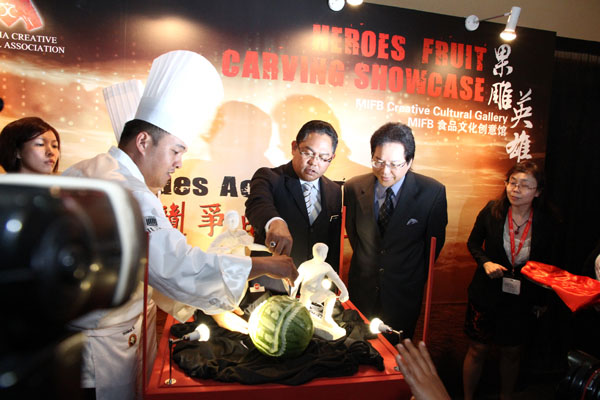 Minister made his HEROIC launch! at the opening of MIFB'S Creative Cultural Gallery. Accompanying by the President of Malaysia Creative Cultural Association (MCCA), Mr.K.C.Lau
A Striking Heroic Confrontation
Organized for the very first time, the culinary world welcomes this inaugural "Heroes-themed" fruit and vegetable carving showcase that features a stunning assembly of "hand-carved" mighty heroes. It is indeed one of the most anticipated programs of the food fair.
"Fruit and vegetable carving is a venerable traditional art form. Fine and creative carving skills always bring out the unique characteristics of each kind of fruit and vegetable. Audiences always get delighted and amazed with those exquisite carving masterpieces. "Heroes Fruit Carving" is a breakthrough in the industry. Displayed by using contemporary design and lighting, the finished "art pieces" will be showcased under different catchy themes brainstormed by the creative team. It is completely a new mode of thought and culinary skills to create multi-sensory experience to food enthusiasts," said James K.C. Lau, the President of Malaysian Creative Cultural Association (MCCA).
"Creative culture aims at creating new added value to existing cultures, while exploring new ways to bring them to the next level of outreach," James added. Through "Heroes Fruit Carving Showcase", it is hoped to inspire people through this special form of creative expression, and at the same time to further enhance cultural promotion among the audience.
The Business and Creativity of Food
The stage of Heroes Fruit Carving Showcase, themed "Virtues across Time" is all set during the three-day event of MIFB 2012. While affording zillions of opportunities in food business, MIFB 2012 through this creative showcase will also provide a dynamic platform to promote creativity via food art. This event will be conducted by Chef Bruce Li, the Assistant Art Sous Chef of Food Modeling Center of renowned Hotel in Taipei, and Chef Frankie Lee Kim Soon, Centralize Chief Artist of YTL Hotels, who will respectively present eight hero-themed carving masterpieces. The "heroes" include:
– "Guan-Yu" VS. The Gladiator
– Fairy Nurse VS. Heroic Firefighter
– Transformer VS. Ultraman
– Eagle Eye VS. Black Widow
– AugusteGusteau VS. Ratatouille
– Lee Chong Wei VS. Lin Dan
– P.Ramlee VS. Michael Jackson
– Father VS. Mother
The eight carving artworks are meant to portray the essential elements, such as Courage, Perseverance, Innovation, Complement, Heritage, Confrontation, Legends, and Trust, which are the true essence of success for businesses to excel and exceed in today's competitive global environment.
New Value-adding Creativity to Capture World Attention
Renowned as the country's one of the most established F & B events for the industry, Malaysia International Food and Beverage Trade Fair (MIFB) is entering the 13th edition in 2012. As a focused F & B trade event, MIFB attracts over 20,000 visitors and buyers from around the world each year to flock to the event to explore unlimited trade and investment opportunities. It also serves as the ultimate F&B business platform for the international exhibitors to leapfrog into the lucrative food marketplaces including Malaysia, ASEAN and UAE countries. MIFB, thus, becomes a prime launching pad for international participants from countries and places such as Taiwan, Hunan, Tianjin, etc. to promote their F & B products and services.
According to the event organizer, Expomal International Sdn. Bhd., they are pleased to collaborate with Malaysian Creative Cultural Association (MCCA) to co-organize this inaugural "MIFB Creative Cultural Gallery" in concurrent with the exhibition. It is well expected that this program will become a definite crowd puller for MIFB this year. Not only will it help encourage healthy competition and promote exchange among the international F & B fraternities, it will also promote and stimulate the culture of creativity and innovation among them for increased value adding activities towards greater success.
For further enquiries about this creative fruit & vegetable carving activity, please visit: www.mcca.org.my
Brief Background of the Master Carvers
Fruit carving champion from Taiwan:

Chef Bruce Li, (wasthe Art Sous Chef of Food ModelingCenter of Taipei Renown Hotel)

Award Record:
2009 – Champion (Fruit carving), World Championship of Cookery
in Taipei
2007 – 2nd runner up (Fruit carving), World Championship of Cookery
in Taipei

Creative Chef from Malaysia:

Chef Frankie Lee Kim Soon, Centralize Chief Artist of YTL Hotels

Award Record:
2008 – 2ndrunner up in Ice Fantasy Russia
2007 – Lyon, France World Cup Pastry
2004 – 3 bronze medals in Germany IKA