News From : DagangHalal.com (28 Feb 2014)
Dubai will develop two world-class Halal Zones to cater the regional and international Halal product markets. The move aims to position Dubai as a global hub for Halal products that is valued at $2.3 trillion The announcement came at a media conference at the Jafza Stand in Gulfood, taking place at Dubai World Trade Center. Hisham Abdullah Al-Shirawi, chairman, Economic Zones World, and Abdulla Al-Awar, CEO of Dubai Islamic Economy Development Center, were present at the event.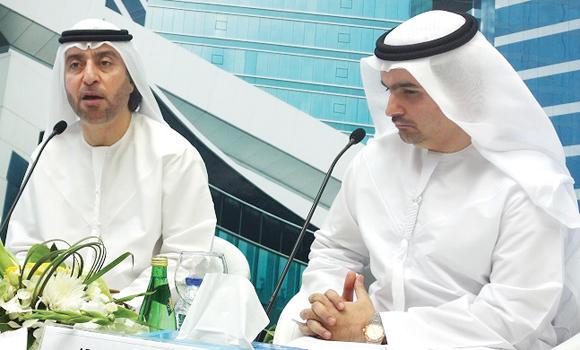 Hisham Abdullah Al-Shirawi, chairman of EZW, speaking at the press conference in Dubai.

The Economic Zones World (EZW) will develop the Halal zone in collaboration with Dubai Islamic Economy Development Center (DIEDC).
Al-Shirawi formally rolled out an initiative to develop a state-of-the-art Halal Zone in Jafza to serve international markets and another Halal Zone at the TechnoPark to serve local and regional markets.
"Since Halal products and services are one of the key components of Islamic Economy, the EZW's move is a major step forward in that direction," said Al-Shirawi.
"EZW aspires to become one of the world's key hubs for Halal products trading, services and manufacturing," he said. "The initiative will meet the longstanding demand of EZW'S existing over 700 leading companies in food and beverages, pharmaceutical'S health care and cosmetics sectors. These companies together generate trade worth AED16.8 billion. A large number of these companies are engaged in the business of production, marketing and distribution of Halal products in their respective sectors."
Abdulla Al Awar, CEO of Dubai Islamic Economy Development Center, said: "The Dubai Islamic Economy Development Center will work closely with the Halal Zones and their parent organizations to develop the Halal products and lifestyle sectors, while adhering to and promoting strong and consistent standards within the industry."
Halal Zones will integrate a one-stop-shop system to service each and every need of customers in the Halal supply chain, offering ease of doing business.
EZW plans to develop Halal Zones as all-inclusive hubs, supported with world-class infrastructure, perfectly suited to attract leading enterprises in the entire gamut of Halal industry.
EZW has allocated infrastructure-ready plots of land for Halal Zones in Jafza and TechnoPark.
Jafza Halal Zone will be built on an area of over 850,000 square meters while TechnoPark Halal Zone will be spread over a plot of over 700,000 square meters.
The value of Halal food industries in the world is estimated at $2.3 trillion, which accounts for 20 percent of the total food sector in the world.
Trade in total Halal products will continue to grow at more than 4.8 percent annually to reach about $6.4 trillion in 2020.
Source: arabnews.com