News From : DagangHalal.com (04 Aug 2014)
Even though the claim was later retracted, the outrage that erupted in Malaysia earlier this year after Cadbury recalled chocolate treats that allegedly contained traces of pork DNA serves as a reminder of the influential voice that consumers of Halal food products have.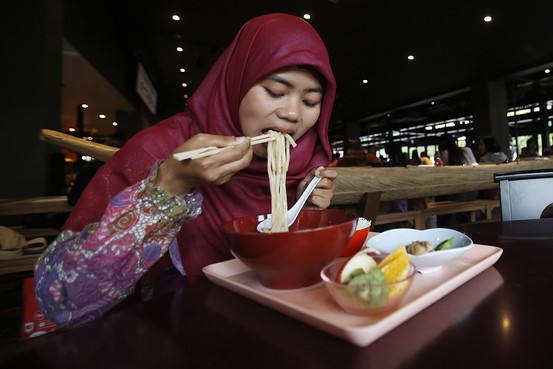 Cahyani Ariya Wiji, a 21-year-old Muslim foreign student from Indonesia, eats a bowl of Halal Udon noodles, at a dining hall in the Kanda University of International Studies in Chiba, east of Tokyo.
And the lesson of what a good business opportunity selling food prepared in accordance with Islamic law is hasn't been lost on a number of major Japanese firms. Bigger than China, the world's Muslim population is some 1.6 billion people and one of the fastest growing. For Ajinomoto Co.2802.TO -0.19%, best known as the firm behind monosodium glutamate, the Halal food market is one that's rife with possibilities.
"We've been in Southeast Asia for 40 to 50 years. We think we can leverage our experience," said Hiroyuki Teramoto, the manager of Ajinomoto's umami seasoning and processed foods groups. The company opened an office in Pakistan this month, giving it greater access to the predominantly Muslim country as well as other nations in the Middle East and North Africa.
Seeing the writing on the wall with Japan's population shrinking and its food demand peaking, Ajinomoto has been rapidly transforming itself from a domestically-focused company into a truly multinational organization. In the financial year that ended in March, its profits from Japan and overseas were split about 50-50. The company aims to lift its overseas profits so that they take a 60% piece of the pie by fiscal 2016.
For many of the multinational food companies who see opportunity in Halal food, Malaysia is the starting point. The government of Malaysia has been issuing a Halal certificate for some 40 years that is widely accepted in the Muslim world. So when the country's government set up Halal Industry Development Corp. in 2008 and started offering support for international businesses with meeting Halal standards, it was a huge success.
"Today, Malaysia is the leading global Halal hub with an annual export value of RM35.4 billion ($11 billion) for Halal products," the government's web site declares proudly.
Mitsubishi Corp.8058.TO +0.88% is a Japanese company who sees the value of Malaysia's Halal certificate. The trading company has set up a 50-50 joint venture with Colcafé, a subsidiary of Grupo Nutresa SANUTRESA.BO -1.33%, Colombia's largest food company, in Kuala Lumpur and will start to make and sell instant coffee mixed with sugar and milk powder in August. "If you think about future business in the Middle East, getting Halal certification from Malaysia is very important," said Hiroki Shiozawa, General Manager of Mitsubishi Corp.'s Beverage and Dairy Products Department.
Source: Blogs.wsj.com