News From : DagangHalal.com (04 Aug 2014)
CAIRO – Brining together dozens of worldwide Halal cuisine food for the second year, California's Halal and `Eid food Festival will be held next week in Newark with the attendance of thousands of Muslims from across the US.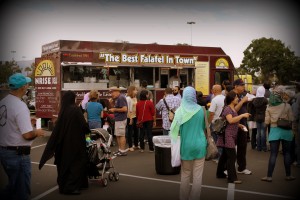 Held in the Bay Area, which is home to some 300,000 Muslims, the event is expected to achieve a historic success like the first one.
"You don't want to miss the Largest Halal Food & Eid Festival in California with over 50 different Halal Food," Halal Fest organizers wrote in a Facebook post.
"Drink, Dessert, Specialty, Bazaar & Trucks confirmed for Halal Fest 2.0 on Saturday August 9th, 2014 at the NewPark Mall main parking lot (between Sears & Macy's) in Newark, CA!"
Organized by a group of US Muslims who have one thing in common, "their love of great food", this year's Halal Festival will bring more Halal Food Vendors and more entertainment.
Halal Fest 2.0, which will be held on Saturday, August 9, from 12 to 1 pm, will offer food by 25 different restaurants and food trucks from all over Northern California.
Held in the Bay Area, which is home to some 300,000 Muslims, the event is expected to achieve a historic success like the first one.
"Alhamdulillah, the turn-out at Halal Fest 2013 by far exceeded all expectations with approx. 10,000 people in attendance!" the website of the Halal Fest wrote.
The concept of Halal, -meaning permissible in Arabic -has traditionally been applied to food.
Muslims should only eat meat from livestock slaughtered by a sharp knife from their necks, and the name of Allah, the Arabic word for God, must be mentioned.
Although there are no official figures, the United States is believed to be home to between 6-8 million Muslims.
Diversity
With wide variety of different Halal cuisine from around the world, the festival aims to reflect the diversity of the Muslim community in the US.
Along with Mexican, Afghan, Pakistani-Indian, barbecue and traditional American foods, different desserts and drinks, including Vietnamese coffee and Hawaiian smoothies will be offered during the festival.
Combining Asian and American food, one of Halal cafes, Mirchi Cafe in Fremont, will be serving non-alcoholic drinks called "mocktails".
Besides food, several activities and family programs will be organized during the one-day festival that is expected to attract from 7,000 to 8,000 people.
The activities will include carnival rides and three eating contests (with separate events for men and women) to eat as many spicy chicken wings, a large snow cone and Gulab Jaman (a syrupy Pakistani dessert) in the allotted time.
"There will also be a large bazaar featuring vendors selling a wide variety of items such as clothing, jewelry, gifts, toys and artwork from around the Muslim world," the website added.
Source: Onislam.net