News From : DagangHalal.com (26 Jul 2011)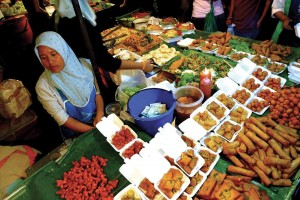 Thailand's avowed aim of becoming the "World's Kitchen" has been boosted by new funds and a five-year strategic plan to promote Halal food production and food standards to the world's 1.9 billion Muslim consumers.
The new plan was developed by the Industry Ministry and the National Food Institute with input from the Central Islamic Committee of Thailand and calls for up to THB 5bn to be invested to raise export shipments of halal food – the term covers contents and preparation, as well as the slaughter of animals as proscribed by Muslim (Sharia) law – by 10 per cent each year of the plan, which runs from 2010 to 2014. The Government has clearly identified a growing niche market, as can be seen from the dramatic rise in halal exports, which were worth THB 5.19bn in 2008, an increase of 53.3 per cent from THB 3.38bn in 2007. In 2009, halal exports surged to THB 8.36bn. The potential for further growth is enormous.
Thailand, a predominantly Buddhist country, is ranked fifth in terms of the global market for halal products with a market share of around 5.3 per cent (2009). Brazil tops the list (10.2 per cent), followed by the USA, India and Russia.
The Industry Ministry estimates that the market for halal food products is worth a staggering USD 635bn. This year THB 264mn was earmarked to develop nine food production projects in five southern provinces as part of the Government's "Thai Khem Khaeng" stimulus programme. Pattani, Yala, Naratiwat, Satun and Songkhla have been designated as production bases for halal products, for which the focus is on raw materials for halal food production, including livestock, fisheries, vegetables and fruit.
Despite the rosy news, there are several challenges that need to be met if the government is to meet its targets. Firstly, halal food standards have to be improved domestically and secondly, the profile of Thai halal food overseas, particularly in the Middle East, must be raised.
In far-sighted move, a world-class standard halal laboratory, the Halal Science Center (HSC-CU), was set up in 2003 at Chulalongkorn University to test for prohibited, or Haram, substances in halal foods, becoming the first of its kind in the world. In addition to testing food, the institute also runs four-month long training courses for companies and entrepreneurs on how to set up a locally-developed industrial halal food system, HAL-Q. For the 2009 intake, staff from food companies like Chareon Pokphand Foods (from the giant CP Group) and Mah Boon Krong Rice attended with the aim of altering their production systems to comply with halal standards. CP already has a range of halal foods but its famous poultry meat products remain little known in the Middle East.
One of the reasons why the HSC has gained a good reputation in such a short time is that each Muslim country has its own halal standards and certification scheme but none, apart from Malaysia, has a top-class laboratory; even a large Muslim country like Turkey does not have a comparable institution.
The UN has released a CODEX for halal foods but countries apparently feel more comfortable with their own systems. Both Thailand and Malaysia have benefited from this certification confusion and are increasingly being recognised for their expertise and innovations in halal food science.
But the fact remains that Thai halal food producers export only around 20 per cent of their products to the Middle East where Thai food products are little known. Most exports end up in Malaysia or other Muslim countries in Asia. As a result, key markets like Europe, where there are 50 million Muslims and the USA where there are eight million, have been largely ignored; Sources at the Industry Ministry say that part of the funds for the five-year plan will be used to develop marketing programs to raise the profile of Thai halal food products not only in the Middle East but also in Europe and the USA.
In addition to penetrating halal food markets in Europe and the USA, Thai exporters will get help to market their products to the more than 50 Muslim countries in the Organisation of Islamic Countries (OIC).
Since 2008, the HSC-CU, in cooperation with local authorities has held an annual international conference of halal products in Phuket, the clunkily-named World of Halal Science, Industry & Business Conference (WHASIB), which for the past two years has been held in conjunction with the IMT-GT Halal Expo. The Indonesia, Malaysia, Thailand Growth Triangle (IMT-GT) set up a working group on halal products and services with Thailand's National Economic and Social Development Board (NESDB) as chair and supported by the HSC-CU.
The basic concept is to develop Phuket and Krabi as centres for halal products and services leveraging on the Muslim populations in the growth triangle and encouraging intra-regional travel and trade. With half the population of Phuket Muslim and with Middle Eastern tourist arrivals to Phuket and the South growing at more than twice the average rate, the potential for catering to these two groups, not only in terms of food products but also for all kinds of halal-based services such as resorts and hotels. Clearly, with the Government support kicking in and projects developing in two Southern regions – the Deep South and the IMT-GT – the outlook for Thai halal services is positive. Now all the Government and Thai halal services producers need to do is to let the rest of the world know.
Source: www.businessreportthailand.com