News From : DagangHalal.com (26 Jul 2011)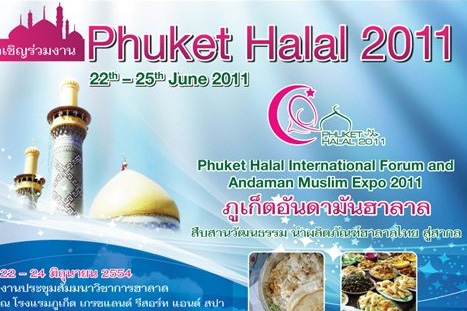 22 June 2011, Phuket Graceland Resort & Spa, Phuket, Thailand.
The Phuket Halal International Forum was recently organized by Sheikhul Islam Office Thailand in cooperation with Phuket Provincial Administrative Organization and the Central Islamic Committee of Thailand (CICOT) to foster international networking and collaboration among key Halal industry movers and Halal certification bodies worldwide and at the same time creating a global standard for Halal labels.
The conference received international delegates from 14 countries including Thailand, Malaysia, Japan, Taiwan, Vietnam, Pakistan, Turkey, Switzerland, Australia, USA, Canada, United Kingdom, Ireland, and South Africa. The conference has also attracted Muslim scholars, businessmen and members of Muslim community from all corners of the country.
Dr. Surin Pitsuwan, the Secretary General of ASEAN officially launched the conference. In his opening address, Dr Surin drew special attention to the notion that the convergence of the Halal sector and Muslim Tourism can be a dynamic catalyst to spur new growth in both sectors for Asean countries. Approximately 20 certification bodies from various countries (Malaysia was represented by JAKIM) took part in the meeting discussing about how they set the standard of Halal in each country.
At the same event, an MoU between DagangHalal Malaysia and The Central Islamic Committee of Thailand (CICOT) was officially sealed. This commemorates the collaboration between two countries to endorse Halal promotion initiative via DagangHalal.com.
The Muslim population is rapidly growing in Thailand, consisting of 14% out of Thailand's 66 million total populations (approximately 9.29 million Muslims with 3,650 Mosques all over Thailand). Indeed this has resulted in greater demand for Halal Certified Food and other Halal products not only among the Muslims community but the non-Muslims consumers as well.