News From : DagangHalal.com (11 Feb 2015)
Bumper Year for Halal Poultry Exports Anticipated After Record-Breaking Year for Meat Exports to UAE in 2014
Dubai, United Arab Emirates: After a record year of double-digit growth for worldwide US meat exports in 2014, and the UAE emerging as a key export market for US lamb, the USA Poultry and Egg Export Council (USAPEEC) anticipates poultry and egg exports to the Middle East in 2015 will surpass the US$400m value achieved last year.
Howard Helmer – the 'world's fastest omelette maker'
The positive projections come as an ever-growing number of US food exporters are leveraging the UAE's world-class logistics infrastructure to establish the Emirates as their primary regional hub for re-exporting consumer-ready products across the wider GCC, Middle East, Asia and African continent.
Ambassador Asif Chaudhry, Vice President and General Sales Manager – Commodity Credit Corporation – of the USDA Foreign Agricultural Service, reiterated that the UAE is a priority global growth market for US food exporters and a key gateway for re-exports.
"Gulfood's 20th anniversary stands as a testament to the importance of the UAE to the US and the rest of the world," said Ambassador Chaudhry. "US agricultural exports to the UAE have been increasing steadily over the past several years and we look forward to seeing Gulfood grow over the next 20 years. There are 166 companies at the show this year and all of them hope to strengthen current partnerships within the Emirates and the region, as well as establishing new ones."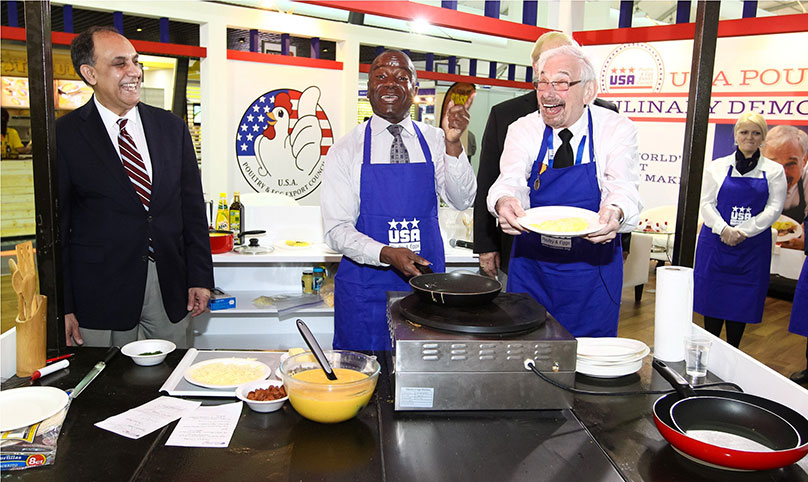 From L to R – Ambassador Asif Chaudhry, Quintin Gray and Howard Helmer
With US agricultural exports to the UAE having grown steadily since the inception of Gulfood in 1987, Jim Sumner, President of the USAPEEC, predicted a strong year for USAPEEC exports to the Emirates will propel US agricultural exports to the UAE beyond the anticipated US$1.5 billion recorded last year.
"The US is rapidly becoming one of the world's largest suppliers of halal poultry products," said Jim Sumner, President of USAPEEC. "By establishing a presence at Gulfood many years ago, our exports to the UAE have grown year-on-year. In 2014, the US supplied 74,870 metric tonnes of chicken products, 3,001 metric tonness of turkey products and more than 1.96 million dozen eggs to the UAE. Our exhibitors are thrilled with the enthusiasm for their products at Gulfood and we expect significant sales increases to this market in 2015."
With its largest-ever two-storey pavilion at Gulfood 2015, USAPEEC is among 166 US companies exhibiting across more than 2,000m* at the world's largest annual food and hospitality trade show. USAPEEC has drafted in Howard Helmer – a Guiness World Record Holder for the 'World's Fastest Omelette Maker' – to promote its high-quality poultry and egg products.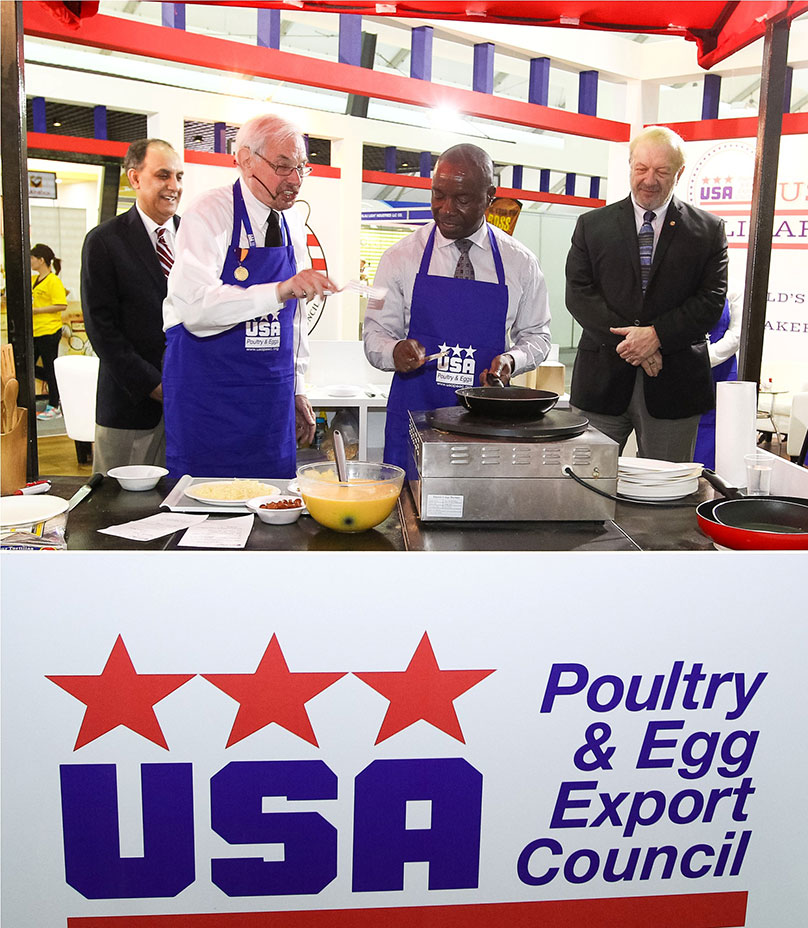 From L to R – Ambassador Asif Chaudhry, Quintin Gray, Howard Helmer and Jim Sumner of USAPEEC
The 76-year-old American is conducting a series of cooking demonstrations at Dubai World Trade Centre (DWTC) this week, and he was joined today by Quintin Gray, the Regional Agricultural Counselor of the Office Agricultural Affairs, USDA, for a '20 omelettes in 20 minutes' stunt mark the landmark 20th anniversary edition of Gulfood. Helmer completed the task with seven minutes to spare.
"As someone who has cooked more than a million omelettes in his lifetime, take it from me: US eggs are the secret to a good omelette," said Helmer, whose 1990 record for cooking 427 omelettes in 30 minutes still stands. "I've been doing this for more than 40 years and I've cooked with eggs from all over the world – nothing comes close to the consistent quality offered by US eggs."
Part of the Dubai Food Festival, a city-wide culinary celebration running throughout February, Gulfood 2015 is a strict trade-only event open to business and trade visitors. The shows are open 11am-7pm from February 8-11 and 11am-5pm on February 12. Visitors can register on-site for an entry fee of AED250 (US$ 66.65). For more information, please visit www.gulfood.com.