News From : DagangHalal.com (10 Feb 2015)
UK Consul General to Dubai Samples 'Best of British' as UK's Leading Food & Beverage Companies Eye Regional Retailers and Distributors at 20th Gulfood
Dubai, United Arab Emirates: Edward Hobart, the UK's Consul General to Dubai, mixed business with pleasure today as he stopped into Gulfood 2015 to meet British-based masterchef Atul Kochhar, a twice Michelin-starred culinary star who counts Rang Mahal at Dubai's five-star JW Marriott Marquis among his extensive network of international restaurants.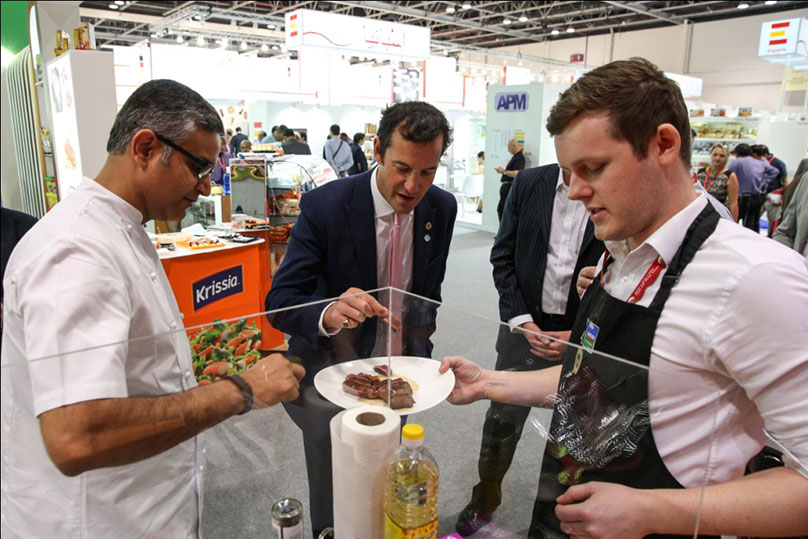 Finest English and Welsh lamb at Randall Parker Foods
With more than 100 of Britain's leading food and beverage companies participating at the landmark 20th anniversary of Gulfood, Hobart was impressed by the array of British produce and ingredients on display at the world's largest annual food and hospitality trade show.
"UK companies are at the 20th edition of Gulfood in their greatest ever numbers – a testament to the importance of the show as the world's biggest annual food and hospitality trade fair. It is a pleasure for me to be here with world-renowned chef Atul Kochhar to sing the praises of the UK's industry-leading food, beverage and hospitality sectors," said Hobart.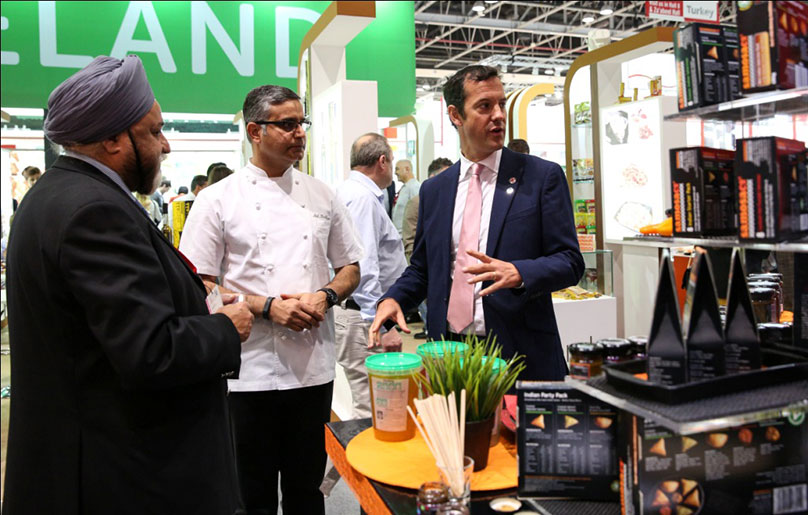 Indian snacks at Samosa Company
Hobart and Chef Kochhar spent several minutes discussing British food products at the UK Trade & Investment (UKTI) Lounge, where British companies are meeting regional retailers and distributers. The pair then toured the English, Scottish, Welsh and Northern Irish pavilions, trying various cheeses at Wensleydale Creamery, pre-packaged Indian snacks at Samosa Co., the finest English and Welsh lamb at Randall Parker Foods and an assortment of products at Two Sisters Food Group – the third largest food group in the UK.
"The amazing diversity of British-made products at the UK pavilion this year is spectacular and it's great to see so many home-grown products prospering in their search for regional retailers and distributors," said Chef Kochhar, who will also appear at the Dubai Food Carnival being held at Dubai International Marine Club from February 12-14.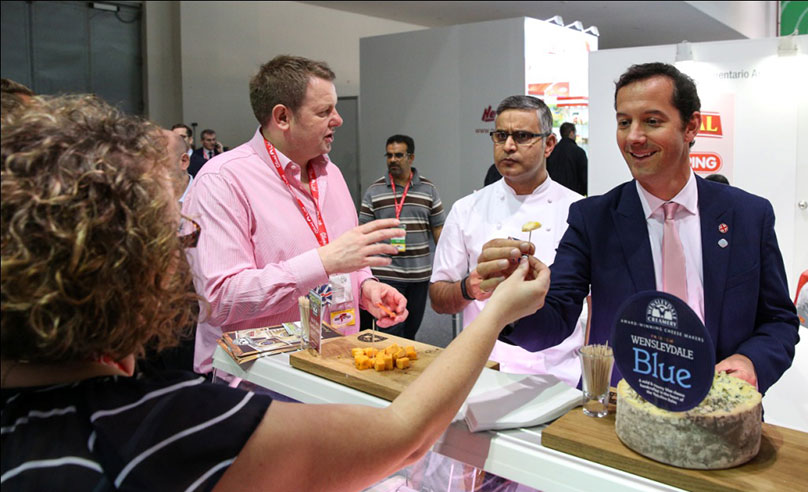 Trying various cheeses at Wensleydale Creamery
Part of the Dubai Food Festival, a city-wide culinary celebration running throughout February, Gulfood 2015 is a strict trade-only event open to business and trade visitors. The shows are open 11am-7pm from February 8-11 and 11am-5pm on February 12. Visitors can register on-site for an entry fee of AED250 (US$ 66.65).
For more information, please visit www.gulfood.com