News From : DagangHalal.com (30 Jan 2015)
DagangHalal Bhd is looking for investors to help push its Halal e-commerce platform internationally, aiming to tap a sizeable share in the USD$123 billion global Halal e-commerce market forecasted in 2015.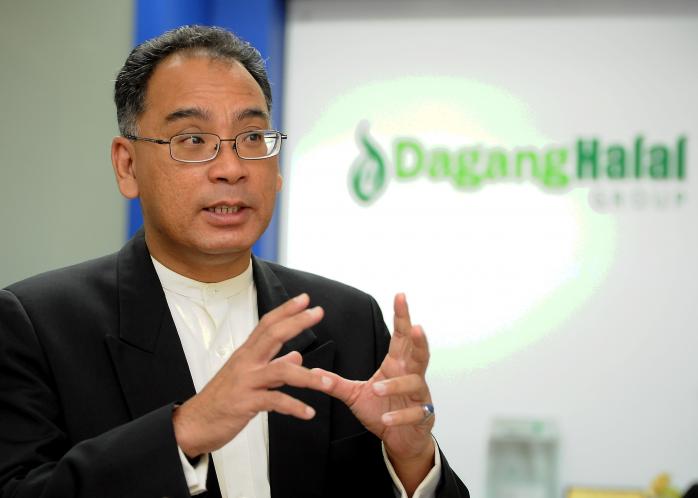 Hazli says the idea for an IPO is still sketchy as the company wants to focus more on identifying investors for now. (Pic by:Muhd Amin Naharul/TMR).
Leveraging on strong growth potential, group CEO Mohamed Hazli Mohamed Hussain said DagangHalal will initiate talks with potential investors in the next two months in an aim to raise 'sizable' investment capital via join-collaborations.
Although he did not mention size of investments, Hazli said the company did not rule out the possibility of raising funds via initial public offering (IPO) as an alternative, however, the idea for IPO is still sketchy as the company want to put more focus in identifying investors for now.
"Everyone, including Dubai, want to do Halal e-marketplace but we are already established in that sphere and we need to keep it that way, if not, we will become 'just another follower'.
"We are open for collaboration from any domestic or global companies and investors and capable to synergise and collaborate with Dubai in developing Halal platform, but we have to take the first step," Hazli told The Malaysian Reserve recently.
DagangHalal is single platform for worldwide Muslims to source, trade and promote Halal products and services, widely used by global customers to seek out certified Halal products globally.
The company has now become the world's repository with its Halal Verified Engine (HVE) solution, an interactive software and mobile app that identifies authentic Halal certified products and Halal food premises across the globe.
The company's HVE database will have 60 million users with 70 global Halal certification bodies (CB) across 50 countries with more than 300,000 Halal suppliers, 1 million Halal certificates and 10 million Halal products & ingredients in the next five years.
"At this stage we have not seen any innovative and interactive Halal platform other than our HVE in Asia Pacific. We do see a lot of 'copycats'" he said when asked
about other similar Halal e-platform in the region.
Focusing on the on-going initiatives by the government and related agencies in establishing Malaysia as the global Halal hub, Hazli said despite being on positive track, the momentum is rather 'slow'.
"As far as Malaysia is concern, we are on the right track in establishing Malaysia as the global Halal hub however, we are slow in implementing it.
"That is why Dubai, the capital city of United Arab Emirates (UAE), is now coming up fast as a global Halal hub while Malaysia is on a slow pace when comes to implementations," he said.
He said one of the many reasons is due to political and the government should set aside political reasons and be more aggressive in pushing Malaysia as a global Halal hub.
"As Jakim already created a comprehensive set of Halal standards back in 2003 and has established itself as a market leader in Halal related matters, the government should capitalise on Jakim by establishing a government-to-government (G2G) working relationship with UAE in sharing experience and guidelines in the Halal business," Hazli stressed.
On local Halal product producers, Hazli said domestic Halal producers have improved over the years in terms of product quality, packaging however, there is a need by the government to push these Halal product producers to step into a bigger export market.
"Local Halal industry have done well but internationally, they are there still 'not there', as they need to have a better and attractive product, packaging, consistency in product offering and cost," he said.
According to statistics, the global expenditure on Halal trade is expected to grow from USD$1.7 trillion in 2012 to USD2.5 trillion in 2018 while global Halal e-commerce potential grew from USD$100 billion in 2013 and estimated to record USD$111 billion last year.
By 2020, the figure is forecasted to reach USD$232 billion globally.
Source: themalaysianreserve.com