News From : DagangHalal.com (08 Mar 2012)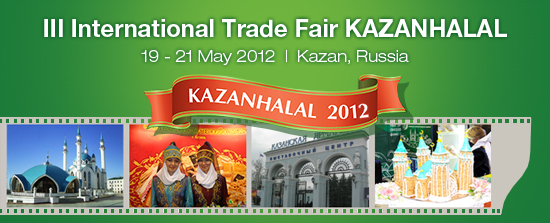 DagangHalal is pleased to announce that we has been chosen as the Online Media Partner for the III International Trade Fair KAZANHALAL 2012 organized by IBFD Foundation and the Association of Halal Producers of Russian Federation. Co-organized by Halal Certification Committee of Tatarstan. DagangHalal will provide complete online and offline media coverage for the PIHEC 2012 which will be held at 8 Orenburgsky Tract , EC "Kazanskaya Yarmarka" OJSC, Kazan, Republic of Tatarstan,  Russia from 19 – 21 May 2012.
KAZANHALAL is an annual event, organized together with KAZANSUMMIT (May 17 – 18, 2012) which is strongly supported by the government of the Republic of Tatarstan in promoting cross-border investments especially in Islamic Finance and Halal Industry. The event will be attended by various reputable organizations, institutions, traders and individual visitors.
KAZANHALAL 2012 programme includes Exhibition of Halal products and services, Halal Industry Forum, cross presentations and business matching, discussion of regulatory aspects of production and trading, discussion of unified regional and global Halal standards.
KAZANHALAL 2012 to bring together over 200 representatives of domestic and international Halal producers, government authorities and regulators from Russia, CIS countries, Middle East and Asia.
Participation in KAZANHALAL gives a great opportunity for foreign producers to launch products to the Russian market of goods and services, establish contacts with customers and vendors to identify export-import potential of Russia.
KAZANHALAL 2012 is organized by IBFD Foundation and Non-profit Partnership "National Halal industry Association" The co-organizers are Committee for Halal certification.
Venue: 8
 

Orenburgsky

 

Tract

 

, EC "Kazanskaya Yarmarka" OJSC, Kazan, Republic of 

Tatarstan,  Russian Federation.