News From : DagangHalal.com (09 May 2011)
JAKARTA: DagangAsia Net Sdn Bhd, a member of Webse Group, expects to generate total bilateral trade of US$12 million (RM33 million) from its venture in Indonesia by 2012, via trading platform Daganghalal.com.
Yesterday, it sealed a memorandum of agreement (MOA) with Indonesia's Saptel Group, which is involved in telecommunication, information technology and business consultancy.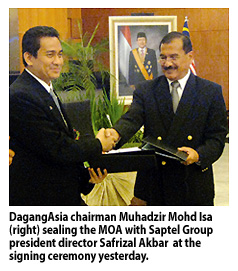 The signing in Jakarta was witnessed by Minister of International Trade and Industry Datuk Seri Mustapa Mohamed, chairman of Indonesian Chamber of Commerce and Industry Suryo Bambang Sulisto, and delegates from the 1st Asean-EU Business Summit.
DagangAsia chief executive officer Khairil Ismahafiz Muhadzir said under the agreement, Saptel will invest RM1.2 million to educate and assist halal industry players in Indonesia to promote and sell their products and services via the platform.
Daganghalal.com is a halal business portal which helps Muslims worldwide source for quality halal products and services.
It comprises halal manufacturers, importers, exporters, distributors and service providers from 48 countries offering products and services from beverages, bread, food additives, frozen food, meat and poultry to consultancy and service agencies.
"This is a private initiative by us to support the Malaysian government's aspiration in making Malaysia a world halal hub," Khairil said.
At the signing of the MOA, Khairil told Business Times that DagangAsia is looking to expand its business and will submit its application for an initial public offering to the relevant authorities in July.
DagangAsia hopes to list on the ACE Market of Bursa Malaysia next year, raising not more than RM20 million to build its profile and promote halal products and services globally.
Khairil said after Indonesia, the company is looking at the Middle East, Pakistan and Bangladesh, China and Turkey. It also plans to set up offices in Dubai and London, he said.
"Our aim is to make Daganghalal.com the leading Malaysian-owned halal portal in the world. We are upbeat on our plan," he said.
Khairil said he is optimistic that the company's net profit will jump threefold this year to RM3 million, driven by new ventures and expansion.
He said DagangAsia will provide offline channels and include halal asset management and investments related to Syariah-compliant products in the future to promote the halal industry globally.
http://www.btimes.com.my/Current_News/BTIMES/articles/slate/Article/