News From : DagangHalal.com (09 May 2011)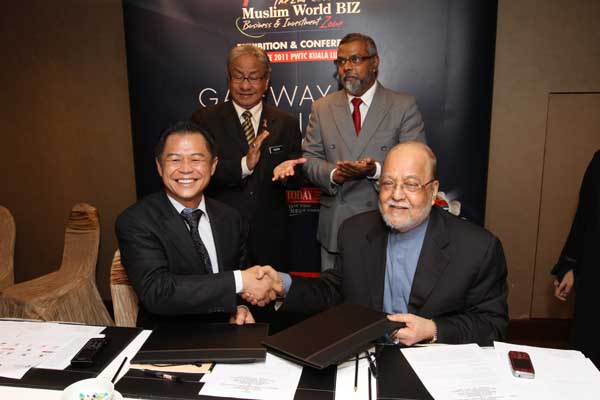 SIGNED AND SEALED: (Seated from left) Managing director, o2 Plus Sdn Bhd – Platinum Sponsor for Muslim World BIZ 2011, Datuk Chen Chun Kong, chairman of OIC International Business Centre, Tan Sri Elyas Omar exchange documents after the memorandum of understanding signing ceremony, witnessed by (standing from left) Deputy Minister 1, Rural and Regional Development Ministry, Datuk Hasan Malek and chairman of Muslim World BIZ 2011, Datuk Dr Raja Mohamad Abdullah.
KUCHING: OIC International Business Centre Sdn Bhd (OIC) will hold the Second Muslim World BIZ – Business and Investment Zone 2011 (Muslim World BIZ 2011) from June 8 to June 11 at Putra World Trade Centre (PWTC), Kuala Lumpur.
According to a statement, the event aimed to be the most significant global business hub in the region specifically among Muslims worldwide prior to the success of the inaugural Muslim World Biz 2010.
Muslim World BIZ 2011 was positioned with an objective to spearhead the promotion of economic cooperation and increase the intra trade among the huge 1.6 billion global Muslim market.
With a theme of embracing change "The Forces of Many, the Vision of One", it created an integrated business platform for government officials, corporations, international investors, businessmen and entrepreneurs from all parts of the world to explore joint ventures, investment and trade opportunities available in the Muslim World.
The event would consist of two days for conference and four days of exhibition. It was expected to draw over 50,000 trades and consumer visitors both locally and internationally.
There would be about 500 exhibition booths available and about 500 delegates expected to participate in the event. The event was expected to generate US$60 miliion from the trading volume, which was higher than the previous one.
To-date, more than 50 per cent take-up rate had been achieved with participation from foreign countries including Indonesia, Brunei, Pakistan, Iran, Singapore, Canada, Syria, Turkey, Ghana, Australia, UAE, Kuwait, Bangladesh, Uzbekistan, Afghanistan, Cyprus and of course Malaysia. Other countries such as Thailand, Philippines and Arab Saudi were expected to confirm soon.
The exhibitors and delegates would consist of both and international organisations comprising industries in halal food industry, tourism, property, lifestyle, biotechnology and green technology, education, IT and telecommunication, banking and investment and services.
Source: theborneopost.com