News From : DagangHalal.com (25 Oct 2013)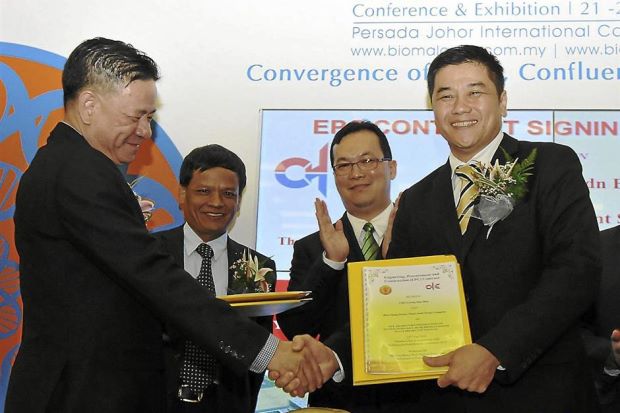 Pham (left) exchanging documents with Chang. With them are Nguyen (2nd from left) and Malaysia Biomass Industries Confederation president Datuk Leong Kin Mun.
JOHOR BARU: Vietnam wants Malaysians to invest in the halal industry there to tap the growing demand for halal products globally.
Vietnamese Ambassador to Malaysia Professor Nguyen Hong Thao said that Malaysia could use the country as the base for halal food processing and export the products to other parts of the world.
>He said Malaysian investors could form joint ventures with their Vietnamese counterparts to set up a dedicated halal park there for food processing.
"We are keen to develop the halal industry in Vietnam, and Malaysia is the best partner due to its experience and expertise in the halal sector" Nguyen told a press conference after witnessing the signing of a memorandum of agreement between Johor-based CHE Group of Companies and Vietnam, Hau Giang Power Plant Joint Stock Co in johor Baru yesterday.
The CHE Group has been awarded a US$620mil (RM1.96bil) contract for the designing, engineering, commissioning and supplying of power generation of 20 biomass rice husk plants in south-western Vietnam for five years.
At the signing, CHE Group was represented by managing director Chang Khong Keong and Hau Giang Power Plant by managing director Pham Minh Ngoc.
"Space is not a problem in Vietnam. We can provide up to 1,000ha for the halal park and we have a ready pool of workers" Nguyen said.
He said that with a population of 90 million, which is expected to reach 100 million by 2020, the Vietnamese market was also huge for halal food.
Nguyen said Malaysia was one of the largest foreign investors in Vietnam with 441 projects worth US$10bil while the others are from Japan, South Korea, Singapore, Taiwan, the European Union and the United States.
"The other sectors that Malaysian companies should consider investing are in construction, infrastructure, property and renewable energy" Nguyen said.
Source: The Star Online