News From : DagangHalal.com (07 Jun 2013)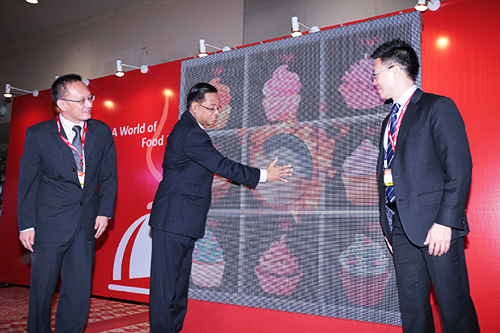 (L-R) Chua Wee Phong, Chairman of Sphere Exhibits; Datuk Seri Ismail Sabri Yaakob; and Gerald Lum, General Manager of Sphere Exhibits officially launching MIFB 2013.
The 14th installment of the Malaysian International Food & Beverage Trade Fair (MIFB 2013) will welcome visitors from 6-8 June 2013 at the Putra World Trade Centre. The event was officially launched this week by Dato' Sri Ismail Sabri bin Yaakob, the Minister of Agriculture & Agro-Based Industry Malaysia.
MIFB 2013 is a platform for corporate and food enthusiasts looking to explore new possibilities in the food and beverage (F&B) arena. The event will see a larger number of international exhibitors showcasing unique culinary traditions and innovations, offering industry players the opportunity to explore new markets.
"MIFB 2013 has been the most focused food trade event in the country and also plays host to the largest gatherings of F&B stakeholders from the region and beyond. This event also provides an opportunity for the industry to showcase their agricultural and food products for bigger market penetration, and at the same time, for existing and upcoming entrepreneurs to learn and interact with successful players",said Ismail.
Over 350 trade exhibitors from more than 20 countries will exhibit their products at the 3-day event, with exhibitors from China holding the largest number of exhibitors and will be represented in five pavilions, namely the Ministry of Agriculture of the Republic of China Pavilion, Hunan Pavilion, Qing Dao Pavilion, Tian Jing Pavilion and Xiamen Pavilion. Over 100 Halal food exhibitors will also participate in MIFB 2013. "MIFB brings Malaysia's F&B industry to the world and the world's F&B industry to Malaysia. This is the fair to network, create brand awareness and positioning products on an international scale. It is the platform to grow businesses and stay ahead of competition", said Chua Wee Phong, Chairman of Sphere Exhibits Singapore.
MIFB 2013 features Agricultural Products, Processed Food and Beverage Products, New and Innovative International F&B products, Traditional Malaysian Food, plus Health and Organic Food varieties.
Highlights of the exhibition will include the Agro-Bio Business Conference, Walk-the-World Country Pavilions, Thematic Displays, Food Insights series of seminars, and One-on-One Business Matching sessions.
For the first time, MIFB 2013 will present a Wine Zone, featuring products from all over the world. Themed "Taste the Wine, Travel the World", wine-lovers and investors will be able to have in-depth discussions with local and overseas wine distributors and explore new business opportunities.
"Agriculture will continue to be a fundamental instrument in economic growth, poverty reduction and environmental sustainability, especially in the development of "new agriculture" of high value products and the potential for entrepreneurships and jobs, in the emerging rural and non-farm economy," added Ismail.
The "9th Malaysia International Agro-Bio Business Conference" will also be complementing MIFB 2013. Themed "Towards a Sustainable Agriculture Economy",this conference acts as a platform for thought leaders and corporates to share technical knowledge and business expertise between important stakeholders in the Agriculture and F&B industries, such as the government, the public sector and multilateral organisations. The event is expected to draw participation from 23,000 trade visitors generating a total sales of RM120 million this year compared to last year, where over 21,000 trade visitors participated generating total sales of RM102.3 million.
Trade visitors are expected to attend from more than 25 countries and regions including Australia, Cambodia, Brunei, China, France, Japan, South Korea, United Kingdom and the Unites States of America MIFB 2013 is a collaboration with the Ministry of Agriculture & Agro-Based Industry and endorsed by the Malaysia External Trade Development Corporation (MATRADE), the Ministry of Plantation Industries and Commodities, and the Ministry of International Trade and Industry (MITI). It is also supported by the Malaysian Agricultural Research and Development Institute (MARDI) and Marditech Corporation Sdn Bhd. The event is jointly organised by Sphere Exhibits Malaysia Sdn Bhd and Mutiara Sigma (M) Sdn Bhd.
Source: etravelblackboard