News From : DagangHalal.com (18 Mar 2013)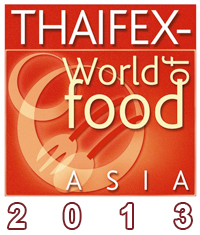 Event Highlights:
1. Thailand Ultimate Chef Challenge (2nd Edition)
Teams from Asia Pacific and Indo-China are expected to shake up the competition this year, joining contestants from Thailand and bringing the total to 500 eager participants. 20 judges (including 10 WACS-endorsed judges) will appoint the winners in the signature category of Mekong Culinary Challenge, as well as a new category: World Ocean Seafood Culinary Challenge. This new category celebrates the launch of World of Seafood at this year's THAIFEX – World of food Asia.
2. Roasters' Choice Award (New)
Coffee is a growth industry for Asia, with some of the most important coffee growing regions in the world due to its tropical and subtropical climates. Now is the time for international buyers and professionals to discover the unique gourmet beans from Asia through the inaugural Roasters' Choice Award. This official first collaboration with the Barista Association of Thailand will see top international and local judges grading and crowning the Best Coffee Bean from Asia. Head judge Mr. Michael de Renouard, Master Roaster from Denmark, will also conduct a 2-day seminar and workshop to provide certified roaster training under the Specialty Coffee Association of Europe (SCAE) Program.
3. Conferences
3 exciting new conferences with interactive segments will complement the trade fair. These are:
World of Safety: Distinguished international speakers include Neil Marshall (The Coca-Cola Company, USA), Robert Baker (MARS Inc., Thailand), Idwin W. Bouman (Friesland Campina, Netherlands), Anil Nair (Kraft Foods, UAE), Yves Rey (Danone Group, France) and Tipvon Parinyasiri (Food and Drug Administration, Thailand). The conference aims at exploring methodologies and strategies to achieve total food safety and drive customer confidence, with key concerns being effective supplier collaboration.
Pack InnoTech: Hear case studies from eminent speakers including Arun Prabhu (Arla Foods, Denmark), Leonardo Bianchi (Burton's Biscuit Co., UK), Arno Melchior (Reckitt Benckiser, UK), Bimal Kumar Lakhotia (Hindustan CocaCola, India), Thomas L Schneider (World Packaging Organisation, USA), Kitti Wangwiwatsilp (CPF Thailand), and Ralph Moyle (Australian Institute of Packaging). They will examine the latest developments in innovative global packaging, including strategies to reduce food waste and drive sustainability and business profits.
Cold Chain World: The conferences kick off with this eagerly anticipated topic on optimising methodologies for preserving and ensuring shelf-life of perishables and frozen foods. Look out for prominent industry experts including Michael D'Allura (Phillips Seafoods, Thailand), Dr. Rodney Wee (Asia Cold Chain Centre, Singapore), Pawanexh Kohli (National Centre for Cold-Chain, Development Department of Agriculture & Cooperation Agriculture Ministry, Government of India), Chris Catto-Smith (Freshport Asia, Thailand) as they share invaluable experiences on food cold chain.
Date:

22 to 24 May 2013, 10am-6pm (Trade visitors only)
25 to 26 May 2013, 10am-8pm (Trade and public visitors)

Venue:

IMPACT Exhibition and Convention Center, Challenger Halls 1, 2, 3, Muang Thong Thani, Bangkok, Thailand

Registration:

www.worldoffoodasia.com

 | 

www.worldofseafood.com
For more information, visit :www.worldoffoodasia.com