News From : DagangHalal.com (30 May 2012)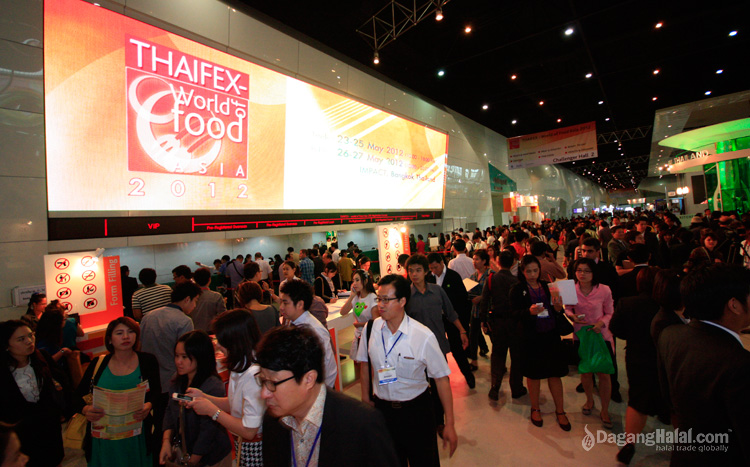 Estimated about 93,000 visitors came to Thaifex 2012 during the five days event.
The Department of International Trade Promotion (DITP), Ministry of Commerce, together with, the Thai Chamber of Commerce (TCC) and German world-class event organizer Koelnmesse, is once again organizing Thailand's grandest food extravaganza of the year, the THAIFEX – World of Food ASIA 2012. This year's event is set to feature leading food-related companies from all around Thailand and beyond, occupying over 2,900 booths. The exposition is anticipated to welcome over 90,000 visitors worldwide, to generate more than 420 million USD in revenue, as well as, to drive Thai food export to achieve the growth target of 12% this year.
Prime Minister H.E. Yingluck Shinawatra stated in her opening remarks for THAIFEX – World of food ASIA 2012 that, "The food industry has always played an important role in Thailand's economy, making yearly revenue of over 20,000 Million USD. Despite all the difficulties – from global economic fluctuations to large-scale natural disasters, the food industry has managed to remain Thailand's top income earner all along and continued growth across almost all catagories.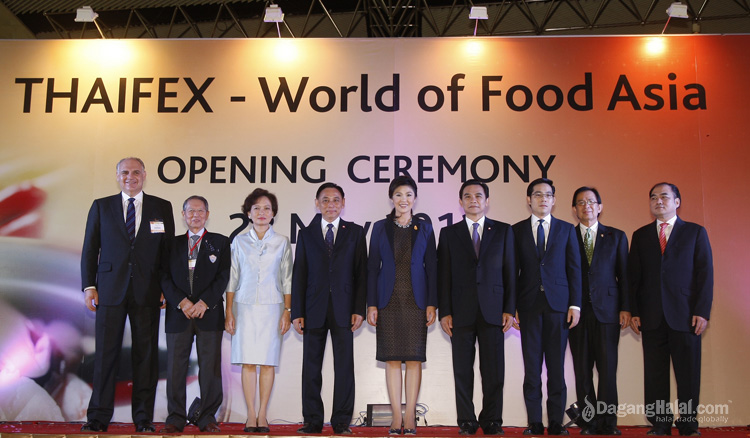 The grand opening of THAIFEX – World of food ASIA 2012.
"The demand for food products in international markets has continuously increased since the beginning of this year. This is a very promising sign for both the production and export sectors. This is the time for them to make the most of this business opportunity as Thailand's food business operators are highly capable of producing abundant raw material in the agriculture, fishery, and livestock sectors. Further, Thai food producers are fully able to produce quality products that meet, if not exceed, demanding international safety and environmental standards. These are what customers care about.", said H.E. Yingluck.
The PM further explained that, "The Royal Thai Government has a standing policy of positioning Thailand as the Kitchen of the World. Thai agricultural and food products are highlighted and overseas investment in the agricultural sector is promoted vigorously. This initiative creates added value not only for the Thai agricultural sector, but also for the industrial and service sectors. These efforts enhance Thailand's competitiveness, as well as, help to continuously develop economic, trading and investment ties under the ASEAN Economic Community and free trade agreements."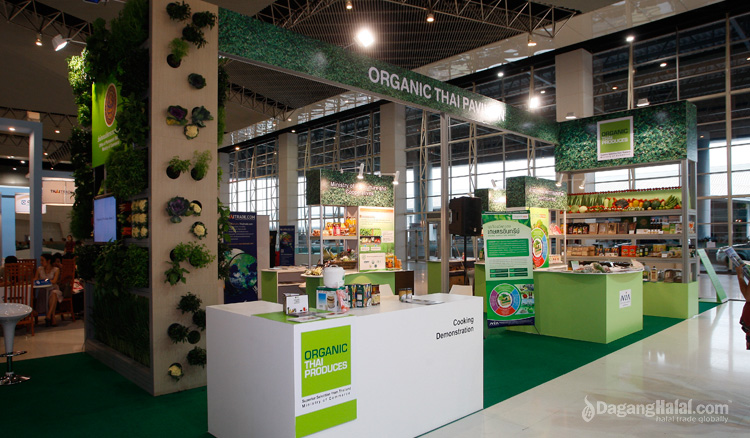 Organic product showcase at Organic Thai Pavilion.
In these agreements, the Prime Minister emphasized the following two key strategies.
Firstly, the 'Kitchen of the World' strategy. Here, the aim is to increase the export volume of Thai agricultural and food products; the number of certified food establishments; and, the positive experience with Thai food as a tasty, healthy and quality product.
Secondly, the 'Halal to International' strategy. The aim for this one is to further develop Halal businesses to increase domestic trades; improve the logistics system, and communicate public relations better.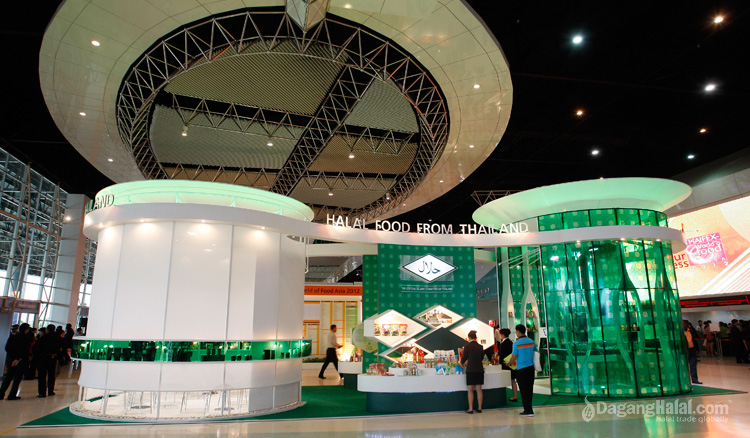 Mrs. Nuntawan Sakuntanaga, DITP Director-General, revealed that, "Organized under the theme of 'Savor Your Success', THAIFEX – World of Food ASIA 2012″. It is expected to be a venue for Thai food producers to demonstrate their outstanding food producing capabilities, food safety standards and winning service excellence to potential international buyers. This will undoubtedly help signify Thailand's aspiration to become the Kitchen of the World, as well as, Asia's largest food trade and distribution hub. Moreover, it will help increase Thailand's competitiveness in the world marketplace and the ASEAN Economic Community (AEC)".
THAIFEX – World of Food ASIA 2012 promises to be a great platform of business opportunities for food entrepreneurs where latest food innovations from as many as 1,073 food companies from Thailand and beyond will be displayed in over 2,900 booths. The show can be divided into the following categories – Food & Beverages, Food Technology, Food Catering, Hospitality Services, Retail and Franchise and Halal Related Products and Services.
In addition to the comprehensive showcasing of food innovations and related services, THAIFEX – World of food ASIA 2012 will also feature a series of interesting activities which will be useful for industry professionals. Such activities include the following:
1) Halal Food Exhibition
2) Organic Pavilion Exhibition
3) Thailand Frozen Food and Seafood Exhibition
4) Food Safety from Thailand Exhibition
5) Thailand Ultimate Chef Challenge 2012
6) 'World of Halal' Seminar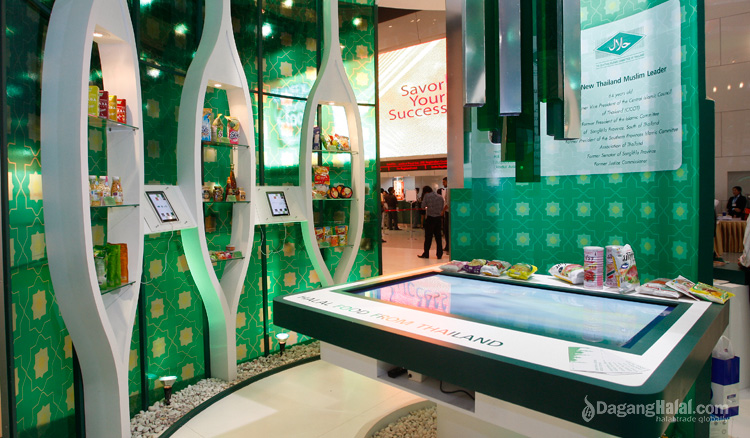 The event will provide an excellent opportunity for food business operators to engage in direct business negotiations with their potential buyers from around the world. This year, it is anticipated to welcome as many as 90,000 international visitors from Thailand and all around the world, mainly from the European Union, the United States, Japan, the Middle East and many Asian countries.
"The annual THAIFEX event has now become an international food exposition many people look forward to eagerly. This year, we expect it to attract an even greater number of international visitors than any of its predecessors, and it will undoubtedly provide great opportunities for leading Thai food companies to demonstrate their outstanding capabilities and seek new marketing channels with high potential. This year's event is anticipated to generate over 420 Million USD worth of revenue for Thailand.", noted Mrs. Nuntawan.