News From : DagangHalal.com (12 Mar 2013)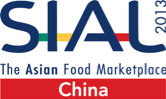 6th Edition of La CUISINE by SIAL

Highlight your products through culinary demonstrations by the most talented international chefs from mainland China, France, Malaysia, Turkey as well as other countries and regions. La Cuisine by SIAL attracts food service industry professionals who are looking for innovation and inspiration.

 

9th Edition of SIAL Innovation

SIAL CHINA is all about innovation. SIAL Innovation has been a key event for the past 8 years, offering exhibitors a platform to showcase their latest innovative products and highlight food innovation in general. More than 70% of SIAL CHINA's visitors will come to SIAL Innovation.

The SIAL Innovation observatory also provides a unique opportunity for retail traders. It gathers all the new concepts and innovations launched worldwide in one area and shine a light on new consumer trends.

 

Retail & Hospitality Forum – SIAL TV

A meeting point to express opinions, share ideas and gather information. A new and central conference set, to talk about global stakes. Moreover, SIAL TV for its first time will join with Retail & Hospitality Forum and bring us the updated onsite interviews with exhibitors, visitors and show report.

In 2012, more than 14 high level conferences, hosted by industry experts, were held in this area including: SIFEA, SINODIS, CITY SUPER, SHIYAO Investment, SFGC, GOODWELL, XTC, FABBRI, NESTLE. In 2013, the forum will continue to be the place to meet under-the-radar buyers.
VIP Buyer Lounge
SIAL CHINA is the place to meet the inaccessible actors of the Chinese distribution. In order to offer an opportune environment for trading and negotiation, SIAL CHINA has a dedicated area to facilitate the connection between exhibitors and prestigious players of the retail and distribution in China. In 2012, the area brought several major players for our exhibitors, including: CITY SUPER, SPAR, and GOODWELL.

Visit SIAL China official website for more info: www.sialchina.com