News From : DagangHalal.com (28 Oct 2013)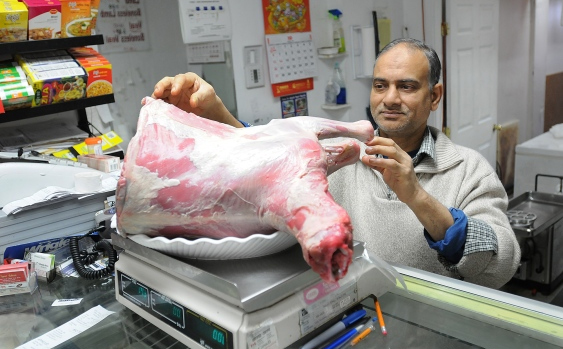 Ask Mohammed Lablu about halal meat and he'll wave his arms and raise his voice with excitement.
"Halal meat is delicious and no germs inside the animal because we hang it, when you slaughter it, it is hanging, all the disease comes out," said Lablu.
Originally from Bangladesh, the 52-year-old has owned the halal meat store Noor Jahan on Fraser Street for seven years. It's a small shop with a display case filled with fresh halal chicken, goat, lamb, veal and beef, and it is a sign of an increasingly popular food item in Vancouver.
Lablu sells fresh halal meat bought from a supplier in Langley and frozen halal meat from New Zealand as well as other halal grocery items in colourful boxes that line the store shelves. Sales have increased and he is confident it is the quality of the meat rather than its religious significance that is responsible.
To be considered halal, which literally translated means 'permissible by Islam,' the animal has to have been slaughtered following certain guidelines found in the Muslim holy book the Qur'an.
The animal must be killed by hand, with a sharp knife across the throat by a mature Muslim man while the name of Allah is invoked. (Though not permitted to slaughter the animal, women are allowed to skin it.) The animal is then hung and the blood completely drained.
There are at least nine halal meat shops in the south Sunset area making it a go-to location for halal meat for the over 13,000 Muslims who, according to the 2011 Statistics Canada National Household Survey, live in Vancouver.
The traditional mainstream grocer on Fraser Street, Buy Low Foods, started selling halal meat two years ago. It sells halal New Zealand lamb, fresh or frozen, and a selection of pre-made frozen halal dishes.
Meat manager Dale Johnson has been with the company for seven years and said at first he had to discount his halal products because people didn't know it was available at his store. Now, the products are selling well and sales have doubled in the last year.
The specialized product comes at a premium. The fresh chicken is $16.93 while the non-halal chicken is a little over a dollar cheaper at $15.39.
Johnson said the older members of the community aren't switching to mainstream stores. "I think it is the younger families, a lot of them are moving into the area and driving demand for the product," he said.
Demand for halal meat stretches beyond the Sunset community. Most of the other 26 Buy Low locations across the Lower Mainland also sell halal meat.
Surrey-based meat supplier Newton's Hi-Quality Meats sells to grocery stores and restaurants across the Lower Mainland, including to Buy Low and IGA stores. Company spokesman Ernie Wettig said while it sells much of its halal products to Surrey and south Vancouver locations, it also sells halal almost everywhere in the Lower Mainland now.
"It is definitely good business," he said.

Source : www.vancourier.com