News From : DagangHalal.com (19 Aug 2011)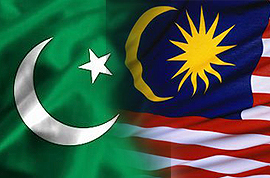 Karachi – Chairman, Sindh Board of Investment (SBI) Muhammad Zubair Motiwala has urged Malaysia to assist Pakistan in Halal food industry. Pakistan's Halal sector needs assistance from Malaysian Governemnt in shape of technical training, equipment for the establishment of Halal laboratories in Pakistan, he said while talking to Malaysian Consul General Abu Bakar Manmat, who called on him here Wednesday at his office.
Manmat was accompanied by the Regional Manager of Malaysian Palm Oil Board (MPOB), Fairus Hidzir and Ahsan Zuberi, Chairman Pak-Korea Business Council.
Talking of SBI's initiatives for the promotion of Halal industry in Pakistan, particularly in Sindh region, Motiwala said this is in initial phase. He elaborated that the Sindh Government was very much keen to enhance cooperation in Halal sector and has signed Memorandum of Understanding with HDC Malaysia in Kuala Lampur last December.
This partnership is deemed as a historic milestone in SBI's progress towards development of Halal industry in Pakistan, he added.
Responding to security concerns, Motiwala said that the Government was taking serious measures to curb such insecurities and beside all propaganda Pakistan is still a business friendly destination for many investors and they have witnessed remarkable progress in their business.
He informed the Consul General that Sindh Board of Investment in collaboration with TDAP will organise a bilateral investment conference in near future to portray the development projects alongwith financial aspects in which foreign investment companies are participating and invited Malaysian Palm Oil Company to join this investment conference.
The Consul General of Malaysia appreciated SBI initiatives for bilateral trade enhancement and affirmed to continue support in future as well. He also invited Pakistan's investors to visit their upcoming Investors' Conference in Malaysia to be held from November 22.
On the occasion Fairus Hidzir, Regional Manager (MPOB) said that Pakistan is the second highest consumer of Malaysian Palm Oil therefore Malaysia seeks long term partnership with Pakistan beyond just selling and buying and Malaysia is willing to work over pilot projects of Palm Oil plantation in Pakistan for which SBI assured to arrange meetings with Secretary Agriculture and Malaysian investors for future commitments. – APP
Source: Pakistan Observer