News From : DagangHalal.com (12 Mar 2013)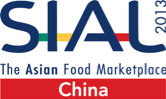 Over 2,200 leading companies have already confirmed that they will be exhibiting at the exhibition which marks a good start to SIAL CHINA. To build on the existing developments within the food and drink market in Asia, SIAL CHINA will go that extra mile to bring in more exhibitors and visitors from the retail and food service sectors, the wine industry as well as internationally renowned organizations. This year, a large number of exhibitors will offer sophisticated production line, OEM, ODM and related services. They have attracted industry leaders with their confirmed attendances, such as Lotus, Metro, Auchan, WalMart, BeiJingHuaLian, Spar, Yohan,Tesco, Amazon, Carrefour, and CRVanguard.
What's more, there will be more than 40 international pavilions at SIAL CHINA 2013, occupying over 85,000sqm of exhibition space. Vietnam, Indonesia, Switzerland, Belgium, and Republic of Lithuania will be making their debut at the show this year. At the same time USA, France, Australia, Germany, Italy, Spain, South Africa and over 10 other national pavilions will all be increasing their presence. Besides that, Turkey will attend as the guest country of honor in 2013. All this and more is what's in store at SIAL CHINA for the 46,000 professional buyers and visitors expected at the event.
The 14th edition of this exhibition includes a variety of private label resources, offering teas & coffees; wines & spirits; organic foods; dairy products; seafood; fruit & vegetables; chocolates; sweets & snacks; meats and halal food, to name but a few. There will also be 15 products zones in total to tantalize visitors' taste buds.
SIAL CHINA is growing in pace with the market and aims to find and highlight 'private label' in order to create a unique experience for its participants. Visit SIAL CHINA's newly opened online visitor pre-registration website www.sialchina.com to make sure you don't miss out on this year's must-attend event.
Visit SIAL China official website for more info: www.sialchina.com