News From : DagangHalal.com (17 Apr 2012)

The 1st World Islamic Tourism Mart 2012 (WITM) will be a global forum comprising of the InCoMTHU Conference, Travex(B2B), and an Exhibition(B2C) for the travel & tourism agencies in Malaysia and the world to showcase their products and services in the capital city of Kuala Lumpur.
WITM 2012 will be a meeting and networking place for renowned hotels, airlines, travel agencies and tour operators, government agencies, national tourism organizations (NTO) and tourism and travel service providers from within Malaysia and the world to tap into new market segments as well as to expand their market share. Islamic Tourism is a sector that has great economic & growth potential. Already tourism is the 2nd biggest GDP earner for Malaysia without the true potential of Islamic tourism having been tapped.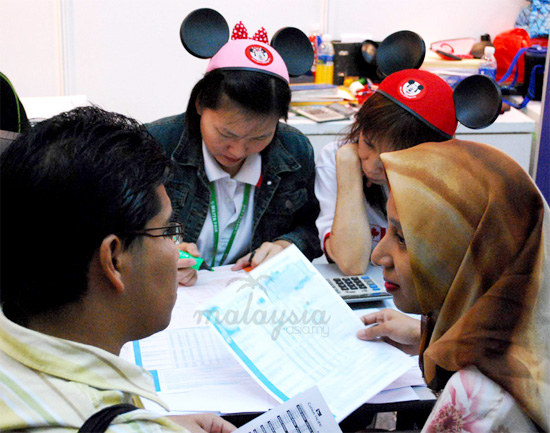 A couple discussing their Hong Kong Disneyland Holiday Package. (pic credit to blog.malaysia-asia.my)
MATTA's vision is to make the World Islamic Tourism Mart (WITM) to be the leading travel and tourism expo in this part of the world. Kuala Lumpur has the potential to be the Islamic Tourism Hub. With WITM 2012, MATTA intends to lay the foundation for the tourism sector of Malaysia to tap into the global Islamic tourism market.
WITM 2012 is a 3-Day event to be held from May 31- June 2nd 2012 and will comprise of a 1-Day Conference running simultaneously with the 3-Days Travex or Business to Business(B2B) networking session and 3-Days Consumer Exhibition (B2C). Theme of WITM 2012 is "Islamic Tourism: Leading the Way".
WITM 2012 shall have participation from Airlines, Travel Agencies and Tour Operators, Umrah& Haj package providers, Cruise providers, Hotels & Resorts, Theme Parks, Rail Tourism, National Tourism Organizations, Tourism Malaysia, SPAS & Wellness Resorts, among many others.
MATTA, in collaboration with the Islamic Tourism Centre, is organizing the World Islamic Tourism Mart 2012(WITM 2012) which will be held from 31st  May – 2nd June 2012 at the Putra World Trade Centre & Pacific Grand Ballroom, Seri Pacific Hotel, Kuala Lumpur.
ABOUT WITM
WITM 2012 is a ground breaking event for MATTA and the tourism industry to promote to the regional & international market. WITM 2012 is an ideal avenue for travel and tourism industry buyers and sellers to network, transact business, source for new markets as well as enhance existing market. It is also an avenue to reach out to the consumers in the exhibition and to gain invaluable industry knowledge from the conference.
WITM FOCUS
WITM 2012 is a niche event organized to promote Islamic Tourism in Malaysia, Asia as well as globally. WITM 2012's focus will be different from other trade shows and fairs in that the emphasis will be on Hajj & Umrah as well as to explore new destinations and products under Islamic Tourism.