News From : DagangHalal.com (30 May 2016)
Asia's most comprehensive food and beverage show with the largest display of products and services from around the world.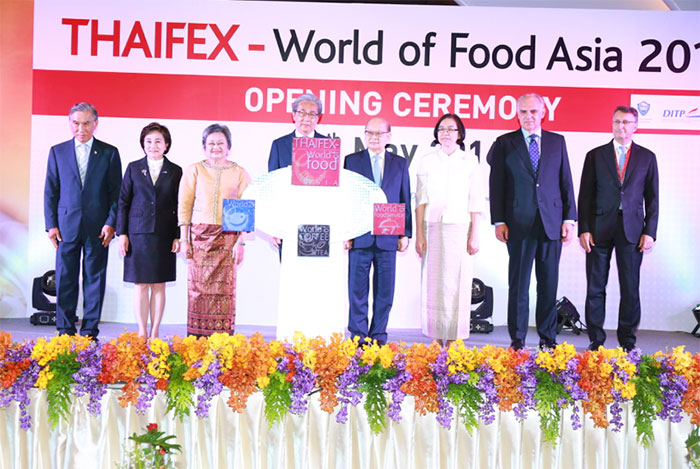 (L-R) Mr Isara Vongkusolkit, Chairman of The Thai Chamber of Commerce; Mrs Malee Choklumlerd, Director General, the Department of International Trade Promotion; Mrs Apiradi Tantraporn, Minister of Commerce; Dr Somkid Jatusripitak, Deputy Prime Minister; Mr Sompol Kiatphaibool, Advisor to the Minister of Commerce; Miss Chutima Bunyapraphasara, Permanent Secretary of Ministry of Commerce; Mr Michael Dreyer, Managing Director and Vice President, Asia Pacific, Koelnmesse Pte Ltd and Ambassador Peter Prügel, Embassy of the Federal Republic of Germany.
(Bangkok, 25 May, 2016) – THAIFEX-World of Food Asia 2016, Asia's leading food and beverage show, opened its doors today to welcome food and beverage industry professionals from all over the world at IMPACT Exhibition and Convention Centre.
Organised by the world's biggest trade fair organiser Koelnmesse Pte Ltd in partnership with the Department of International Trade Promotion (DITP) and The Thai Chamber of Commerce (TCC), the 13th edition of THAIFEX-World of Food Asia showcases a truly international selection of exhibitors, innovative products, celebrity baristas and aspiring chefs, as well as the latest food and beverage trends.
The opening ceremony was graced by Guest-of-Honour Dr Somkid Jatusripitak, Thailand's Deputy Prime Minister.
A Global Approach
Over the past 12 years, THAIFEX-World of Food Asia has grown from strength to strength. 2016 marks the highest number of exhibitors to date with the participation of 1,919 exhibitors from 40 countries. International participation has also seen a boost with a 18% growth from 2015 to 955 foreign companies, reaching an equal proportion of international and local exhibitors. Adding to this positive growth and making their show debut are new exhibitor country groups like Cambodia, Chile, India, Indonesia, Norway.
The 2016 edition is THAIFEX-World of Food Asia's most impactful one yet, expanding across the road to occupy a total of seven halls. This year's record-breaking 80,000 sqm of exhibition space, up by 10,000 sqm, is a reflection of the growing international success and popularity of THAIFEX-World of Food Asia. Expecting 38,000 trade visitors this year, an 8% growth from 2015, THAIFEX-World of Food Asia promises to be the ideal platform for regional and international food importers and exporters to connect with trade visitors from Asia and worldwide.
Culinary Showdowns
Asia's largest chef competition is back and breaking record, exceeding last year's entries with 1,046 aspiring chefs from 11 countries. This year, Thailand Ultimate Chef Challenge, organised by Thailand Culinary Academy, World Association of Chef's Societies (WACS) and Koelnmesse, introduces a new category 'Bakery & Pastry Challenge' to its existing 22 classes. A panel of 30 internationally-acclaimed chefs including 26 WACS approved judges, will critique the aspiring chefs based on a number of criteria.
Global Connectivity At Its Best
THAIFEX-World of Food Asia 2016 is the mecca for business opportunities and networking sessions in the food and beverage industry. It provides a platform for business matching and educational seminars through World of Food Safety Conferences and the Asian Food Franchising Forum. These informative programmes feature world-class professionals and experts who will share the latest food-related innovations and trends on Food Safety and Franchising. Over 100 CEOs and top management from global corporations like Cargill Meats (Thailand), McDonald's, Sakae, General Mills, and Tesco will present key research and case studies.
Epicentre For World Food Trends
THAIFEX-World of Food Asia is at the forefront of innovation when it comes to trends and products. In partnership with Innova Market Insights, the event's official knowledge partner, THAIFEX-World of Food Asia prides itself on identifying industry trends through THAIFEX Trend Zone and Trend Topics.
The Trend Zone will focus on hot topic issues driving the food and beverage industry. It includes 'clean label', 'free-from movements' and the 'flexitarian effect'. This display area provides trade visitors with informative booklets on top consumer trends and important insights on new product developments. INNOVA Market Insights representatives will be on-hand to answer queries.
To make show navigation easier, THAIFEX-World of Food Asia has not only finely segmented the fairground into 14 segments to clearly demarcate product zoning, but have also identified exhibitors via Trend Topics. These include industry trends which have strong representation in segments like Halal, Health & Functional Foods, Private Label and Ingredients. Of the 11 trend topics, 80% are new to THAIFEX-World of Food Asia, such as Finger Food, Franchise, Gluten-Free, Ingredients, Kosher, Private Label, Vegan and Vegetarian. The show also sees a growing number of companies in new emerging trends like Halal with 466 exhibitors, Health & Functional Food with 293 and Private Label with 286. New trends observed also include Gluten Free with 41 exhibitors and Vegan with 60.
Raising The Roof For Sustainability
THAIFEX-World of Food Asia looks at different ways to adopt a more sustainable approach to running Asia's leading food and beverage show.
Another initiative in partnership with Tetra Pak is the recycling of Tetra Pak-sponsored water cartons, which will be distributed throughout the event. THAIFEX-World of Food Asia will educate and encourage visitors to fold the water cartons for recycling. These water cartons will be collected from THAIFEX-World of Food Asia and be turned into roofing sheets to provide emergency shelter for those in need. This is one of the ways that the show is giving back to the community to show their appreciation to host country, Thailand, who have supported and contributed to the success of THAIFEX-World of Food Asia over the past 12 years.