News From : DagangHalal.com (14 Jun 2012)
CHENNAI – Hoping to boost medical tourism from Muslim countries, Chennai's Global Health Center, in the eastern Indian state of Tamil Nadu, has acquired a halal certificate for its hospital services to assure Muslim patients on the quality of the services offered to them, Two Circles website reported.
"With about two billion Muslims worldwide and a major number of international health travelers coming to Global Health City from the Islamic nations, we see Halal Certification as a form of approval that boosts our patients' trust and confidence in our range of hospital services," said Dr. K. Ravindranath, Chairman & MD, Global Hospitals Group.
"To earn the certification, Global Health City had to meet strict Islamic guidelines dealing with hygiene & dietary regulations of global standards."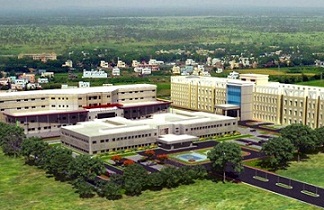 Global Health City, Chennai is a 500-bed super specialty tertiary care facility, with a capacity to expand to 1000 beds.
Being a world class hospital, the Global Health City has been keen on assuring its patients on the standard of services offered to them.
Applying for the halal certificate, it received the Halal certification for its hospital services by Halal India – an independent Halal certification body registered with government of India.
The certificate was recognized by IHIA (International Halal Integrity Alliance, Malaysia); a partner of the Islamic Chamber of Commerce and Industry (Kingdom of Saudi Arabia).
It requires offering halal food and other services as well, including medicines and other treatment, Mohammad Noman, General Manager (operations)," said.
Halal friendly medical tourism services include Food, Prayer Hall, Qibla Direction mark, Payer mate, copies of Quran, for woman patients woman doctor's appointments.
Noman added that the hospital follows the Malaysian Standards and Practice in offering halal slaughter.
"We do the site audit and ensure that meat supplier must follow the Shari`ah Compliance based on Malaysian Standards," he said.
"Also Butcher must be practicing Muslim and undergo Halal India's one day training and obtain the name batch and certifications."
Promising Market
Being the first hospital in India to acquire a halal certification, the health city's managers said that the new market was in its first steps.
"Still this market is not matured in India unlike other countries like Malaysia, Singapore, Noman, the operations general manager, added.
"We need to educate Muslims to seek Halal Certified medicines in future (Lot of capsules in India made with gluten (Pig or Beef)."
Mohamed Jinna, CEO, Halal India, agreed.
Yet, he confirmed that they had a unique opportunity to lead the new halal medical market in India.
"We have great heritage for service and hospitality in India which also signifies that we can take good care of patients," Jinna said.
"The state of art technologies available in medical care is just perfect for overseas patients. All we need to do is understand their culture and custom so that we accommodate them well and make them feel truly at home"
"This way we can respect their values and belief and at the same time cater to this niche market in India." he further added.
Muslims account for 160 million of India's 1.1 billion people, the world's third-largest Muslim population after those of Indonesia and Pakistan.
The concept of halal, — meaning permissible in Arabic — has traditionally been applied to food.
Muslims should only eat meat from livestock slaughtered by a sharp knife from their necks, and the name of Allah, the Arabic word for God, must be mentioned.
Now other goods and services can also be certified as halal, including cosmetics, clothing, pharmaceuticals and financial services.
Source: Onislam