News From : DagangHalal.com (24 Jun 2014)
Homegrown international expo MIFB sets to excite local and regional F&B industry players with latest innovations and technologies
The Malaysian International Food & Beverage (MIFB) Trade Fair, also known as the most dedicated and longest-running F&B trade exhibition in the country is officially opened from today to 21 June 2014 at Kuala Lumpur Convention Centre (KLCC). Once again, the annual exposition is set to wow visitors from around the world while bridging business connections and forging trade ties between Malaysia and the world, the world and Asia, in the fast­ growing food and beverage industry.
In his speech at the opening ceremony of MIFB 2014 today, Mr. Chua Wee Phong, Chairman of Sphere Exhibits, which organizes the annual trade fair, said that over the last 14 years, MIFB has become an essential platform for F&B industry players from around the world to introduce their latest innovations and technologies. "Our goal is to bring the best of what the industry has to offer under one roof, so that visitors and exhibitors alike can forge new business relationships and create an even bigger impact in the local and regional markets," said Chua.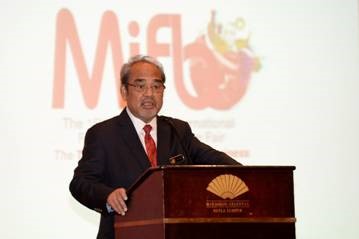 The guest of honour, Deputy Minister of Agriculture & Agro-Based Industry, Y.B. Dato' Haji Tajuddin Bin Abdul Rahman, highlighted during his keynote address at the launching ceremony that Malaysia's F&B industry is increasingly important to the nation with its growing output and trade, contributing to the national economy. Y.B. Dato' Haji Tajuddin said: "In line with the Government's emphasis on the Agriculture industry, the F&B industry is now an important component of the Agro-based industry. In 2012, Malaysia exported food products to more than 200 countries with a value worth RM20.6 billion, and imported food to the value of RM34.5 billion. It is now estimated that Malaysia's global retail sales in food products are worth around US$3.5 trillion, and are expected to grow at an annual rate of 4.8 % t.o US$6.4 trillion by 2020".
With an exciting line-up of exhibitors and programmes, MIFB 2014 is expecting to draw more than 22,000 trade visitors from around the world, while over 500 trade booths from 26 countries including Korea, China, Taiwan, Thailand, Europe, India, Singapore, Greece, Indonesia and more will be showcasing their latest products and local specialties.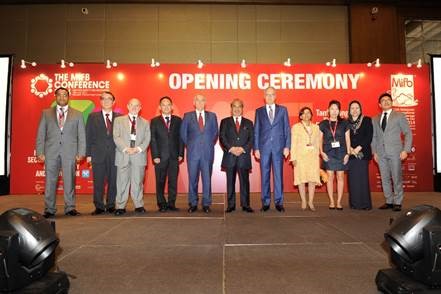 Despite its growing focus, the MIFB is not only organized for key or big industry players. Chua said that Sphere Exhibits has continuously strived to provide a complete business platform each year by bringing together exhibitors of a wide range of F&B products and services that offer valuable insights and knowledge for businesses moving from inception to growth phase, to international development.
Trade visitors such as F&B providers, fast food chain operators, food consultants, food distributors & agents, food exporters & importers, food retailers & wholesalers, hotels & restaurants, supermarkets & hypermarkets, government ministries & agents, food promotional boards, trade associations and chambers of commerce will certainly find MIFB 2014 an eye-opener as it offers a wide selection of options and solutions for their businesses.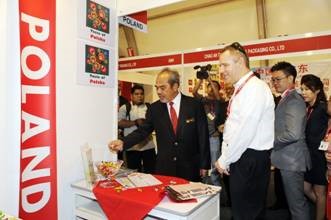 Themed 'The Tantalizing World of Food Business', MIFB 2014 is showcasing 11 specialized food sectors, namely Coffee, Halal, Fine & Gourmet Food, Bakery, Sweets & Confectionery, Health & Organic, Beverages, Wine & Spirits, Dairy Products, Ready to Eat, Franchising & Licensing, and Food Technology.
To cater to the expanding coffee culture in Malaysia and throughout the world, MIFB 2014 is introducing its inaugural Coffee & Tea Zone. This section will showcase coffee, tea, cafe products, equipment and services, presenting a focused platform for restaurants and cafe owners, baristas, hoteliers, F&B outlet owners, department stores, F&B retailers and coffee lovers to discover new products, services and business channels.
In line with the booming demand of wine and spirits in both Malaysia and Asia, MIFB is hosting the Wine & Spirits Zone for the second year running, bridging the gap between suppliers and distributors with traders, hoteliers, and even restaurant or pub owners. A wine competition will be held in conjunction with the popular zone to maximize the exposure of wineries and brands while providing buyers the best choice of wine from different countries and regions.
"Besides providing the venue and space for F&B products and services showcase, MIFB 2014 is also running a series of programmes to promote creativity, healthy competition among exhibitors, and business interactions and transactions," said Chua.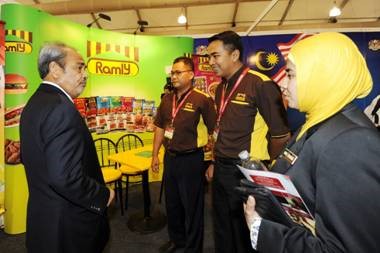 Visitors looking to create new partnerships will benefit from the International Buyer Program, which facilitates global networking, helping to link the right international business partnerships by connecting them with MIFB's exhibitors. Business Matching sessions, dedicated to sourcing for new buyers and potential business partners, are also another highlight of the activities available. Exhibitors will be connected with the right business partners locally and globally, thereby generating new business prospects. Other activities include Walk-the-World Extravaganza, Food Insights Seminar and Presentation, Business Cocktail Session, Exclusive Close Door Session for Hoteliers, stage seminars and workshop such as coffee workshop, tea master class, F&B technology and machineries demonstration and MIFB Most Creative Booth & Pavilion Awards will also be conducted.
Held concurrently with MIFB 2014 is the MIFB Conference on Food Security and Innovation, which focuses on 'Enhancing Food Security through Innovation' this year. Featuring key speakers from leaders of the F&B industry, the conference provides insights into the development of food innovation and safety systems for long-term sustainable growth, so that companies are able to stay ahead in today's fast-paced competitive business industry. Being a leading academic and research expert in regards to food innovation and security issues, Universiti Putra Malaysia (UPM) Faculty of Food Science & Technology is a collaborative partner for the conference.
MIFB 2014 is organized by Sphere Exhibits Malaysia Sdn Bhd, and co-organized by Mutiara Sigma (M) Sdn Bhd, in collaboration with the Ministry of Agriculture & Agro-Based Industry. The fair is endorsed by the Malaysian External Trade Development Corporation (MATRADE) and the Ministry of International Trade & Industry (MITI), Ministry of Domestic Trade, Cooperatives and Consumerism (KPDNKK) and Ministry of Tourism Malaysia with support from Malaysia Convention & Exhibition Bureau (MyCEB). Supporting associations of the fair are Malaysia Food & Beverage Executive Association (MFBEA), Sommelier Association of Malaysia (SOMLAY), Malaysia Association of Coffee & Tea Innovation (MACATI) and Malaysia Retail Chain Association (MRCA).