News From : DagangHalal.com (20 Feb 2014)
Professional Chefs, Baristas and Champions of Innovation showcased at world's biggest annual F&B trade show
Dubai, United Arab Emirates:
As the world's biggest annual food and hospitality industry trade show, Gulfood shines the spotlight on excellence this month when thousands of professional chefs, specialist baristas and leading food and beverage companies compete for top honours in their respective industry sectors.
The show, which takes place at the Dubai World Trade Centre (DWTC) from 23 – 27 February, plays host to a number of key industry competitions rewarding talent, innovation and sector leadership. These include the Emirates International Salon Culinaire 2014 – an annual competition endorsed by the Emirates Culinary Guild and World Association of Chef Societies, an Innovation Gallery highlighting leading F&B products that have earned Gulfood Awards, and the show debut of the Barista Bonanza in partnership with the Speciality Coffee Association of Europe (SCAE).
"As a global leader in the food and hospitality industry, Gulfood adds credibility and profile to those personalities, products and services demonstrating excellence in their respective fields. From thousands of professional chefs and the world's leading food and beverage companies, to specialist coffee experts, traders and baristas, Gulfood is a platform for recognition on a truly global scale," said Trixie LohMirmand, Senior Vice President, DWTC, organiser of Gulfood.
Emirates International Salon Culinaire, held in the Zabeel Pavilion, will see more than 1,500 professional chefs participate in 25 categories testing creative culinary prowess, efficiency and collaboration. The region's largest event of its kind will be judged by a panel of international experts mandated by the World Association of Chefs Societies (WACS). Gold, Silver and Bronze medals and certificates will be awarded to competitors showcasing the best gastronomic skills and five trophy awards will be given to Best Patisserie, Best Cuisinier, Best Artist, Young Chef of the Year and Best Arab National, a new award designed to encourage the development of Arabic cuisine.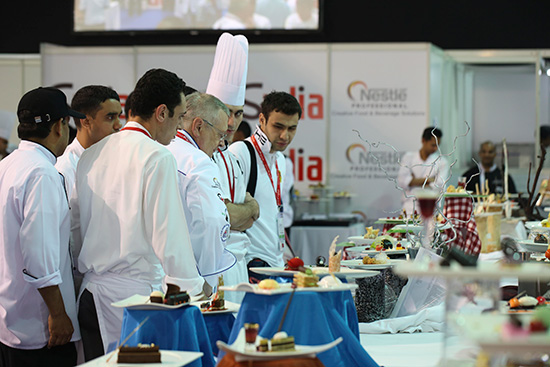 A judge assessing preparations at the Salon Culinaire at Gulfood 2013.
As one of the world's fastest growing beverage sectors, coffee enjoys centre stage at Gulfood with the introduction of the Barista Bonanza in partnership with the Speciality Coffee Association of Europe (SCAE). Designed to promote coffee excellence through a series of dedicated demonstrations and educational presentations for coffee enthusiasts and professionals, authorised SCAE trainers will also conduct seminars on the organisation's three-tiered Coffee Diploma System. World-class baristas at an SCAE brew bar will demonstrate their expertise with a variety of brewing techniques and offer visitors a taste of speciality coffees from around the world.
"Our mission is to inspire excellence in the coffee community through innovation, research, education and communication. We now have over 1,600 members in 70 countries and operate through local chapters in 35 different countries," said David Veal, executive director of SCAE. "Our rationale in partnering the organisers of Gulfood is to continue our mission to allow more and more people to experience coffee excellence first-hand via demonstrations and tastings performed by some of the world's most talented baristas."
Industry excellence at Gulfood has long been recognised through the Gulfood Awards which are now the region's most highly-regarded industry accolades. Visitors to this year's show will be able to view the top innovations – from best packaging to new foods – recognised by the Awards in the newly-launched Innovation Gallery in DWTC's Sheikh Saeed Halls.
Salon Culinaire at Gulfood 2013.
"Keeping ahead of global trends and highlighting best-in-class propositions across the food and hospitality spectrum is an essential approach for Gulfood as it ensures our position as the global leader in F&B trade exhibitions," added LohMirmand.
Gulfood 2014 is strictly a trade-only event and is open to business and trade visitors from within the industry only. The show is open 11am-7pm from February 23-26 and 11am-5pm on February 27. For more information, please visit www.gulfood.com.