News From : DagangHalal.com (31 May 2013)
Senior Management of DagangHalal Berhad jointly under Malaysian Government delegations represented by Malaysia Department of Islamic Development (JAKIM) has made an official trip to Bangkok Thailand on 26 – 28 May 2013. The delegations led by Deputy Director General of JAKIM, Tuan Haji Mohd Nordin Bin Ibrahim was in Bangkok for an official meeting with Executive Members of Central of Islamic Council of Thailand (CICOT) and to visit few of the factories that certified Halal by CICOT.
On the first day, the delegations has made a courtesy visit to the President of Executive Members of CICOT, H.E Sheikhul Islam Aziz Pithakhumborn and H.E has hosted a dinner for the delegations at his resident. 27th May 2013, the day has started with an officiating ceremony by H.E Mr. Niwatthamrong Boonsong Paisal, The Minister at Prime Minister Office. Then the delegations was briefed by Assoc. Prof Dr. Winai Dahalan on the Halal Science Centre activities follow by the visit to the lab. After the lunch break, the official meetings between Malaysia and Thailand undertook on the agendas of Halal issues between both countries and also the Halal Verified Engines.
After the meeting the delegations was brought to Islamic Centre Foundation before end the day with dinner at Sofiya Restaurant.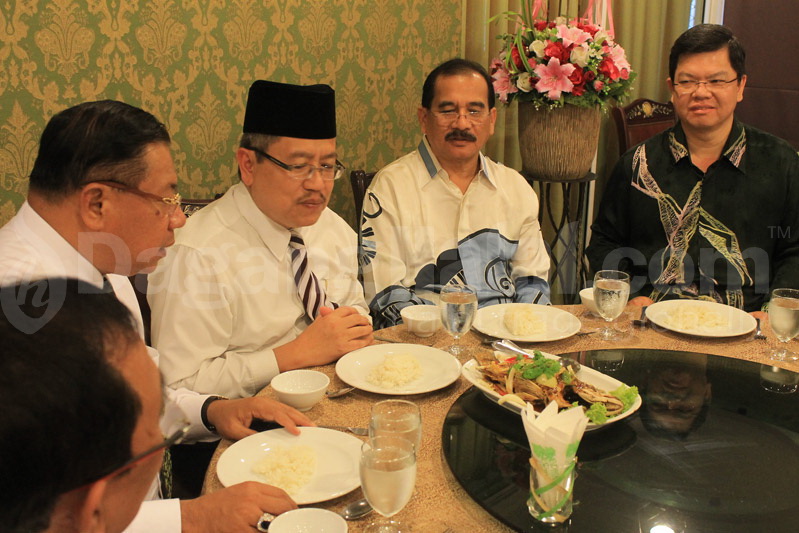 There are 4 series of visit on the last day of the visit. The delegations was brought to visit Thailand Airways Halal Catering, CP Slaughtering House, Unilever Thailand and Superior Quality. During the visit, the members of delegations was given the warm welcome by the companies and they have briefed about the activities of their companies and the halal process compliance.
As overall, the meetings has met the purpose. Some of the Halal issues has been resolved and some matters will be discussed further on the other platform. Mutual collaboration between two agencies has been engaged and planned. The efforts shall be considered as a stepping stone in lifting up the Halal trade between this two neighboring countries.