News From : DagangHalal.com (16 May 2013)
Luton Borough Council has suspended halal meat and poultry from the menus of 18 schools as a precautionary measure, after questions raised by the Luton Council of Mosques and the Sunni Council of Mosques Luton.
The Association of Non-Stun Abattoirs (ANSA) claimed the concerns were related to pork contamination in the supply chain. "If there wasn't any pork in the system, there wouldn't have been a ban on halal food in the schools," said ANSA policy director Mohammed Saleem. MTJ was unable to reach the Luton Council of Mosques and the Sunni Council of Mosques Luton for comment.
A spokesperson for the council denied pork had been found in school meals and said: "The issue focuses on the interpretation of how halal meat is certified. We are therefore seeking clarification from the certification body. This is not an issue relating to the source, safety of the food or whether it has been contaminated in any way – we have close links with all our suppliers and regular testing occurs."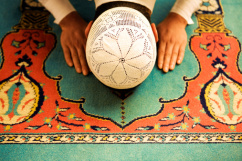 The council said its catering service had been successfully serving halal meat for 15 years to several local schools and that suppliers had provided it with certificates to show that the meat complied with requirements to be designated as halal.
Luton Borough Council said it would update the schools once its enquiries were complete. In the meantime, all schools are continuing to serve vegetarian options.
In February this year McColgan's Quality Food Limited, which is based in County Tyrone, Northern Ireland and certified by the Halal Food Authority, was identified as the supplier of halal food products contaminated with pork DNA supplied to the Prison Service.
Last month, leading members of the Muslim community, halal meat industry and the Jewish community met at the House of Lords to discuss the recent contamination of halal products. The meeting was attended by House of Lords member, Lord Ahmed Nazir, one of only four Muslim peers in the UK.
Speaking after the meeting he called for the government to take more control of the issue. "We are putting most of our responsibility in the hands of the FSA. We have no issue with people who have a wish to eat pork – it's a personal choice – but people cannot say that it's halal if there's pork in it," he said.
"People were concerned that this was going on and we are tax-payers and the government is responsible for making sure the FSA and trading standards ensure the meat being sold is correctly labelled and not being mis-sold."
Source : behalal.org