News From : DagangHalal.com (24 Nov 2016)
SIAL CHINA projects new participation and attendance record, as China represents 11 percent of 2016 global food and beverage sales.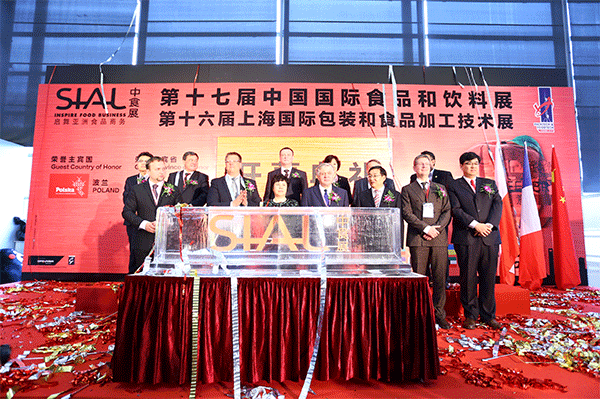 BEIJING – November 1, 2016 – An expected 3,200 exhibitors and 80,000 professional visitors representing over 67 countries will attend SIAL CHINA 2017, as Asia's largest professional food and beverage exhibition, scheduled for May 17 to May 19, 2017 in Shanghai, becomes more international. With a projected scale expected to eclipse last year's record setting figures, SIAL CHINA's influence as a platform for growing the food and beverage industry expands. China represents 11 percent of global food and beverage sales in 2016, and will contribute to over one third of global sales growth from 2015-2020, as reported by Euromonitor International. SIAL CHINA's expansion is a reflection of China market's increasing importance to the international food and beverage industry.
SIAL CHINA exhibits the latest features in international and China food and beverage trends, providing exhibitors and visitors with valuable insights looking deep into the markets in China and beyond. During SIAL CHINA 2016, an entire spectrum of food and beverage were showcased by the 2,888 exhibitors, representing 67 countries and regions, in 126,500 sqm of exhibition space, a 6 percent and 10 percent increase over 2015, respectively. Additionally, a total of 76,986 international and domestic industry visitors traveled to SIAL CHINA 2016, which represents a year-over-year increase of 25.6 percent.
"Last year was a record year for SIAL CHINA. Its influence continued to expand beyond China, and we are very encouraged by the feedback we received from the exhibitors and visitors." said Paul LEE, CEO of Comexposium Asia Pacific, the exhibition organizer.
SIAL CHINA 2016 received a strong satisfaction rate & royalty rate by both exhibitors and visitors. Of the total surveyed exhibitors, 95 percent were satisfied; 92 percent will recommend SIAL CHINA; and 88 percent will participate in SIAL CHINA 2017. Of the visitors, 99 percent of surveyed visitors were satisfied; 97 percent will recommend SIAL China; and 96 percent will participate in SIAL CHINA 2017. These strong figures are a testament to SIAL CHINA's continued efforts to make Asia's largest professional food and beverage exhibition more immersive and international.
"It's an honour to provide a platform for domestic and international food producers and buyers to meet, communicate, and get inspired to improve their business." Jim Liu, president of SIAL CHINA said, "For SIAL CHINA 2017, we will increase the exhibition's influence by accepting more exhibitors and visitors into an environment that inspires and promotes further collaborations."
During SIAL CHINA 2017, 13 halls up to 149,500 sqm of exhibition space will accommodate exhibitors from 21 food and beverage sectors, including an extended meat zone that will cover over two halls, and more space dedicated for dairy, and beverage. Additionally, exhibitors and visitors will be encouraged to participate in nine interactive business events, designed to enhance industry collaborations:
SIAL Innovation, La Cuisine, Retail & Hospitality Forum, World Tour by SIAL, WTC China National Specialty Tea Brewers Cup, Chocolate World, Seafood Fest', Master Classes, Best Buy China Competition.