News From : DagangHalal.com (29 Jan 2013)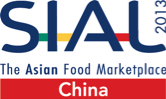 Industry News
– Imports to China gain importance
Owing to recent scares involving the domestic food industry, China's middle class is increasingly turning to imported products.
Imported food is a crucial and very successful business for Metro China, showing an annual growth rate between 20 and 30 percent and accounting for more than 55 percent of the company's sales in the Asia-Pacific region, said Patricia Spittau, head of the imported food department at Metro China, which operates 63 hypermarkets in 39 cities in China. She said milk and olive oil are among the best sellers.
– Chinese shoppers want to get a taste of overseas lifestyle
Imported food is gaining enormous popularity in China, and greater amounts of it are coming into the country.
But many consumers buy imported food because they are curious. They are buying products not for the health effects, but for the psychological ones.
The international food culture is growing especially in the biggest cities such as Beijing and Shanghai. Many people in China had previously built this strong curiosity in foreign life through TV, movies, and the Internet.
In Pursuit of Perfect Gourmet
Obviously the apocalypse didn't set any one on fire. In fact, crowd around the globe danced away in Gangnam Style till 2013. If the flavors were beats, one would see food dancing In SIAL CHINA 2013. From 2013 May 7th to 9th, it will be a professionally flavored upbeat Food & Beverage show in Shanghai New International Expo Centre.According to U.S. Food Industry Association, revenue of imported food in China surges 15% annually. By 2018, China will be holding a 50 million RMB consumption standing as world's biggest imported food country. The estimated market value would be over 4.8 trillion RMB by then. To ride the tide right, one shall start in an exhibition and shall start in the best buying time – May!
2,200 + Exhibitors
Confirmation from over 2,200 leading companies as exhibitor does mark a good start for SIAL CHINA. To continue its effort in gourmet development in Asia, SIAL CHINA goes for extra miles to bring in more exhibitors and visitors from retail, HoReCa, and the internationally renowned organization in SIAL CHINA includes: HONG KONG TRADE DEVELOPMENT COUNCIL, ORGANIZER OF HK PAVILION, DKSH (CHINA), WISDOM PLUS RESOURCES, SHANGHAI FISHERIES GENERAL CORP. (GROUP), BEIJING MINGYIN TRADING, SHANGHAI NOURIZ DAIRY, SHENG HANG TRADING(SHANGHAI), BIP CANDY TOYS & GIFT (DONG GUAN), DALIAN XIAOQIN FOOD, DEWEIWEIMAI BEER TRADE BEIJING,  SHENZHEN KONG SHAN WANG TAT INDUSTRLES&TRADE, SHANGHAI HIT INTERNATIONAL TRADE and many more.
85,000 + sqm
To top it off, there will be more than 40 international pavilions in SIAL CHINA 2013 occupying over 85,000sqm exhibition area. Singapore, Indonesia, Switzerland, Belgium, Republic of Lithuania, Columbia, Ecuador will debut in the show, while US, France, Australia, Italy, Spain, South Africa and over 10 national pavilion doubling their sizes this year. These are the upbeats prepared for the 46,000 professional buyers and visitors by the international exhibitors.
14 Product Zones, 4 Tasteful Events
The 14th edition includes gourmet oriented product zone, such as tea&coffee, organic, dairy, seafood, fruit & vegetable, chocolate world, sweets & snacks, meat, halal, etc. 14 products zones in total. What's more, 4 tasteful dedicated events empower a better-than-ever experience for visitors' taste buds.
SIAL CHINA grows with the market and is in pursuit of perfect gourmet to create the unique experience for its participants. Visit SIAL CHINA newly opened online visitor pre-registration (www.sialchina.com) and seize the moment of the year 2013.