News From : DagangHalal.com (01 Aug 2012)

Sharjah Halal Food Fair to open up
Middle East market for Thai businesses
Sharjah delegation in Thailand to promote Halal Food Middle East 2012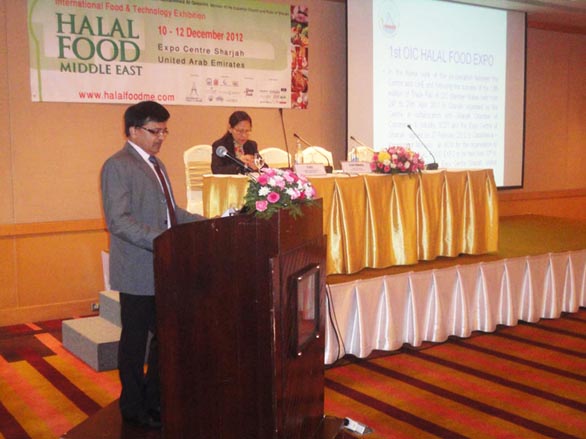 Presentation in Bangkok by P. Ravi, Director Marketing and Lilian Fernandez, Director Sales, Expo Centre Sharjah.

Bangkok
An upcoming international trade show in Sharjah, the UAE, is set to open up the US$ 2.77 trillion global Halal food industry to Thai businesses involved in production and export of Halal-certified food products.
With nearly one-third of the 1.6 billion global Muslim population living in the Middle East and North Africa (MENA), the region itself holds high potential for Thai food exporters. The inaugural Halal Food Middle East, which will be held at Expo Centre Sharjah from December 10 to 12, 2012, is also set to play the role of a key facilitator of trade between Thailand and the MENA region.
At present, a high-level delegation from Expo Centre Sharjah is in Thailand to meet key trade bodies, manufacturers and exporters to brief them on business opportunities in the region and facilitate their participation and visit to the show.
"The Halal Food Middle East will be a landmark show for the global Halal food industry. The show has everything going for it… right from a global launch, and promotions in key markets like Thailand and China to tie-ups with important trade bodies and the reputation of the UAE being a safe, stable and secure country, politically, economically and culturally," said Mr. P Ravi, Director-Marketing, Expo Centre Sharjah, who is part of the visiting team.
Halal Food Middle East was launched globally during the 8th Malaysia International Halal Showcase (MIHAS) in Kuala Lumpur. Expo Centre Sharjah also concluded a promotional tour of China last week. Several presentations, seminars and road shows are scheduled to be held across key markets in the coming months.
"The show will offer a dynamic platform to explore and access important markets in the region. The Muslim population in our part of the world is younger and growing faster, at a rate of 1.8% per year, and GDPs of most Muslim countries are expanding rapidly than in the West. For example, Qatar, which has a per capita income of more than US$ 88,000, was recently ranked as the richest country in the world by Forbes magazine. The UAE came sixth with a per capita income of US$ 47,500," said Ms. Lilian S.Fernandes, Director-Sales, Expo Centre Sharjah, the other second member of the team.
The show, which will be held under the patronage of His Highness Dr. Sheikh Sultan Bin Mohammed Al Qassimi, the Ruler of Sharjah and Member of the UAE Supreme Council, has the support of the Sharjah Chamber of Commerce and Industry and the Federation of UAE Chambers of Commerce and Industry, apart from several trade bodies, leading retailers, food producers and dealers.
They include Organisation of Islamic Conference's trade promotion wing Islamic Centre for Development of Trade (ICDT), Halal Development Council, Halal Italia, Halal Research Council, Halal Australia, Co.Re.Is.Italiana, OIC Today and Sharjah Cooperative Society, among others.
Though the GCC countries are amongst the world's richest in terms of oil and gas reserves and per capita wealth, when it comes to food sufficiency, the region needs to import almost 80 per cent of its requirements. According to latest statistics, the annual food import for GCC is set to grow from US$25.8 billion in 2010 to US$ 53 billion in 2020.
The show is positioned as the largest and the most comprehensive show of its kind in the region, featuring Shariah-compliant food and beverages, bakery and confectionaries, broth products, food ingredients, frozen food, health products, herbs and spices, legumes & cereals, nuts and seeds, pastas and noodle, processed & seafood, snacks, and fruits & vegetables.
It aims to attract exporters & importers, traders & wholesalers, supermarkets, hypermarkets, departmental stores, convenience stores, food manufacturers, food processors, hotels, restaurants, cafes, catering companies, distributors, retailers, suppliers, food service outlets, investors, hospitals, ship chandlers , airlines, agricultural associates, agents, media, business & trade associations, government bodies, food associations, Halal certification bodies and trade promotion offices.
The Halal Food MiddleEast will be organized by Expo Centre Sharjah in association with the Sharjah Chamber of Commerce and Industry.
Ends
For more information, please contact:
P. Ravi
Director – Marketing
Tel: +971-6-5991177
Mobile: +971-50-6269781
Email: [email protected]

(or)

Lilian S. Fernandes
Director – Sales
Tel: +971-6-5991182
Mobile: +971-50-4556998
Email: [email protected]