News From : DagangHalal.com (28 Nov 2012)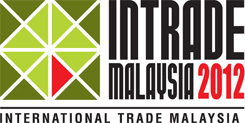 KUALA LUMPUR: The sixth edition of International Trade Malaysia (Intrade 2012) is expected to rake in RM1 billion in sales, from RM973.9 million last year, as it focuses on a dedicated four clusters this year.
The number of profiled clusters has been reduced from 10 last year to allow greater focus on the chosen clusters this year, Deputy Minister of International Trade and Industry Datuk Mukhriz Mahathir said.
The four clusters to be showcased are electrical and electronics and information and communications technology, automotive, manufacturing support and lifestyle.
"We feel that there is a huge potential in these sectors… therefore, with a more concentrated effort in these clusters, we hope Intrade 2012 will ensure a focused exhibitors andvisitors," Mukhriz told a media briefing here yesterday.
He also said that the four clusters are ideally positioned to expand the country's export. "They possess strong growth potential by tapping the many opportunities available in international trade," he added.
The theme for Intrade 2012 is "Energising Export Growth", to reflect the importance of sustaining Malaysia's export opportunities in the face of increased competition and uncertainties in the global economy.
Lifestyle product is chosen to be among the four selected clusters following a growing demand for products like jewellery, textile and clothing and gifts and premium products from Malaysia.
Last year, Malaysia's export of lifestyle products increased 23.5 per cent to about RM25 billion. Collectively, lifestyle products contributed 5.3 per cent of the country's manufactured export.
During the year under review, jewellery contributed RM7.16 billion to the country's total export; textile and clothing RM10.8 billion; while gifts and premium RM7 billion.
Intrade 2012, which will be held from November 27 to November 29 at Menara Matrade, Kuala Lumpur, is expecting strong participation from Asia particularly Asean countries, Japan, Pakistan and India. Last year, the trade expo hosted some 8,972 visitors from 77 countries.
Industry Clusters
Automotive

This sector supports the large worldwide automotive market which continues to grow at a healthy rate. It encompasses parts and components related to the automotive industry.
Exhibitors Profile: Automotive Aftermarket Parts, Components & accessories / Tools / Equipment / Mobile Electronics / Car Care Products & Service.

Electrical & Electronics And Information & Communication Technology

This sector has traditionally been a strong contributor to Malaysia's export revenues. In an industry synonymous with high production standards, innovation and the ability to deliver, these products have built a strong international brand name for Malaysia.
Exhibitors Profile: E&E Components / E&E Consumer products & services / E&E Industrial products & services / Telecommunications products & services / ICT products & services.

Manufacturing Support

This sector encapsulates many of the SME companies in business today. They are involved in manufacturing activities operating from small backroom businesses to larger factory scale operations.
Exhibitors Profile: Automation / Die Casting / E&E / Heat Treatment / Machining Services & Solutions / Mechatronics & Robotics / Metal Stamping / Mould & Die / Precision Machined Parts / Testing, Calibration & Certification / Toolings.

Lifestyle

The demand for specialised and niche products has developed strongly over the last decade. Today this sector is ideally positioned to take advantage of the vast export opportunities on offer.
Exhibitors Profile: Fashion / Footwear / Jewellery & Gifts / Textiles & Apparels / Garden Products / Home Decoration & Interiors / Cosmetics & Toiletries / Stationery.

Source: New Straits Times