News From : DagangHalal.com (30 Aug 2012)
The Sabah International Food & Hospitality Exhibition 2012 (SIFHEX 2012) will bring together an exciting array of Malaysian and multinational F&B and Hospitality products and services.
SIFHEX 2012 will be showcase to attract buyers from every major market in the region featuring exciting products for virtually every category.
Reach out to an array of opportunities – from supermarkets to restaurant and hospitality service companies to specialty shops and more. Whether it's beverages, frozen foods, canned foods, halal foods, meats or snack foods, whether it's the latest in using IT systems to cut costs and grow profits or latest concepts in design from complete refurbishments to furniture, lighting and artwork, buyers will feed on it all at the SIFHEX 2012.
Sabah is a rich agricultural state blessed with being strategically located in heart of South East Asia, accessible to the region by the second busiest international airport in Malaysia. SIFHEX 2012 takes advantage of this by bringing together major players in food industry to showcase their products and services and to entice buyers from the region to take advantage of feasts for both the eyes and the palate.
All who are associated with any of the following categories are invited to come exhibit and visit at the SIFHEX 2012.
Categories:
– 

Bakery

– Baking

– Beverages, Coffee & Teas

– Cakes & Cake Decorations

– Cocoa Products

– Coconut Products

– Food Catering Services & Supplies

– Snacks

– Hospitality Services & Supplies

– Food Technology

– Dairy

– Ethnic Foods

– Frozen Foods

– Halal Foods

– Herbs

– Spices

– Hotel Equipment Supplies & Services

– Ice Cream Products

– Meat, Poultry, Seafood

– Mixes

– Produce; Fresh, Dried, Packaged

– Sauces

– Silverware

– Sweets & Confectionery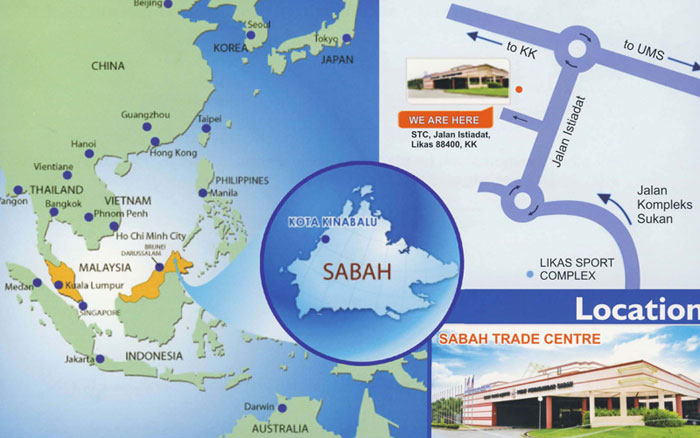 For further information, please contact our office:
IEC – Midas
987 Lorong Jering 2, Sunny Garden, Mile 1 1/2, Tuaran Road, 88300 Kota Kinabalu, Sabah, Malaysia
Tel: +6 088 – 222 939 ( Angeline Fam)   Fax: +6 088 – 222 985
Email: [email protected]   Website: www.iecmidas.com.my