News From : DagangHalal.com (07 Aug 2012)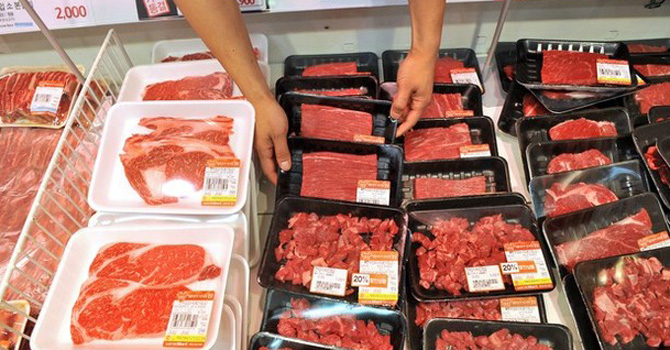 Three countries with the largest market shares are Australia, Brazil and India and each has considerably higher shipping costs to export markets compared to Pakistan.- File photo

ISLAMABAD: Pakistan can surpass $ 500 million mark from the exports of Halal food in international market in just five years if speedy initiatives are taken, said Ahmed Jawad, Member Export, Islamabad Chamber of Commerce & Industry (ICCI) on Sunday.
Talking to PPI, he called to comply with the international codes to seize this opportunity, saying it would not only lead to earning big foreign exchange but also stabilize the national economy.
Taking the tentative first steps towards becoming a major international player in the Halal food industry, in which the country has a strong competitive advantage, can earn huge foreign inflows as we have around 159 million animals.
Saudi Arabia, Malaysia, UAE, Indonesia, Oman, Kuwait & Iran are the big buyers for Halal Meat.
"Pakistan has extraordinary natural strengths, the country also faces massive infrastructure shortcomings which handicap the ability of many Pakistani businesses to effectively compete against firms from Australia, Brazil or even India," he added.
Jawad explained the Halal food market, at just over $640 billion a year worldwide, is one of the largest opportunities in the food and agribusiness sector and plays to the unique advantages of being based out of Pakistan. Presently our total meat exports stand at around $100 million and could surpass the $500 million mark in about five years.
Halal and organic are now used interchangeably, fueling the growth of the former more strongly. Halal meat is also one of the fastest growing segments within the global food trade.
Between 2001 and 2009, the global beef trade grew at an average of 10.4 per cent to reach just over $30 billion, according to data available from the UN Food and Agriculture Organization (FAO).
Ahmad Jawad also mentioned that it looks very pathetic that Pakistan's market share within this rapidly growing market is only 2.9 per cent. However, he said Pakistani exporters seem to be determined to make up for the lost time.
In the six years ending in 2009, Pakistani red meat exports have risen by an average of 68.6 per cent a year, though admittedly from a very low base. According to him, with the advent of more and more new players, and with surprisingly robust support from the government, Pakistan is set to become one of the largest players in the meat trade, at least within the Middle East and Southeast Asia.
He informed that three countries with the largest market shares are Australia, Brazil and India and each has considerably higher shipping costs to these export markets compared to Pakistan that can get benefit of it.
"The Brazilian animal is exactly the same as most of our breeds of cattle. The quality of meat is also the same. The only difference is their ability to market their meat better than us", he added.
He further said that Pakistan can easily displace Brazil as the Middle East's leading meat supplier.
Source: Dawn.com