News From : DagangHalal.com (19 Oct 2016)
Kuala Lumpur, 19 October 2016 – The second day of the 7th Muslim World BIZ is the most exciting with the Opening Ceremony and the Jewels of the Muslim World award ceremony taking place. The energy and excitement of this day set the tone for the whole event.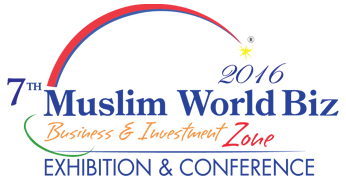 The ceremonies will take place from 11:00 – 13:00 in Merdeka Hall at the PWTC, Kuala Lumpur. VVIPs, VIPs, delegates and hundreds of other esteemed guests will join to first enjoy a welcoming performance, welcoming speeches by the CEO of OIC International Business Centre Mr Muhammad Raja Talib Bin Dato' Dr. Raja Mohamad Abdullah, H.E. Dr Mokhtar G. Warida, representative of the Director General of Islamic Centre for Development and Trade (ICDT) in Morocco H.E Dr. Hassane El Hzaine, and the Guest of Honour YB Datuk Johari Bin Abdul Ghani Minister II in the Ministry of Finance Malaysia, a launching video and a cultural performance. The much anticipated Jewels of the Muslim World award ceremony takes place directly after the Opening Ceremony. Eight chosen leaders who have made significant economic and social impacts on the Muslim world will be recognised and awarded with plaques, short personalised videos and global recognition for their achievement. The ceremonies will be concluded with an exquisite culinary display of Malaysian cuisine at the Gala Luncheon also held in Merdeka Hall.
The recipients of the Jewels of the Muslim World award for 2016 are: H.E. Sheikh Aboobacker Ahmed, Founder and Chancellor of Markazu Ssaquafathi Ssunniyya and General Secretary of All India Muslim Scholars Association in India; H.E Abdulsalam Al Murshidi, Executive President of State General Reserve Fund and Chairman of Uzbekistan-Oman Capital LLC and Oman-Brunei Investment Company; YBhg Tan Sri Abdul Wahid Omar, Chairmain of Permodalan National Berhad in Malaysia; Dr Mustafa Aydin, President of the Board of Trustees of Instanbul Aydin University and Founder and Chairman of the Board of BIL Holdings in Turkey; H.E. Sheika Lubna Bint Khalid Al-Qasimi, President of Zayed University and Minister of State for Tolerance in the U.A.E.; YBhg Dato' Sri Dr Sharavanan Shanmugasundaram, Pro Chancellor of Vinayaka Mission International University College in Malaysia; Mr Mahdi Yousefi, Managing Director of Pars Special Economic Energy Zone Organization in Iran; and YBhg. Prof. Dato' Dr Mohamad Abdul Razak, President at Cyberjaya University College of Medical Sciences in Malaysia.
After the Opening Ceremony, the guest of Honour and VVIP delegates will go in a short tour around the exhibition zone, which starts today. The exhibition will run for four days but is not open to the general public until 20 October 2016. The exhibition features hundreds of booths and companies showcasing their products and services and ready to make business connections and deals and expand in the global market. During the tour, a press conference is expected to take place where YB Datuk Johari Bin Abdul Ghani, Mr Talib and H.E Dr Mokhtar will respond to media question.