News From : DagangHalal.com (09 Aug 2012)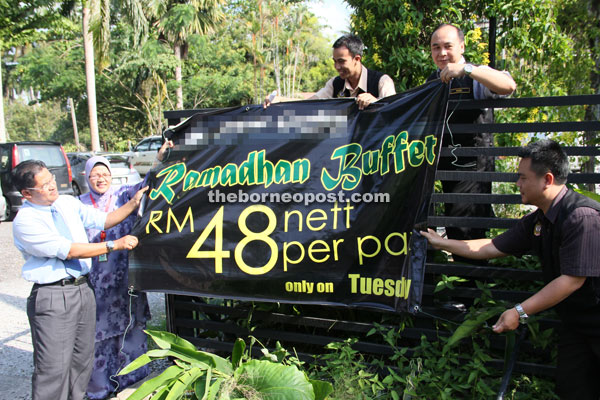 TAKE IT DOWN: Wan Ahmad (left), Asmawaty and other members of the enforcement team taking down the confusing banner that promotes Ramadan buffet.

KUCHING: Non-halal restaurants and eateries which are running Ramadan buffet are urged to stop their act or risk being fined up to RM1 million or three years' jail.
Director of the state Ministry of Domestic Trade, Cooperatives and Consumerism Wan Ahmad Uzir Wan Sulaiman advised such businesses to immediately take down all forms of Ramadan buffet advertisement at their premises as it could confuse the public.
He said that an individual could be fined up to RM1 million or three years' jail and companies RM5 million on conviction. Premises having halal certificate but found to have not put up their certificate risked a fine of up to RM100,000.
"There are cases of non-halal restaurants conducting Ramadan buffet. This confuses the people especially when some of the premises advertise various beer brands with their Ramadan buffet promotion.
"For now, we only give them warning. Ramadan is the time for Muslims to fast," he told reporters before 10 personnel from the state Religious Department (Jais) and the ministry conducted an operation on non-halal restaurants promoting Ramadan buffet.
Among them was Jais halal development unit chief Asmawaty alias Siti Asmah Ahmad.
They checked a restaurant near the civic centre and one near Jalan Bukit Mata here.
Under the Trade Descriptions Act 2011, restaurants and eateries not halal certified or those serving non-halal food will be fined if they are found to have put up confusing promotion.
This includes putting up of signages such as 'Islamic food', 'Bismillah' or 'certified halal' at their premises.
Wan Ahmad said even signage stating that the restaurant did not serve pork could be deemed confusing.
Source: theborneopost