News From : DagangHalal.com (27 Jun 2011)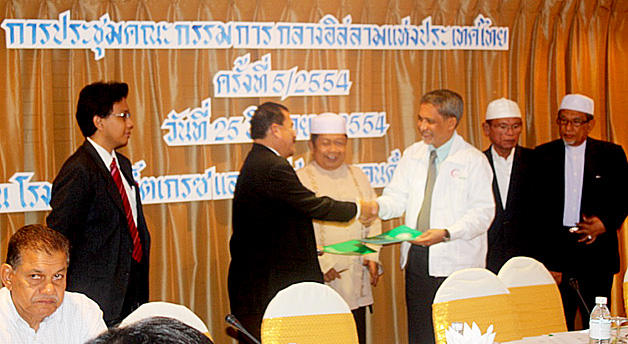 On 25th June 2011, a MoU between DagangHalal Malaysia and The Central Islamic Committee of Thailand (CICOT) was officially sealed. This commemorates the collaboration between two countries to endorse Halal promotion initiative via DagangHalal.com.
The MoU signing in Phuket, Thailand was officially marked by chairman of DagangHalal, Haji Muhadzir Mohd Isa and chairman of Halal Affairs CICOT, Associate Professor Dr. Ismaae Alee during Thailand Head of Provincial (State) Islamic Committee conference last Saturday. The Provincial Islamic Committee exists in 36 of Thailand's 76 provinces and is directly placed and funded by Thailand's Prime Minister department.
In his opening remarks, Haji Muhadzir said that this partnership will definitely provide an avenue for CICOT to promote its services globally and to disburse current and up-to-date information on Thailand's halal industry on the internet based platform.