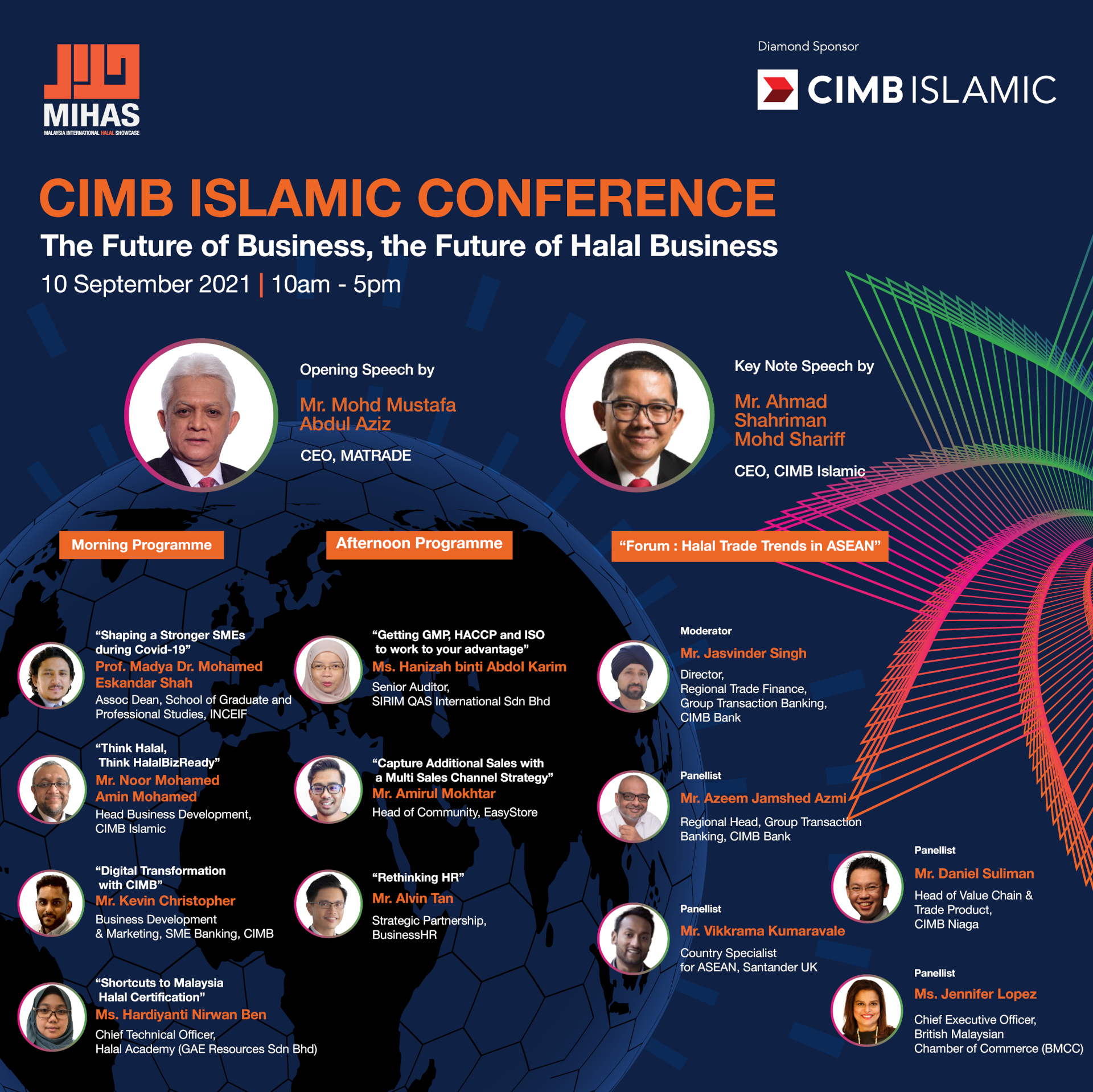 First of all, we in CIMB Islamic Bank Berhad would like to thank you for spending your valuable time joining our MIHAS CIMB Conference under topic of The Future of Business, The Future of Halal Business on 10th September 2021.
We are sure that the knowledge sharing did provide some insightful information and guidance to various industries and how important Halal certification in our business operation due to the growing market and population year on year, publics perceptions, investors expectation, regulatory requirement and not to forget improving our business top line and bottom line significantly. Being Halal certified and being coupled with all other necessary certification like GMP, HACCP, ISO22000 and NPRA will give greater advantage and stand taller against your competitors. Beyond that, digitalizing our business solutions and penetrating the growing e-commerce opportunities also will help to put your business to stay competitive.
During the conference, we did share our unique solutions for Halal and other necessary certification, which we branded it as HalalBizReady and our comprehensive digital solutions. With the two, any SME will definitely be an export ready, speaking of export opportunities, CIMB always look forward to support our SME via our Trade Club Alliance network.
In here, we would like to reiterates these solutions once again in brief.
1.     CIMB HalalBizReady, is a proposition to support SMEs looking to grow their businesses in the global Halal markets through access to financing and training to facilitate JAKIM certification.  The HalalBizReady ecosystem provides access to different enablers for businesses that want to access the global Halal economy by offering exposure and brand awareness activities for businesses post-certification via CIMB's own and partner platforms online, events, tradeshows and sponsored activities.  A comprehensive list of solutions for SMEs, including Halal know-how, consultancies, financing, e-commerce, HR and cash solutions. As mentioned, this will be the complete package for the SME to leverage on our HBR in growing their business going forward. CIMB HalalBizReady web link: https://cimb.com.my/halalbizready
2.     The Trade Club Alliance is a global network of banks that aims to make international trade simpler and international opportunities more accessible.  Offering an innovative digital platform, providing businesses with enriched experience in international business, tool and services, in addition to the opportunity to connect with reliable partners in new markets.  The Trade Club Alliance currently has around 14 banking groups from around the world covering most of the global markets and hubs with prospects of expansion during 2021. CIMB Trade Club : https://tradeclub.cimbbank.com.my
3.     Digitalizing your business day to day operation for better efficiency, wider market outreach and lowering your operating cost. Our Cloud Based HR Solution (BusinessHR) , e-commerce platform solutions (Easyparcel, Exabytes)  and other SME solutions, will help the business to run smoothly, automate where necessary and most of all reducing your operating cost while increasing the profitability of your business. Do join free webinars session conducted monthly on how to digitize your business with our partners https://cimb.com.my/smepartners
If you want to know more about these solutions and to understand how CIMB can support your business to reach the full potential, please contact me, Noor Mohamed at 016-8077220 or any of our Business Development team. We are more than happy to engage with you.
HalalBizReady:           Emma Zahari at 012-914 5075;
Trade Club Alliance:   Cyrus Hee Ho Min at 017-267 0033
Digitalization Solutions: Kevin Christopher at 016-512 7858
Alternatively, you can also email us at [email protected]