News From : DagangHalal.com (06 Jun 2014)
Prime Minister Datuk Seri Najib Razak said Xi'an is the gateway for Malaysian Halal products to enter China, the world's second largest economy.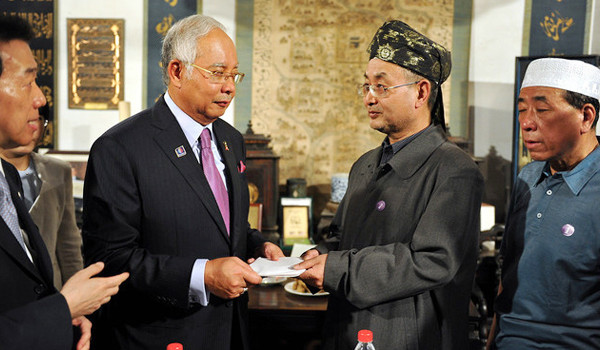 There are about 140,000 Muslims in Xi'an, which makes it an ideal place to promote Halal products from Malaysia, he told Malaysian journalists after visiting the Museum of Qin Terracotta Warriors and Horses here today.
Najib is on a six-day official visit to China to mark the 40th anniversary of the Malaysia-China establishment of diplomatic relations.
Meanwhile, Agriculture and Agro-based Industry Minister Datuk Seri Ismail Sabri Yaakob said the 3rd Malaysia-Xi'an Halal Food Festival Week was expected to generate RM20 million in sales.
"Last year, the sales amounted to RM15 million as compared to RM9 million in 2012."
The Minister said sales from the food fair held at Beiyuanmen Street (Muslim Street) increased every year as Malaysian foods were widely accepted by the Chinese visitors here.
The number of Malaysian entrepreneurs participating in the fair had also increased to 35 from last year's 30, he said.
Only 15 Malaysian entrepreneurs took part in the first exhibition held in 2012, he said.
Ismail Sabri said many Malaysian businessmen continued to join the fair as they had received good response from the visitors here.
Among the participants of the exhibition, which began yesterday and will go on until May 31, is Fatihah Frozen Food Sdn Bhd that offered a number of Halal products, including ready-made frozen food such as curry puffs, samosa, roti canai and popiah.
Fatihah, who was participating in the fair for the second year this year, told Bernama she had increased her sales target this year to 50,000 yuan from last year's 40,000 yuan.
:I am introducing two new products this year – frozen durian spring rolls and frozen durian puffs.
"The Chinese visitors here love durians, "she said, adding that the missing Malaysia Airlines MH370 flight incident had not affected her business.
"They just love our products. The flight incident does not seem to have had any negative impact on us at all."
Of the 239 passengers and crew on board the flight, 153 were Chinese nationals. The plane mysteriously disappeared while en route to Beijing from the Kuala Lumpur International Airport on March 8.
Businessman Alan Tan Cheng Learn, who has been involved in the honey industry for nearly four years, said his products had received good response from local visitors.
Tan, who was participating in the fair for the first time this year, said he was surprised over the overwhelming response from the Chinese here.
"Maybe they are more confident in Malaysia-made products than the locally-made ones."
Source: Muslimvillage.com