News From : DagangHalal.com (22 Aug 2014)
Halal Development Foundation Japan and Penang Halal Hub Development Malaysia signed a MOU for mutual cooperation to promote Halal Exports and Imports between Japan and Penang state of Malaysia. Honorable Dato Haji Abdul Malik Kassim the State Minister for religious Affairs, Domestic Trade and Consumer Affair, Chairman of Halal Penang and Secretary General of Halal Development Foundation Japan, (HDFJ) MOHAMMAD Zubair signed the MOU in a Press Conference at the outset of 1st Japan Halal Summit 2014 in Tokyo.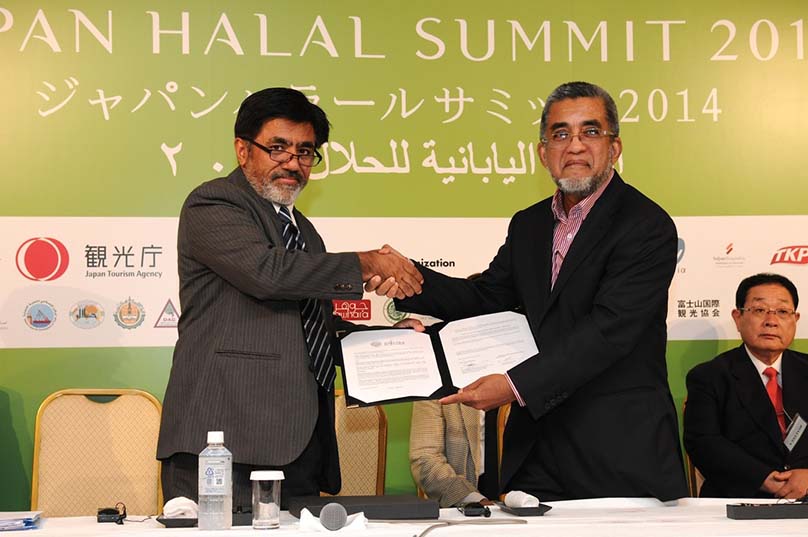 Penang State Minister, Honorable Haji Abdul Karim Kassim and HDFJ General Secretary MOHAMMAD Zubair.
The MOU emphasizes to encourage regular trade exchanges and contribution to promote Halal products from Japan and Penang Malaysia. Both parties also agreed to promote trade information and mutual visits by extending assistance to enterprises and economic operators.
Speaking at the press conference, Honorable Haji Abdul Malik Kassim highly appreciated efforts and role of Halal Development Foundation in holding 1st Japan Halal Summit 2014 in Tokyo. Expressing great expectation to further Halal Trade between Malaysia and Japan, honorable minister appreciated efforts of Japanese companies and tourism sector. "Penang International Halal Hub Development will welcome Japanese government and investors as State of Penang is putting utmost efforts to facilitate foreign companies in Halal sector". Honorable Haji Abdul Malik Kassim said.
MOHAMMAD Zubair, General Secretary of Halal Development Foundation Japan warmly welcomed Penang Halal delegation led by Chairman Haji Abdul Malik Kassim and expressed determination to promote Halal Trade and Tourism between Japan and State of Menang, Malaysia. . "HDFJ is committed to promote Halal in Japan for which we need humble support from Muslim countries and Islamic organizations. 1st Japan Halal Summit 2014 is expression of this willingness that we are bound support Japanese companies in the every aspect of Halal sector". MOHAMMAD Zubair said.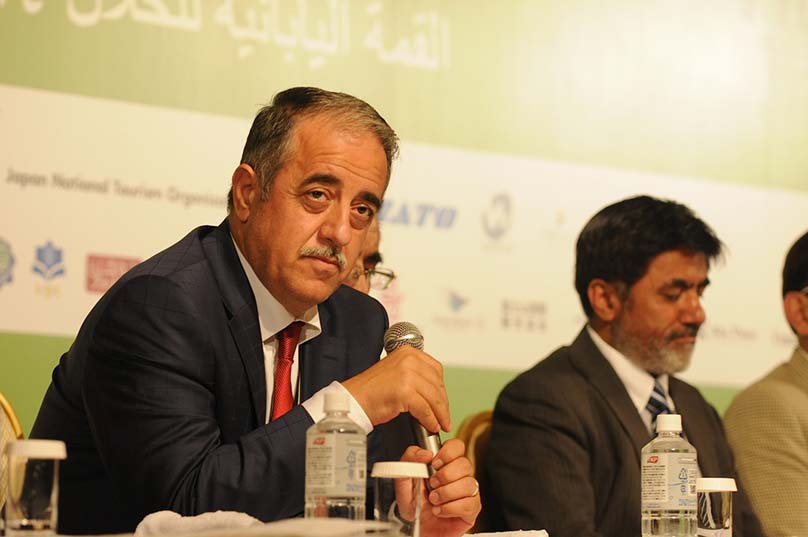 Chairman Board of Directors SMIIC H.E Hulusi Senturk.
At the Press Conference, Chairman Board of Directors SMIIC H.E Hulusi Turk, Chairman MUI Prof. Dr. M. Din Syamsuddin, Secretary General of Federation of the Gulf Cooperation Council H.E Abdulrahim Hasan Mohamed Naqi and Director General ICDT H.E Hasan El Hzaine were also present.
HDFJ is focusing to promote Islamic Tourism in Japan as government of Japan revealed to attract 20 million tourists by 2020. In this regard, HDFJ is working closely with the Japanese tourism sector including the government.
Source: Halalfocus.net