News From : DagangHalal.com (27 Jun 2013)
On-demand access to a vast and original catalog of enriching lectures about Islam.
Islam On Demand, producer of original high-quality video content since 1995, is excited to announce the launch of its long-anticipated iPhone app. The app goes live on the App Store on July 9th 2013, the first day of Ramadan. Anyone with an iPhone, iPad or iPod touch can download the app and get instant access to a unique catalog of inspiring lectures by Hamza Yusuf, Suhaib Webb, Jamal Badawi, Siraj Wahhaj, Abdal Hakim Murad and countless others. The app arrives at the onset of the Islamic holy month in which Muslims worldwide not only fast during the daylight hours, but also strive to increase their spirituality through extra prayers, good deeds and general studies of the religion.
The Islam On Demand iPhone App helps to achieve all of this as it provides lectures on a wide variety of important topics such as fasting, faith, seeking knowledge, living Islam in the West, marriage, domestic violence, gender relations, raising Muslim children, peer pressure, basic beliefs, hijab, women in Islam, etc. Learn about Islam while getting things done on-the-go. Watch videos on the bus, train or cross-country flight. Or listen to audio on road trips, daily commutes or while working out. The app is free to download and includes more than 2000 titles that can be played without advertisements. All the content is organized within a robust and clean interface that makes it a cinch to find titles quickly and easily. You can search, sort, rate and filter titles, save favorites and share titles with friends. You can also add comments and download titles from iTunes.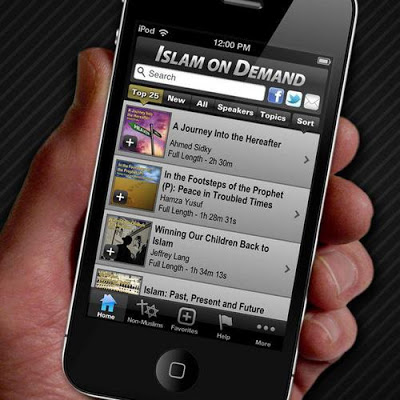 Islam On Demand apps for iPhone
Although there is no shortage of video streaming apps already available on the App Store, the Islam On Demand iPhone app distinguishes itself from all other others by providing 100% original and professionally produced content, not user-uploaded content which may lack quality, and reliability in terms of authentic and accurate Islamic information. All lectures featured are by trusted and well-known speakers, most of whom are balanced Muslim scholars and/or activists. A second distinguishing feature are "premium" titles that can't be found on any other mobile app. Delivered by such speakers as W.D. Muhammad, Karen Armstrong and Umar Faruq Abdallah, these "premium" titles can be unlocked with an optional In-App Purchase. Lastly, the Islam On Demand iPhone app is unique as it provides a handy chapter feature that divides each full-length lecture into multiple stand-alone titles, making it easier to pinpoint relevant content and making load times much faster. The app can be downloaded at http://www.islamondemand.com/app or by searching for "Islam On Demand" on the App Store.
Islam On Demand is a professional video production company that focuses on original, high-quality lectures about Islam and Muslims. Since 1996 Islam On Demand has been a service to anyone interested in learning the true teachings about Islam. Lectures recorded are geared towards a Western, English-speaking audience. Many of the speakers are Western-born and/or Western-raised, and many are converts to Islam.