News From : DagangHalal.com (16 Nov 2011)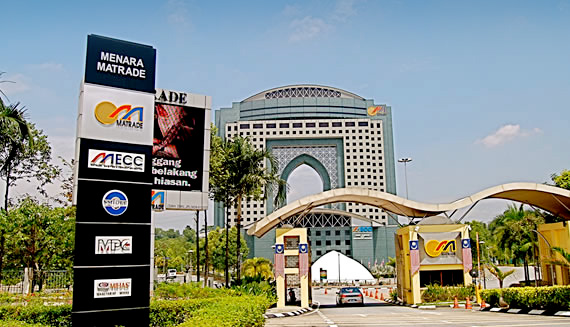 Matrade Exhibition & Convention Centre located at Jalan Duta, Kuala Lumpur.
Trade shows are popular tools for businesses to showcase their latest technologies products and services as they are vital barometers to gauge buyers sentiment and market trends.
As such, the International Trade Malaysia – better known as INTRADE is the annual regional trade fair that connects trade exhibitors buyers and visitors to global markets Organised by the Malaysia External Trade Development Corporation (Matrade) and fully supported by the Ministry of International Trade and Industry, INTRADE has over the years seen consistent growth in all key indicators – the number of foreign exhibitors, number of visitors, range of products exhibited and value of both potential and confirmed sales generated from the event.
"Now in its fifth edition, INTRADE 2011 is expected to be the largest ever with 9,000 trade visitors from over 70 countries attending the event. Almost all of the 410 exhibition booths have been sold out with 221 Malaysian and a record 183 international companies exhibiting their products and services," said Matrade's deputy chief executive officer Datuk Mohamad Kamarudin Hassan. He highlighted that the theme for this year's event namely 'Innovation and Innovative Products', was in line with the government's call for more Malaysian companies – especially those from small and medium enterprises (SMEs) bracket – to export high value and highly specialised products and services.
INTRADE 2011 would showcase products and services from 10 key industry clusters comprising established and emerging markets namely automotive parts and components, electrical and electronics, food and beverages, furniture, interiors and wood, gifts, souvenirs, handicrafts, textiles and jewellery, health, pharmaceuticals, cosmetics and personal care, ICT and innovations, machinery and industry support, professional and business services as well as textile and apparels.
"Last year's industry clusters contributed RM476 billion to Malaysia s export trade statistics or approximately 75 per cent of our total exports in 2010 amounting to RM639 billion. Among this year's clusters the electrical and electronics sector contributed 39 percent to Malaysia's total exports in 2010 With the world population nearing the seven-billion mark, the demand for food and beverage products will continue to increase," Mohamad Kamarudin emphasized.
According to him, visitors to INTRADE 2011 would be able to experience and learn first hand about the diverse range of products and services currently contributing to Malaysia's growing export market.
"They can speak to manufacturers while networking with agents and distributors; build business alliances and sourcing for potential suppliers; explore joint venture opportunities with players at the global level; all at the same time learning of the current prospects and challenges in international trade.
"In addition, premium products from over 20 countries will be on show for their benefit," he under scored.
Mohamad Kamarudin also highlighted that INTRADE had over the years grown in tandem with Malaysia's exports which last year recorded an encouraging growth by almost 16 per cent from 2009.
"Given this encouraging statistic INTRADE will continue to support our export market and see Malaysian companies notably SMEs participate and benefit from this growth."
"Particpants can look for more information via the event's website at www.intrademalaysia.my," he said.
INTRADE 2011 would be held this November 22 to 24 at the Matrade Exhibition and Convention Centre in Kuala Lumpur, opening its doors exclusively to trade professionals with visiting hours from 10am to 6pm.
Source: Borneo Post