News From : DagangHalal.com (10 May 2016)
With its generous range of products, professional visitors will explore in their diverse business experience that SIAL CHINA offers during its 3 days show. Occupying 126,500 sqm exhibition space (hall W1 – W5 and E1 – E6), nearly 3,000 exhibitors from 67 countries and regions and expecting 66,000 visitors, SIAL CHINA 2016 truly is the largest professional food & beverage exhibition in Asia ever before. SIAL CHINA 2016 is ready as of 5 – 7th, 2016 at Shanghai New International Expo Centre.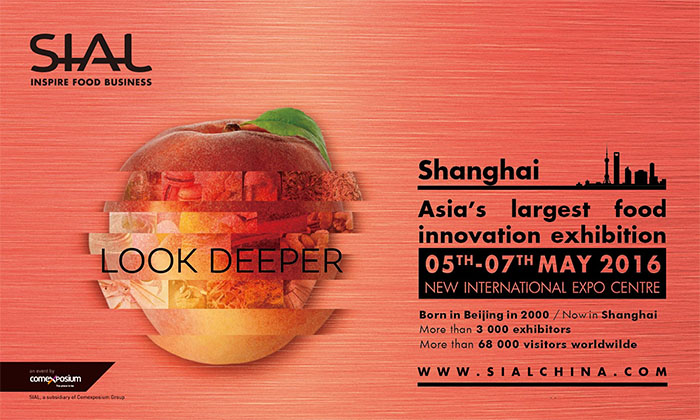 A movable feast for the quality food & beverages from all over the world
With over 50 companies coming to exhibit, Poland joins SIAL CHINA 2016 as the Guest Country of Honor. In hall W4 & E3, exhibitors from Poland will present the wide variety of Polish food and drinks including fruits and vegetables, juices, products of grain, meat and dairy, spirits, chocolate confectionaries, sweets and snacks and other organic and functional foods. In terms of the number exhibitors, South Korea tops all the other national pavilions and will showcase their stylish and healthy K-food, followed by Taiwan region, USA, France, Brazil, Australia, Spain, Argentina, Poland, Turkey, Malaysia and many more. Riding the wave of thriving food and beverages industry in Asia, many international pavilions will make their debuts at SIAL CHINA. UK pavilion will come with premium dairy and confectionery products in hall W2. Russia will join with an official pavilion from the Ministry of Agriculture. Brazil continues its growth with the presence of the ABPA association (national poultry association), and meats. Dubai, Belarus and India Pavilions will all join SIAL CHINA for the first time. Together with 61 international pavilions bringing thousands of products ranging from snacks to high-end gourmet, SIAL CHINA has already achieved an 11% growth (vs. 2015) in the number of international exhibitors and is heading on another breathtaking record.
A window to "LOOK DEEPER" into China's food and beverage market
As China is rich in food culture, food in Western China can be very different from that in Eastern China. SIAL CHINA provides you the best ever opportunities to LOOK DEEPER into the geographically and demographically diverse Chinese food and beverage markets. At SIAL CHINA 2016, Gansu provincial pavilion is the Guest Province of Honor of SIAL CHINA 2016, which features Gansu halal foods, aquatic products and other organic foods. All the domestic exhibitors comes from 29 provinces and cities in China. Some regions will also organize their own pavilions to showcase their beverage and food products that outline food productivity and innovations in China, including Department of Commerce of Shandong, Zhejiang Provincial Department of Agriculture, China Council for the promotion of International Trade Heilongjiang Committee, China Council for the Promotion of International Trade Gansu Provincial Committee, Shanghai Municipal Agricultural Commission, Foreign Trade Department of Commerce of Hunan Province, The Market construction service center of Jimo City, Shandong, NFTZ Market Development Co., Ltd, Commerce Bureau of Changchun City, Bureau of Commerce of Dongguan City, Ningbo Municipal Commission of Commerce and Weihai Shengshi. SIAL CHINA is also supported by the numerous official organizations including Ministry of agriculture, P.R.China, China Aquatic Products Processing and Marketing Alliance, China Federation of Logistic & Purchasing Cold Chain Logistic Committee, the Association of Ningxia Muslim beef and mutton industry and Hong Kong Trade Development Council. In additionally, Mengniu and Yili the top 2 dairy producers in China will return with more innovative products to SIAL CHINA 2016.
21 products categories in 4 dedicated areas
Albeit the enormous number of products exhibited onsite, SIAL CHINA categorizes food and beverage into 21 categories and builds up FOOD, MEAT and DAIRY sectors, which cover the entire spectrum of food and beverage. SIAL CHINA reflects the latest food and beverages trends in a variety of the exhibitors and thus provides visitors within practical insights into global tendencies.
In FOOD SECTOR, visitors be able to find the latest trends that storm Asia's food markets which many influential exhibitors are trying to step in. Spanish leading jam manufacturer Helios will join SIAL CHINA for the first time and bring jams, canned fruits and many more. Other leading exhibitors including Ceremony Gida from Turkey, Myllyn Parras the leader in the grocery sector from Finland and many more.
MEAT SECTOR return with 2 dedicated halls (hall E3 & E4) of 25,000 sqm. 275 companies from 29 international countries gathered at this sector with 283 domestic companies together. 19 national pavilions including Brazil, India, Argentina, Australia, France, Uruguay and many more will bring juicy meat to whet even the pickiest buyers' appetite. Brazilian Poultry Association and National Poultry Council from Poland both come all the way to join this sector for the first time to meet China's increasing needs for safe and quality poultry.
As a major upgrade, SIAL CHINA 2016 sets the first ever independent DAIRY zone (hall W2) in the history. 37 international exhibitors along with 3 national pavilions from Belgium, Lithuania and the United Kingdom, A wide range of dairy products will be showcased in this zone, including milk, cheese, yoghurt, quark, butter, whey and many more. In terms of the numbers of the exhibitors, Australia tops number one and followed by Belgium, Lithuania, UK and Poland. The packaging magnate Tetra Pak will return with its European dairy partners.
With thousands of food industry professionals join the exhibition in 3 days, SIAL CHINA virtually becomes a source of big data for food industry. Given the huge numbers, the match-making system that identify the needs from both buyers and exhibitors to provide the most precise business matching service.