News From : DagangHalal.com (24 Jun 2013)
NAGOYA – Halal food, the only type Muslims are permitted to eat under Islamic law, is in hot demand, say managers at Halal Deli, which delivers boxed lunches to devout Muslims in Tokyo.
"Halal foods are currently delivered only within the 23 wards of Tokyo, but we want to expand the delivery area," a member of the deli's staff said.
The shop, based in Koto Ward, opened to meet growing demand for halal food from tourists from Indonesia and other Islamic countries.
A group of about 30 education officials from Indonesia in Japan to visit schools were licking their lips during a recent lunch break as they tried some curry from Halal Deli in a room at the nearby National Museum of Emerging Science and Innovation.
"It's delicious," one said.
"I want some more," said another.
Halal Deli signed contracts with three restaurants in April to supply Malaysian, Indonesian and Turkish food. They also decided to expand by launching phone and Internet-based delivery services.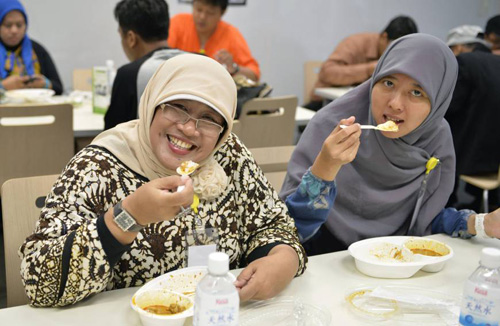 Dining at ease: Indonesian women eat halal meals purchased from Tokyo-based Halal Deli in Minato Ward on June 13. | KYODO
Their most frequent customers are companies that have Muslim employees and visitors, and tourists.
On the menu you can find about a dozen "bento" (boxed lunches) containing chicken, rice and Japanese foods.
The concept of halal does not only prohibit pork and alcohol as most people think. It can also ban consumption of beef, lamb or chicken if the meats are not processed according to Islamic custom.
When this happens, they become "haram" or forbidden – the opposite of halal.
Some seasonings or condiments, like "mirin," a sweet cooking sake used in Japan, can also be designated haram.
"I didn't have to worry if what I was eating was allowed or not," said Fauziah Fauzan, 42, another of the visiting Indonesian officials.
"It would be great if halal foods were available in other areas."
After visiting Osaka and Nagoya, Tokyo was the first place they found restaurants or dining services that offered halal food, said Fauziah, who by then was resorting to fish or strictly vegetarian meals.
The leader of the team, Mina Hattori, an associate professor at the School of Education and Human Development of Nagoya University, said the last time they had a group of visitors from Indonesia, she had to prepare about 50 halal lunches with only the help of Indonesian students at the university.
"There are many Muslims who would like to visit Japan, but the concern about the food is the main reason why they have second thoughts," said Hattori, who has conducted research on Islamic education. "I think that if halal became more available, the number of Muslims visiting Japan would increase."
The Japanese government recently made tourism from Southeast Asia a priority and is preparing to relax visa requirements to lure more people from the region.
"In our primary plan, we estimated about 200 orders monthly, but now we receive over 500 per month," says the staff member at Halal Deli. "We plan to get more contracts and we hope the service will eventually be expanded to other cities."
Translated by The Japan Times
Source : japantimes.co.jp