News From : DagangHalal.com (26 Jun 2013)
DagangHalal Key Activities:


 B2B Business Matching.


 Global Halal Network Program.


 Merchant Products Showcase.


 E-magazine Halal Coverage.
DagangHalal booth activities
DagangHalal had the corner booths for this year which occupied 18 sqm at YY40 & YY42 that located at the Hall 1 altogether with other international Halal exhibitors.
The DagangHalal booth concept had reflected the variety of actual products from various merchants were showcased in booths to attract buyers throughout the event. These products sparked the interests of buyers, as there were numerous buying requests from international buyers.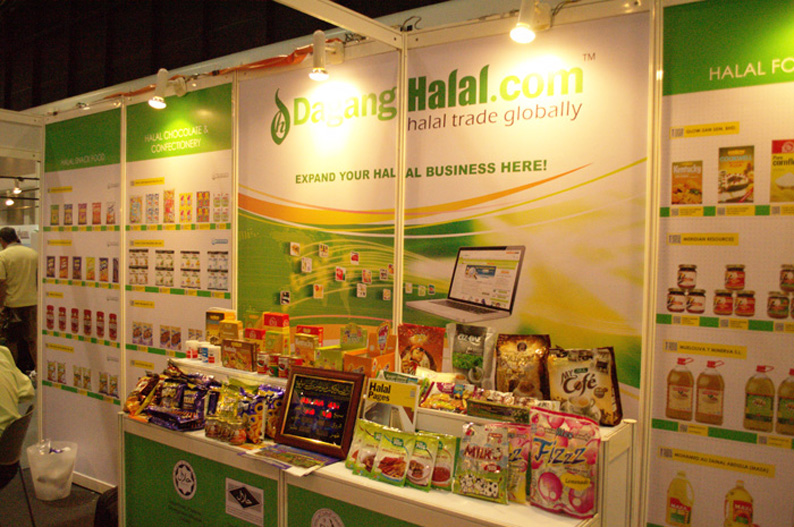 Buyers had more option on the Halal products at DagangHalal booth.
In conjunction with THAIFEX 2013, DagangHalal had a package promotion on risk free trial for CICOT certificate holders. This package was launched due to attract more international visitor and exhibitors in expanding their Halal business into international stage. It was actually one of the great opportunity in promoting the uniqueness of Thailand food and beverages, food service and food technology.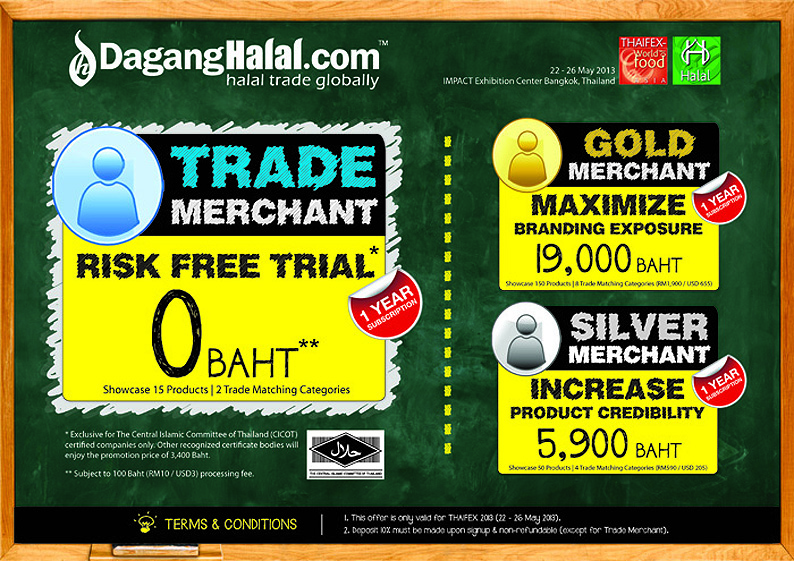 Promotion Packages at THAIFEX 2013.
DagangHalal provided various services during THAIFEX 2013 which equalled international standards. For instance, Halal exhibitors received DagangHalal Triangle Business Card Stands that helped them get more business leads by the international buyers.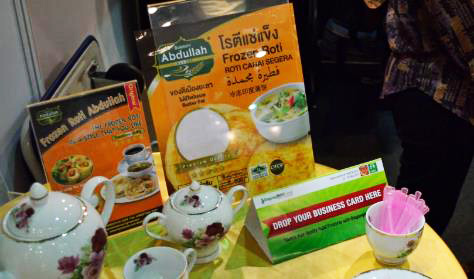 One of the Halal exhibitor in THAIFEX 2013 was displaying the DagangHalal Triangle Business Card Stand.
After understanding the service offered by DagangHalal, many of the exhibitors were decided to join as a merchant to get more business opportunity via online channel. Most of them are Halal certified by CICOT and corporate visitors who had visited DagangHalal booths.
DagangHalal had provided the Halal trade platform for the international buyers that sourcing for halal products. In the trade fair, we managed to get many buying request details information from international buyers to provide to DagangHalal merchants in doing the B2B business matchin. Our merchants will received the buyer information through Halal Trade Manager System tool instantly. The simple and effective system tool had manages to get more business opportunity for DagangHalal Merchant.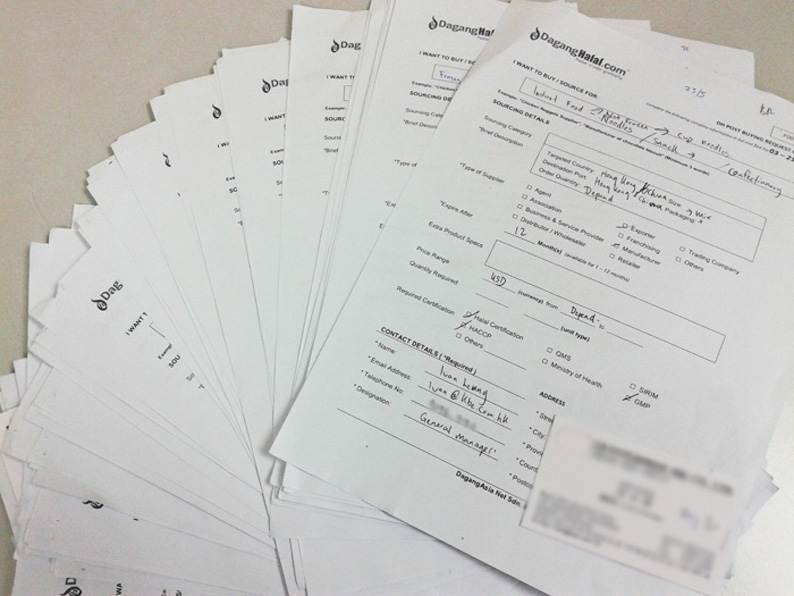 Buying request received during the THAIFEX 2013.
In THAIFEX 2013, our Gold Merchant's product successfully gained the interest of buyers at the trade fair, such as Rockey Food Industry Sdn Bhd, NIS Spice Manufacturing Sdn. Bhd, and Glow-San Sdn Bhd.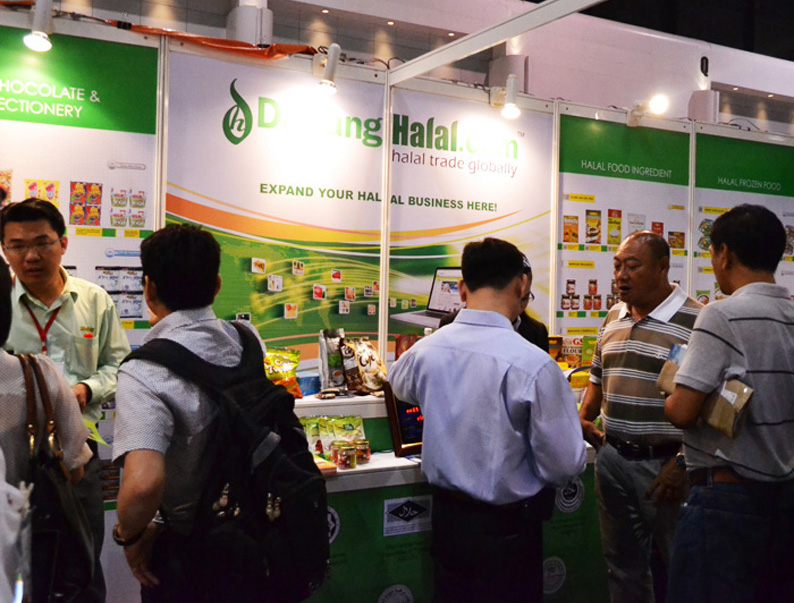 DagangHalal booth was crowded with many buyers.
Business matching for DagangHalal merchants and potential buyers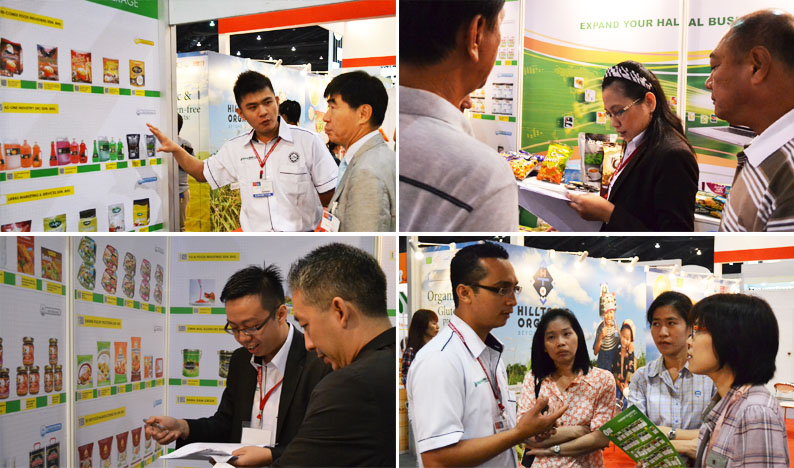 Business matching in session.

Some of our new signup merchants during THAIFEX 2013.
E-Magazine Halal Coverage
The Halal exhibitors that had the most innovative products were interviewed. Most of the exhibitors stated that THAIFEX World of Food ASIA 2013 was successful as a large number of enthusiasts from within Thailand and abroad attended the event.
Additionally, exhibitors responded that the fair provided them with a perfect platform for acquiring new business channels and promoting their products and services to high potential clients.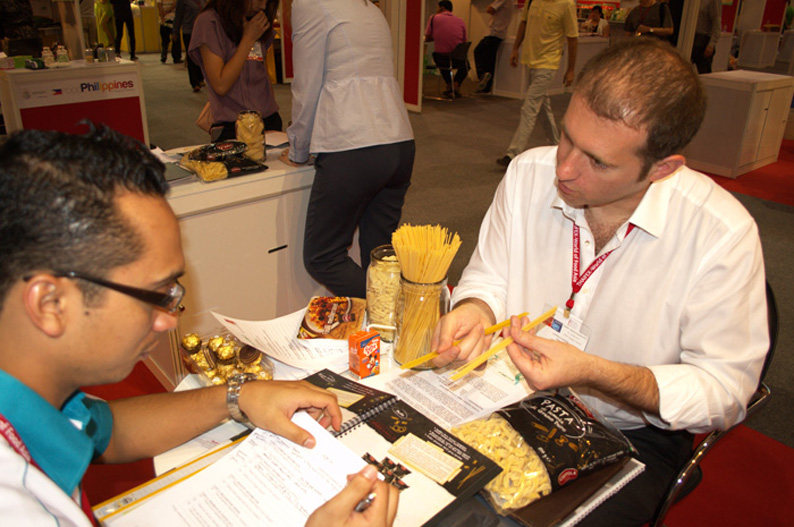 Ernesto Coppola from COPPOLA FOOD (Italy) showed the differences of his pasta quality products.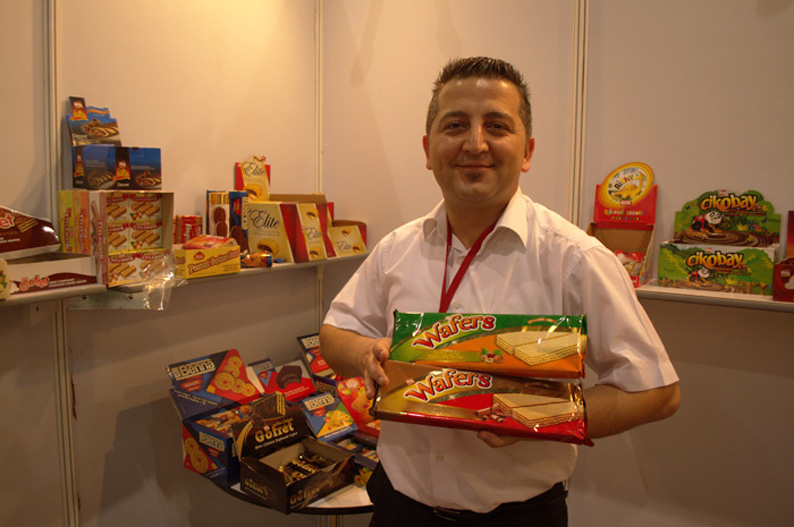 Omer Ickol from BIKA BISKURI VE GIDA SAN A.S. (Turkey) showed their hot selling products.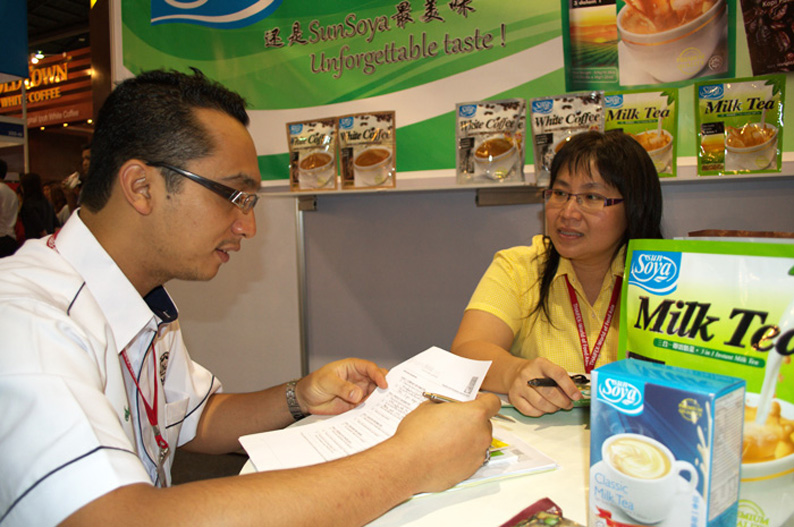 Lee Met Ling from Hong Siang Food Sdn Bhd (Malaysia) is sharing their success story.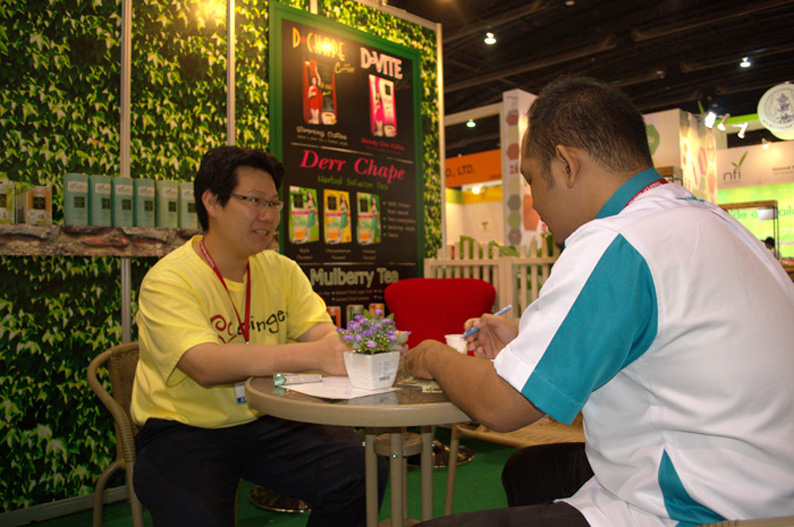 Interview session with Supachai Chaiwatanamethin from GREEN TEA LIMITED PARTNERSHIP (Thailand.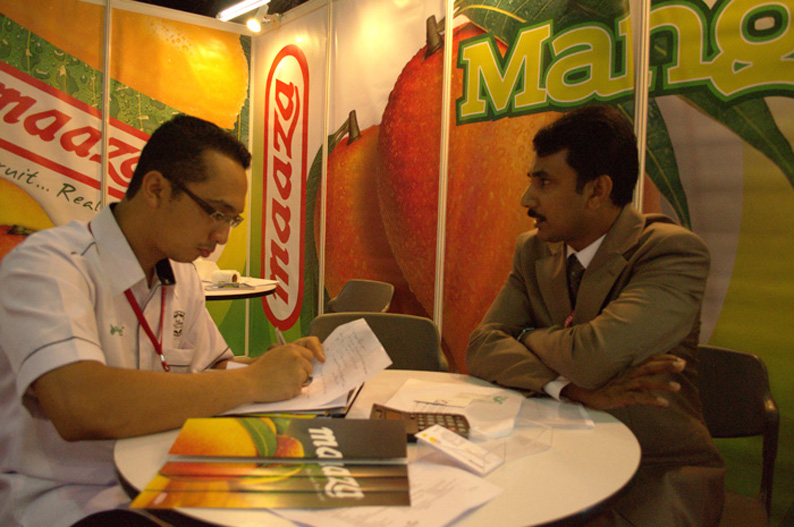 Abdul Muneer from MAAZA International CO. (L.L.C) (Dubai) is sharing their products quality.
These exhibitors are, therefore, looking forward to taking part in the upcoming THAIFEX 2014. They are confident it will go a long way in expanding their client base.