News From : DagangHalal.com (12 Apr 2013)
Trade Fair Overview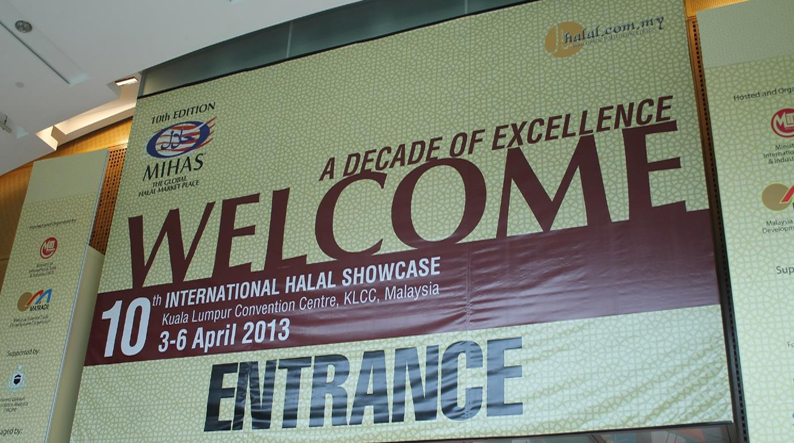 Respected as a modern, peaceful and prosperous Islamic country especially among OIC member countries, Malaysia has the added advantage of championing the halal cause.
Malaysia's central position in Asia makes it an ideal trading platform to draw the world's halal players in facilitating the sourcing and selling of global quality halal products through THE 10th INTERNATIONAL HALAL SHOWCASE (MIHAS).
Inaugurated in 2004 with the sole aim of facilitating the sourcing and selling of quality halal consumables, products and services globally, this annual trade fair is in effect the largest congregation of halal industry players.
As an international trade fair focusing on halal, MIHAS attracts a following of loyal visitors and exhibitors. MIHAS 2012 saw the active participation of 401 exhibitors from 32 countries and attracted 16,096 quality visitors from 70 countries. Over 69% of these visitors are trade buyers and the who's who in the food and beverage industry from the ASEAN countries.
It embraces the halal concept in all its dimensions from pharmaceuticals and herbal products, cosmetics and health care to Islamic investment, banking and takaful.
Every year since its inception, MIHAS hosts over 500 buyers and matches them with participants of MIHAS from Malaysia. During MIHAS 2012, this programme resulted in total immediate and negotiated sales of over RM514.84 million.
Today, MIHAS is the premier event that is not limited to the ASEAN region alone but is also supported internationally by the enthusiastic participation of International Pavilions from countries across the globe.
This has equipped MIHAS with the extra edge to break through barriers to enter young developing markets committed to serving the needs of the halal consumer and to reach a quality-conscious generation seeking quality halal food products.
MIHAS serves as the best entry point for the world market to penetrate into and flourish in the global Muslim the ASEAN markets. MIHAS is hosted by the Ministry of International Trade and Industry (MITI), and organised by the Malaysia External Trade Development Corporation (MATRADE).
Key Activities:
– B2B Business Matching
– Global Halal Network Program
– Merchant Products Showcase (Booth C110)
– DagangHalal All-in-One e-Commerce Demonstration & Presentation
– DagangHalal Merchant Selling Promotion
– DagangPay Launching Ceremony
– Media Coverage from MIHAS secretariats and Bernama TV
Exhibitors:
– 345 exhibitors (247 Malaysia and 98 International exhibitors)
– 31 countries represented
– 518 booths
Attendance:
– 20,000 quality visitors attends from 31 countries
– Over 70% are trade buyers in food and beverages industry from ASEAN countries
DagangHalal Booth Activity
Business discussion with one of the trade visitor on the first day of MIHAS 2013.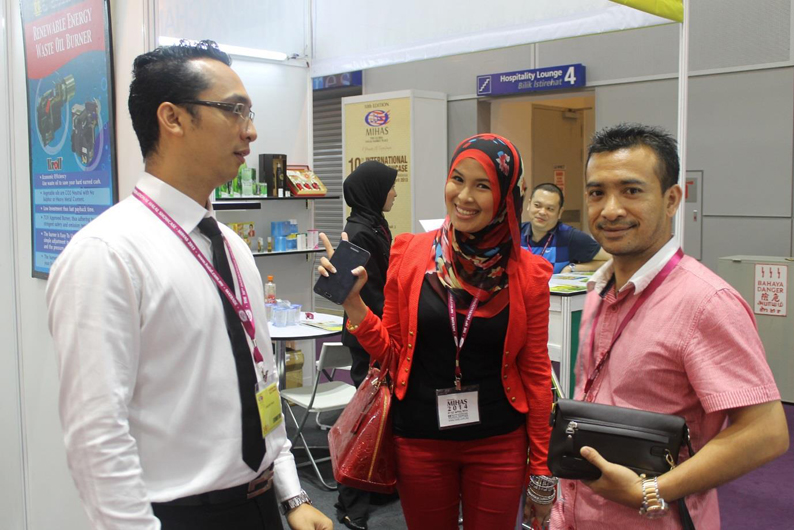 One of the new merchant, DagangHalal Silver Merchant e-Commerce, Mr Azlan & Ms. Ezza from Ezzarich Sdn Bhd.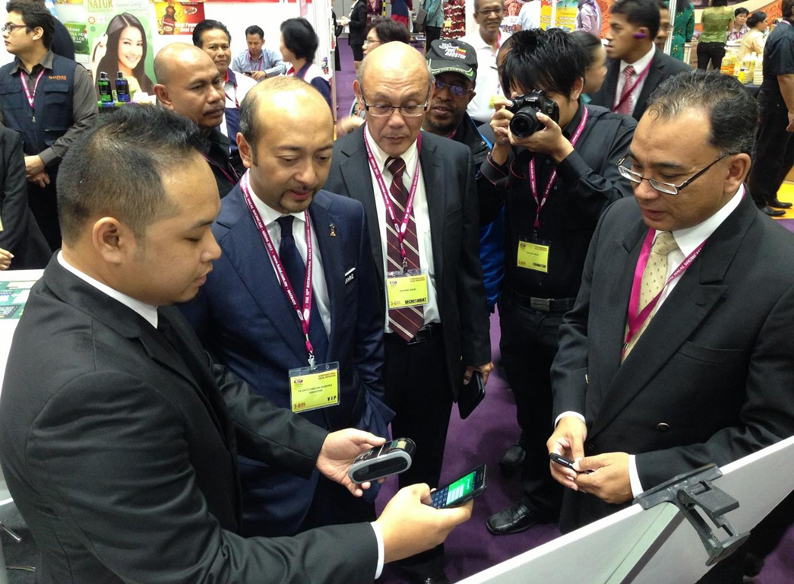 DagangPay demonstration by DagangHalal Portal Manager, Mr Asrul to Dato' Paduka Mukhriz bin Tun Dr. Mahathir, Malaysian Deputy Minister of International Trade and Industry.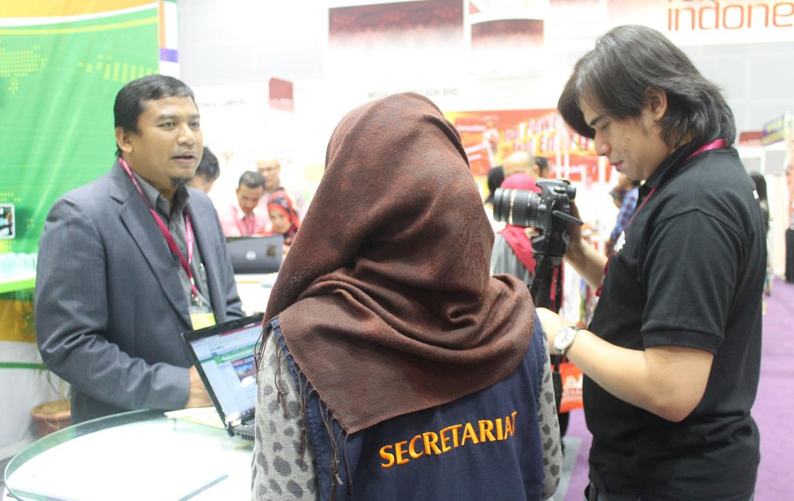 Media coverage from MIHAS 2013 Secretariats and also Bernama TV about DagangHalal.com with Mr. Khairil Ismahafiz, CEO of DagangHalal.com.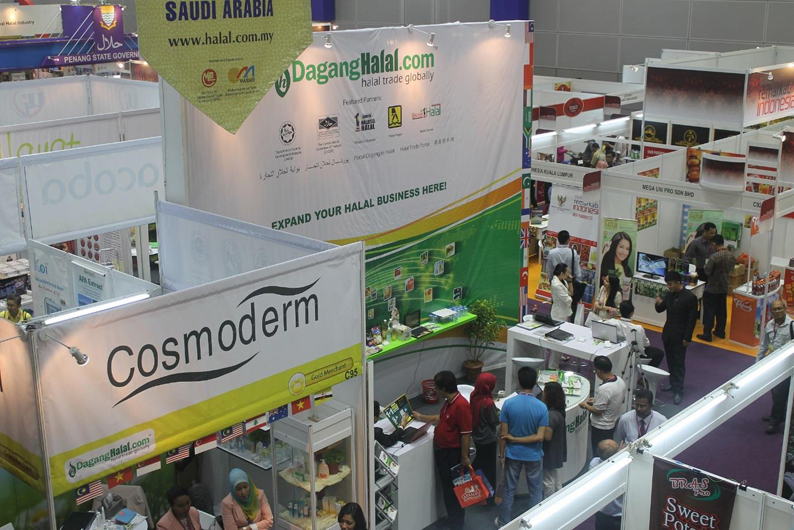 DagangHalal pavilion from top-view in MIHAS 2013.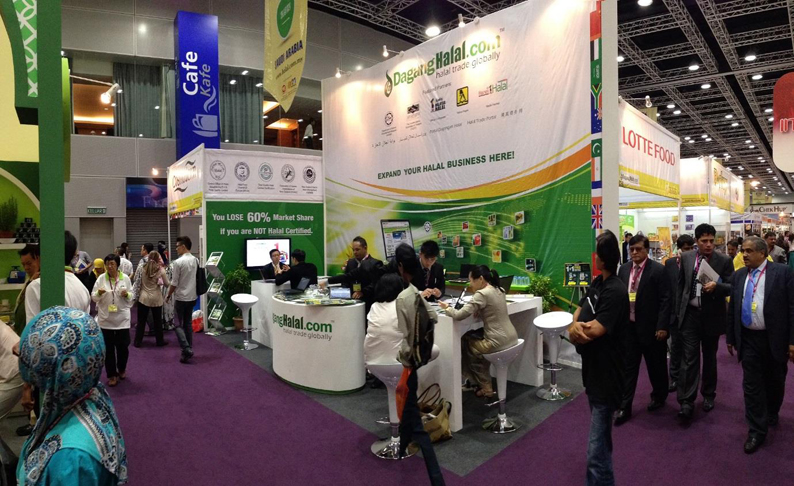 DagangHalal maximum branding during first day of MIHAS 2013 at main booth at Hall 4, C93 and C94.
DagangHalal pavilion occupied a 108 m2 booth at Hall 4, C93-C94 and C107 and C112. Our booth was located in the international section which perfectly fit our nature of business. The marketing kits and magazine were setup and displayed nicely at the booth to allow the visitors to understand about our service and solution. We also conducted the demonstration of All-in-one e-Commerce Solution for Halal industry to assist the SME expanding their Global Halal Business quickly with a cost effective package.
On the first day of MIHAS 2013, DagangHalal have launched a new credit card terminal device, DagangPay which was officiated by Dato' Paduka Mukhriz bin Tun Dr. Mahathir, Malaysian Deputy Minister of International Trade and Industry.
DagangPay system is a suite of front end and back office system that processes financial payment and settlement in real time over the mobile terminal device. DagangPay merchants can process Cash Receipt, Credit Card authorisation and On-Accounts processing, anywhere and anytime worldwide. In the near future, DagangPay will be able to process Cheques, Private Label Debit Cards, Loyalty Cards and Pay Bills just to name a few.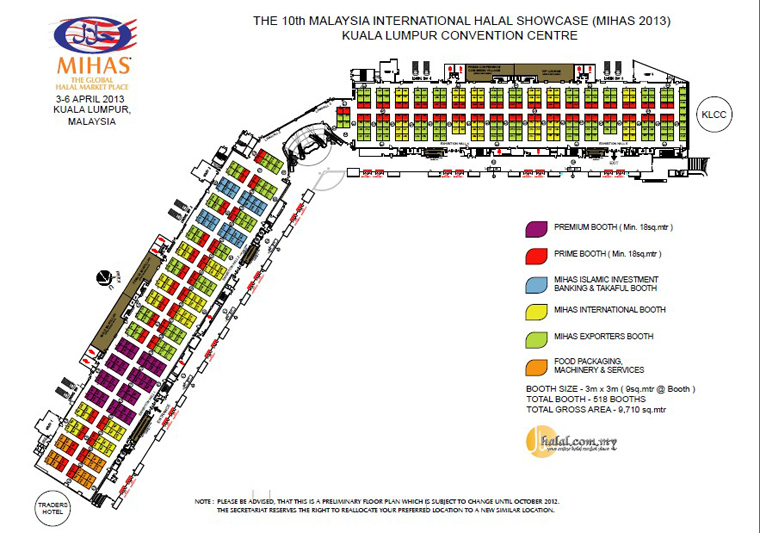 MIHAS 2013 Floor Plan in Kuala Lumpur Convention Centre, Kuala Lumpur. DagangHalal pavilion at Hall 4, C93- C98 and C107-C112.
Merchant Products Showcase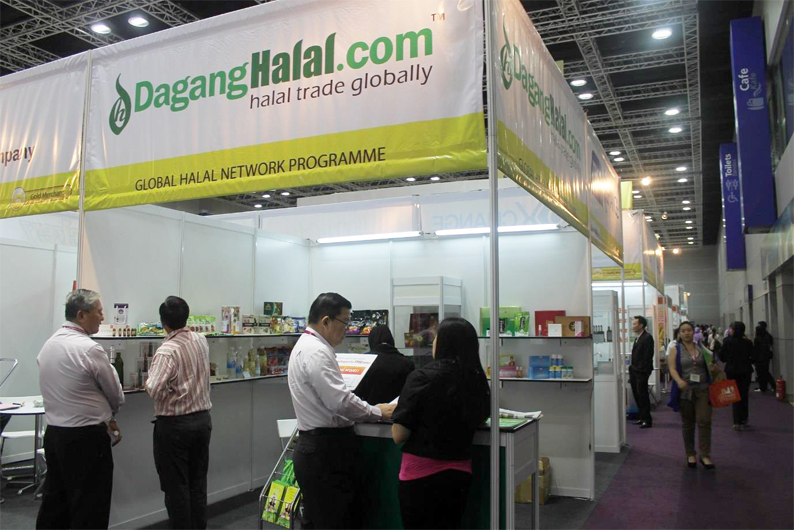 Gold Merchant products were displayed with maximum exposure under DagangHalal Global Halal Network Programme at booth C110.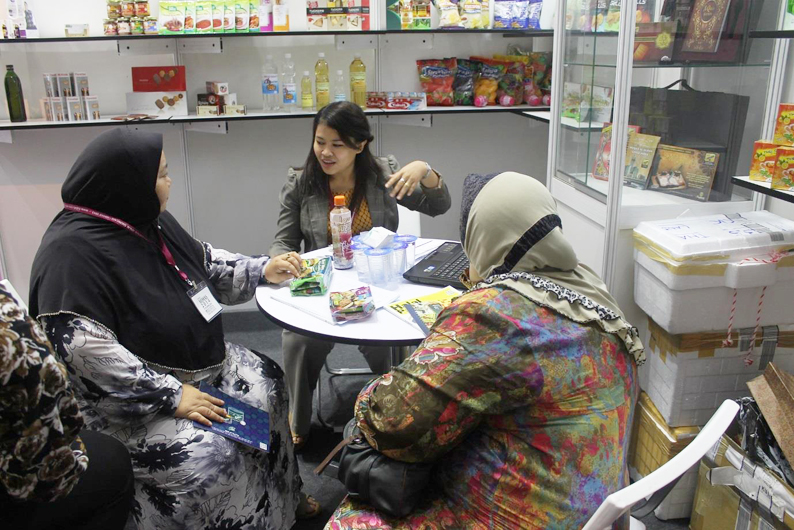 Buyers that are looking for Halal products inside DagangHalal Product Showcase booth.
This year, actual products from our Gold Merchant were showcased in our booth to attract buyers through the four days fair. Our Gold Merchant's product successfully sparked the interest of buyers at the trade fair, such as Milky Moo Moo Biscuit from Lee Biscuits (Pte) Ltd, Sambal NekNor from Meridian Resources and Piranha snack food from Australia. We managed to get Buying Request details information from local and also international buyers to provide to DagangHalal merchants.