News From : DagangHalal.com (26 Sep 2011)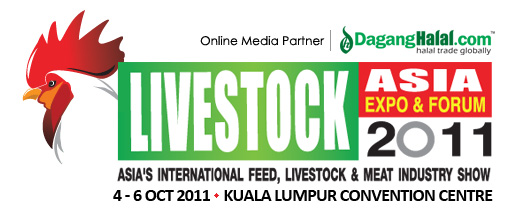 The organizer of LIVESTOCK ASIA Expo & Forum 2011, United Business Media (M) Sdn Bhd (UBM) has officially appointed DagangHalal to become their official online media partner. DagangHalal will provide complete online media coverage for the Livestock 2011.
The 6th edition of LIVESTOCK ASIA Expo & Forum – Asia's International Feed, Livestock Production & Meat Industry Show will be held at the Kuala Lumpur Convention Centre from 4th – 6th October 2011.
Hosted by the Department of Veterinary Services, Ministry of Agriculture and Agro Based Industry Malaysia, LIVESTOCK ASIA Expo & Forum is today a "must attend" event for decision makers and buyers across Asia. Over 650 buyers from as far as Yemen, Pakistan, Bangladesh, Iran and Kazakhstan attended the last event to source for new equipment and supplies. More than 7,000 trade visitors and delegates, representing integrators, veterinarians, farmers, feed millers, processors, retailers, importers and distributors are expected to attend the Expo, Conference and Technology Symposiums in 2011.