News From : DagangHalal.com (12 Sep 2011)
In conjunction with the Hari Raya Aidilfitri celebration organised by Yayasan Sultan Haji Hassanal Bolkiah at the International Convention Centre in Berakas yesterday, Brunei Wafirah Holdings Sdn Bhd participated by exhibiting a booth on their products and the progress of their Brunei Halal brand.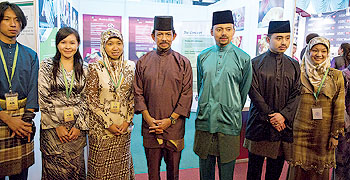 His Majesty the Sultan, HRH the Crown Prince and HRH Prince 'Abdul Malik
in a group photo with the staff of Brunei Wafirah Holdings Sdn Bhd.
Photo: Azrol Azmi
The theme of this year's celebration is "Providing Support Service for Local SMEs".
"Brunei Halal is committed to work in partnership with local SMEs to assist them to achieve their export ambitions by providing advice on product and market potential, packaging and design concepts, Halal and commercial accreditation requirements" said Feby Latip, the General Manager.
She also stated that at the moment the Brunei Halal brand appears on food and beverage products in the hope of expanding its ranges including health, beauty and pharmaceutical products.
"There are of course guidelines for local manufacturers" she added, "and we are more than happy to receive applications for the marketing and trading of products under the Brunei Halal brand."
Source: brunei-online.com